DRAPER — There was one memory that stood out in Charri Jensen's mind as she talked with her students at Draper's Corner Canyon High School during an assembly on Thursday.
Twenty-four years ago, she attended the funeral of one of her students who had driven across the median on I-215 and was fatally injured in a head-on collision.
"That was the worst experience of my life," she told the students while holding back tears. "As a teacher, I love every one of you. I don't want to have to go to another funeral."
Jensen is an adviser for the school's chapter of Family, Career and Community Leaders of America, which hosted a game show-style event called IKnowEverything. The event was developed by the Century Council to educate teens on the dangers of distracted driving.
One hundred students attended the assembly, which was held in conjunction with the FCCLA chapter's theme for the year: Don't Drive Stupid.
During the game show, students used handheld devices to anonymously share their knowledge and experience on safe driving practices. Answers from the students will be used as part of an ongoing study being done in high schools across the country.
"The study will be implemented in classrooms across the United States so teachers can more effectively educate their students on safe driving," Century Council spokeswoman Stacey Berger said.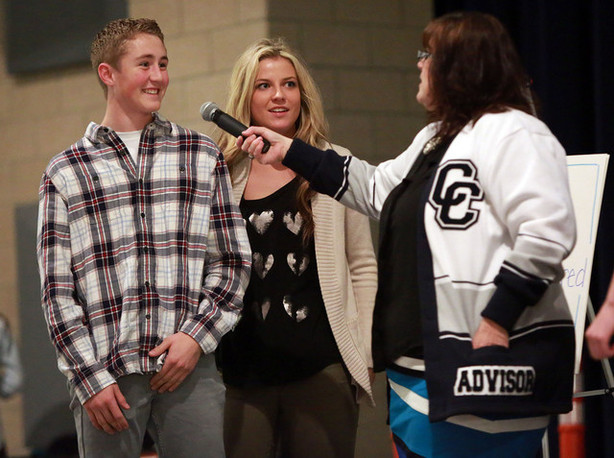 FCCLA members Sienna Moxham, 17, Hannah Boshard, 17, and Jenna Fosdick, 16, say they agree with the notion that many teens "know everything," especially when it comes to driving.
"Teenagers think they're invincible, but they're not," Moxham said.
"Teens are known to drive fast and be distracted," Boshard said. "They think they're limitless, that nothing's going to happen to them."
"I feel like a lot of people don't take (distracted driving) seriously," Fosdick said. "More people text and drive than you'd think."
The three are hoping to get fellow students excited about driving safely through activities like the IKnowEverything program during the Don't Drive Stupid campaign.
So far, students have signed pledges to not drink and drive, spray painted "buckle up" signs near the school and collected used cellphones to hang up as a reminder of fatalities from texting while driving.
Several students at the game show called their mothers to say, "I love you" and promised not to "drive stupid." Others tried to ride tricycles while texting.
Jensen hopes the assembly and the Don't Drive Stupid campaign will leave an impression on her students, whom she calls "the leaders of this school."
"I love these kids," she said. "I'm kind of their cheerleader."

Email: mjacobsen@deseretnews.com
×
Photos
Related Stories