Estimated read time: 2-3 minutes
This archived news story is available only for your personal, non-commercial use. Information in the story may be outdated or superseded by additional information. Reading or replaying the story in its archived form does not constitute a republication of the story.
Ed Yeates reporting A new kind of imaging identifies the internal signs of a concussion that conventional magnetic resonance imaging (MRI) does not see. Utah researchers used the technique to map changes in one area of the brain that just might determine whether a victim of brain trauma recovers.
When the brain inside the skull gets hit too much or too hard--say, out on the field playing sports--the victim suffers a concussion. It can be serious, moderate, minor or so subtle under an MRI that the brain actually looks normal.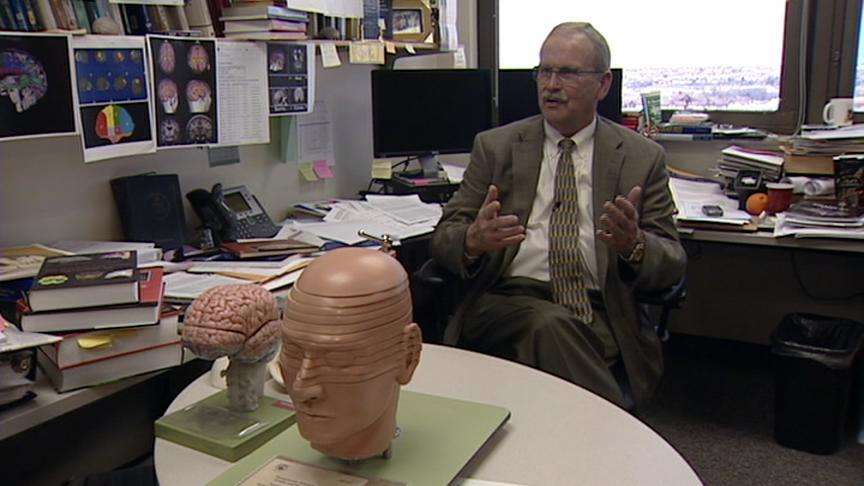 But Brigham Young University researchers used a new technique called "diffusion tensor imaging" to literally paint a data portrait of fiber tracks in the brain's corpus callosum.
"We literally have two brains in the single head, and they are connected by this structure right here, the corpus callosum," explained Dr. Erin Bigler, a psychological researcher at BYU. "So those pathways that go back and forth are the key pathways that allow one hemisphere to communicate with the other hemisphere."
We expect swelling after a concussion, but what happens to the corpus callosum may be more subtle. "This hemisphere is going in this direction, whereas this hemisphere is coming up in this direction, and they sort of pull and put a strain across the corpus callosum," Bigler explained.
Data from the new imaging shows swelling in teenagers with moderate to minor concussions.
In an example of a young football player, within the first six days, Bigler explained, "So this is in the acute, what we call sub-acute time frame, where the patients, particularly a young person, may be vulnerable to that second injury we spoke of if they were to go back to play."
The same microscopic imaging might detect changes in a soldier hit with concussion waves from a shell or a nearby explosion. Several subtle things may be going on inside the corpus callosum. "We feel that this slows down the speed of transmission and disrupts some of those neuron signals," Bigler said.
Even with minor concussions, why do some at war or at play recover quickly while others do not? This imaging technique might now help unravel that puzzle.
Recent studies have linked concussions to a higher risk of memory loss and other conditions such as depression. Concussion is now the number one neurological injury for soldiers in Iraq and Afghanistan.
E-mail: eyeates@ksl.com
×