Estimated read time: 4-5 minutes
This archived news story is available only for your personal, non-commercial use. Information in the story may be outdated or superseded by additional information. Reading or replaying the story in its archived form does not constitute a republication of the story.
SEATTLE — A relatively unknown Seattle Seahawks football player who is deaf recently gained national attention after a touching commercial highlighted how he became a professional athlete. A hearing impaired girl sent him a letter to tell him he's inspired her to dream big.
Seattle fullback Derrick Coleman lost his hearing around the age of 3, he told the Seattle Times in August 2013.
"It just kind of went away,'' Coleman said to the newspaper. "We don't really know why."
He started using hearing aids and quickly learned to read lips. Because he has such a knack for reading lips, many people don't realize he is deaf until someone tells them and his deafness has not affected him while playing football at all.
"He finds a way and he's very resourceful,'' said Seahawks head coach Pete Carroll told the newspaper. "It has not been an issue at all."
Coleman never let hearing hold him back from reaching his dreams. He's dreamed of playing for the NFL since he was a kid. He played football in high school and went on to play collegiately at UCLA.
But his professional career almost sputtered to a stop right from the start. He entered the 2012 NFL Draft but went undrafted. He was finally signed by the Minnesota Vikings on April 28, 2012, but was ultimately waived in August 2012. Then he caught a big break when the Seahawks signed him in December 2012.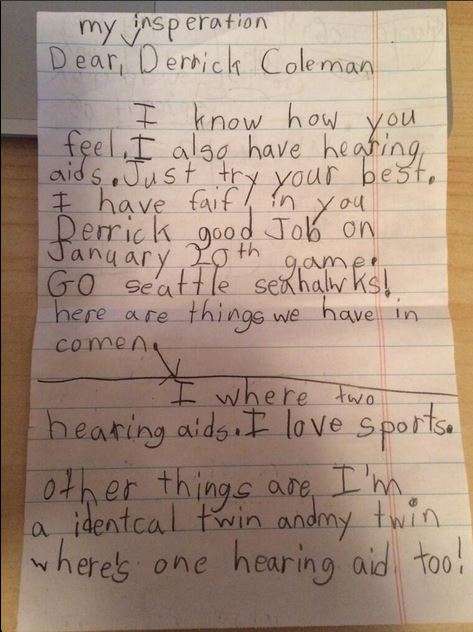 And the rest is history.
After having a stellar preseason, Coleman made the team and finally got the chance to make his dream come true and play in an NFL game during the regular season. He scored his first touchdown on Dec. 2 against the New Orleans Saints, and last week, the Seahawks beat the San Francisco 49ers to win the NFC Championship and secure a spot in Super Bowl XLVIII.
When the Duracell battery commercial aired and told Coleman's story of triumph from a young deaf boy to a Super Bowl participant, hearing impaired Riley Kovalcik took notice. She made sure to watch Coleman play against the 49ers on Jan. 20. Kovalcik, a 9-year-old and twin from New Jersey, who wears a hearing aid like Coleman, was so in awe of him that she decided to write him a letter when his team won on Sunday.
"Dear Derrick Coleman (my insperation) (sic), I know how you feel. I also have hearing aids. Just try your best. I have faif (sic) in you Derrick good job on January 20th game," Kovalcik wrote in the letter. "Go Seattle (Seahawks)!"
Kovalcik went on to list all the things that she and Coleman have in common, including wearing hearing aids and loving sports. She also told him her identical twin wears a hearing aid, too.
Kovalcik's dad, Jake, tweeted the letter to Coleman with the message, "You've inspired my little girls in a way I never could. THANK YOU!"
@Seahawks@DC2forlife you've inspired my little girls in a way I never could. THANK YOU! #Seahawks#SuperBowlXLVIIIpic.twitter.com/lhpJfCPOSD — jake kovalcik (@JakeIsMobile) January 21, 2014
The Seahawks took notice of the tweet first and retweeted it to their followers. Soon, a storm of people were sharing the heartwarming letter across the Twitter universe. Jake Kovalcik just wanted Coleman to know he was an inspiration to hearing impaired kids everywhere.
"I just wanted to show him what he had done," Jake Kovalcik told the Daily MailOnline. "He inspired my daughters but it's a great thing he's doing not just for hearing impaired kids or kids with other disabilities, he's showing all kids that if you work hard and you dedicate yourself whatever deficiencies you have, you can be great. I wanted to thank him."
Even though Coleman receives lots of letters, he felt a special pull to respond to Riley's. He posted his response letter on Twitter the next day.
"'I want you to know that I always try my best in everything that I do and faith in you and your twin sister too. Even though we wear hearing aids we can still accomplish our goals & dreams," he said.
@JakeIsMobile Your girls are awesome! Read them my letter back when you can! Thank you for the support! Means a lot! pic.twitter.com/9x5tQQwNbk — Derrick Coleman Jr (@DC2forlife) January 22, 2014
Coleman then invited the Kovalcik's to come to Seattle sometime so he could meet them.
''It means the world to them,'' Coleman said of the letter to The Associated Press. ''It only took a couple of minutes of my time.''
×
Photos
Related Links
Related Stories