Estimated read time: 4-5 minutes
This archived news story is available only for your personal, non-commercial use. Information in the story may be outdated or superseded by additional information. Reading or replaying the story in its archived form does not constitute a republication of the story.
SALT LAKE CITY — The last time Say Bloh saw his niece, she was happy.
"(She) gave us a warm welcome," Bloh said Thursday of 7-year-old Hser Ner Moo.
Bloh testified that he went to the South Parc Townhomes with his wife on March 31 to watch the girl and her brother while her mother went to a dentist appointment. They turned on the television.
Hser and her brother were playing with cars and motorcycle toys when Bloh said he fell asleep. He woke up about the time the girl's mother returned and testified that he didn't notice whether Hser was there when he left.
He later learned she was missing. Her broken body was found the next day in a shower stall of a basement apartment where Esar Met lived.
Met, 26, is charged with aggravated murder and child kidnapping, first-degree felonies, in the young girl's death. Thursday marked the third day of his trial.
Carrie Pender said she met Hser's family as a refugee family liaison with Granite School District and became close friends with matriarch Pearlly Wa. Pender said she saw Wa the day Hser went missing.
Pender said she reassured the mother initially, certain that the child was playing somewhere in the complex.
"I feel very bad I didn't call 911 at that time, and that's something I'll live with," Pender said.
She was there distributing clothing and saw Wa again when she had finished close to two hours later.
"She was frantic. … Something was wrong," Pender said. "I'll never forget the look on her face and the fear in her eyes that she couldn't find her little girl. She was desperately looking for her and just knew something was wrong."
---
"I'll never forget the look on her face and the fear in her eyes that she couldn't find her little girl. She was desperately looking for her and just knew something was wrong." –Carrie Pender
---
This time, Pender immediately called 911. She then stayed with the family, leaving the apartment only to accompany Wa to a nearby church when the woman wanted to pray.
News at the complex traveled quickly, and Pender said she became aware of a commotion at apartment 472, where Met and four other men lived.
"Eventually, the police chief and assistant police chief came and gathered us up and let us know (Hser) had been found dead in the apartment," Pender said.
South Salt Lake police detective Joseph Sutera said officers searched the apartment complex from 8 p.m. to 4 a.m. He said they went in pairs to each apartment and asked to search.
"They were 100 percent cooperative," Sutera said of the residents, noting all but those in two apartments, including 472, had responded to the officers' knocks at the door.
South Salt Lake police detective Mikal Wersland said he didn't feel the search was sufficient, though "it literally took all night. It was hours and hours and hours." It was taxing, and some officers had been working for 24 hours.
Related Story
"I talked to my lieutenant and my captain and chief, and told them I didn't think that was a thorough enough search," Wersland said. "We were spreading our resources too thin and needed to focus back at the scene where the child had lived. … I just didn't feel good about (the first search)."
South Salt Lake police enlisted help from other agencies and put together a search team of around 60, he said. Within 10 minutes, Wersland was told officers had found blood in a stairwell.
"They had found the body of the young girl in the shower of that apartment. She was unresponsive and cold to the touch," he said, crying. "I just thought about this poor family … and just the thought of having to tell this family what had happened."
Wersland and Sutera both testified that the crime scene was quickly secured.
Brent Marchant, an investigator with the Utah Medical Examiner's Office, said he went to the scene early on April 2.
"It was apparent there had been a violent struggle," Marchant said. "There were two locations of considerable amount of blood on the carpet. In the bathroom, it was immediately apparent there was a little girl dead in the shower."
He said the child was wet as though someone had tried to wash her. He estimated she had been dead between 18 and 36 hours.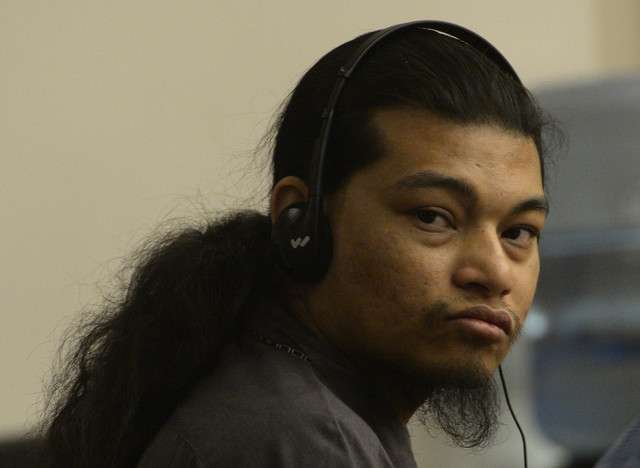 Sutera said the four men in the home were transported to the police station. He identified Met as the man who was arrested at another location in connection with Hser's death.
Bonnie Wilder, a member of the Utah State Crime Lab's crime scene response team, said she responded to the crime scene to photograph and document it. Prosecutors showed numerous items in the basement with Met's name on them.
Trent Grandy, also of the Utah State Crime Lab, said he attempted to do both a fingerprint and footprint analysis based on evidence at the scene. He was unable to get fingerprints with enough ridge detail from items at the scene to allow for a comparison.
"In this case, it was extremely difficult," Grandy said.
But he concluded that a comparison between footprints in the carpet shown to include blood and prints taken from Met showed they were "possibly from the same source."
Defense attorneys have said the evidence is circumstantial and have raised questions about the other men living in Met's apartment. Prosecutors argued that Hser's blood was found on Met's jacket and his DNA on her fingernails.
The jury trial is scheduled to continue through Jan. 25.
×
Photos
Related stories
Most recent Utah stories