Estimated read time: 1-2 minutes
This archived news story is available only for your personal, non-commercial use. Information in the story may be outdated or superseded by additional information. Reading or replaying the story in its archived form does not constitute a republication of the story.
SUPER GOOD FUN TIMES — Local filmmaker Devin Graham has been featured on Have You Seen This more than once and the reason is, his videos are pretty cool and we all want to do whatever it is he's shooting.
This video is more of the same. It's fun to watch and we wish we were on his list of invitees.
Devin and his friends rubbed elbows with the Jacksonville Jaguars cheerleaders and the mascot Jaxson de Ville while they jumped from the top of EverBank Field and flew down a zipline.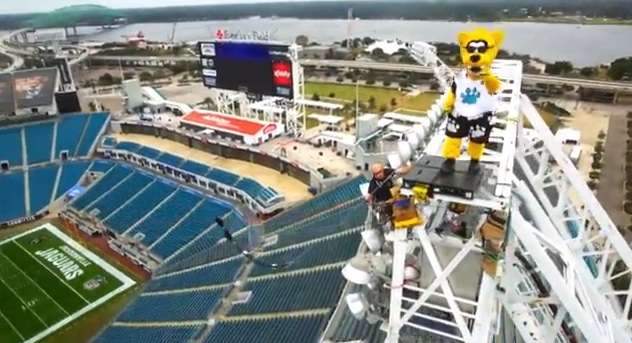 It looks like fun and I'd likely chicken out at the last minute, but that doesn't change the fact that I want to get invited along so everyone can ridicule me as they count to three over and over again and I just keep saying, "Serious this time guys. Can't one more time."
When it really comes down to it it's good to see all these people associated with the Jacksonville Jaguars have such a good time because those folks need something to keep their spirits up.
So, take a look at the vid and try to figure out how you get on Devin's good side so you can do crazy stuff in awesome locations. Or, maybe you're like me and realize you're not nearly "cool" enough to roll with his crew.
Also, I'm not sure my wife would sppreciate me hanging out with NFL cheerleaders all day either.
×
Most recent Utah stories