OGDEN — Two Utah mayors are hoping their commitment to alternative transportation will lead others to follow suit.
Ogden Mayor Mike Caldwell began his year-long resolution to commute to work by bike Monday. Similarly, Provo Mayor John Curtis pledged to bike and walk as much as possible in 2014 on his blog.
"I'm a big believer in 'what you do sometimes speaks so loudly people can't hear what you say'" Caldwell said. "So I thought that's what I'm going to do — I'm going to get on my bike and advocate more bike riding and alternative transportation."
Caldwell and Curtis believe alternative transportation, like bike riding, is part of the key to solving transportation and air quality problems.
"The Governor's office has shown estimates that in 30 years we'll have double the population along just this narrow sliver of the Wasatch front and this has got to be part of the transportation solution," Caldwell said.
He will be riding his bike to and from work every day in 2014, regardless of the weather. It is a 5.5 mile trip, which is just enough for him to be alert when he arrives at work and then have have a chance to detox before coming home to his family.
Even though some people think he is crazy for riding in the snow, Caldwell said all of the feedback he has received has been positive. On Twitter he posted a weather report from Minneapolis where there was a wind chill of 55 degrees below zero and said his ride was warm in comparison.
"I don't believe in bad weather; I do believe in bad equipment," he said. "If you have the right equipment for the conditions, weather can really be mitigated."
Ogden received its first recognition for being biker friendly in 2013. They received a bronze level recognition from the League of American Bicycles, but Caldwell hopes to take the city to the gold standard by following the league's recommendations.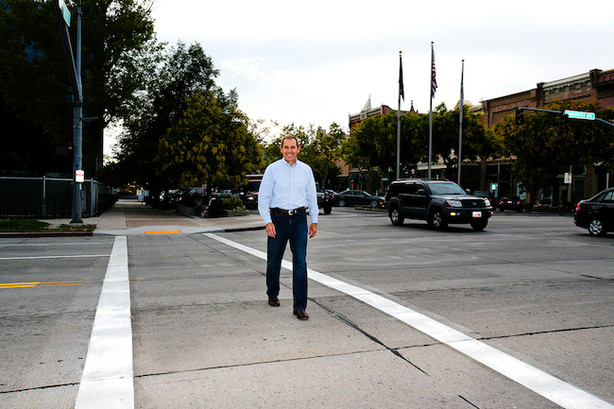 The city is working on a long-range master plan for the city to help people get around. They are considering offering parking preference to bikes downtown to help alleviate some parking issues and the city already has a bike loan program in place to help people purchase bikes that cost up to $2,000 using a payroll deduction.
In addition to relieving traffic and being environmentally friendly, Caldwell said commuting by bike offers health benefits. While talking to a local bike component distributor he learned their company had been able to cut health insurance costs every year by incentivizing bike riding. At the same time, he said other corporations and city governments are seeing double digit increases.
Curtis also resolved to bike and walk as much as possible in 2014 on his blog. He said there were several reasons behind the resolution, including health and the opportunity it gives him to see the city from a different perspective, but that especially at this time of year concern about air quality is a key factor.
"People often tell me, 'On temperature inversion days the air here isn't as bad as it is in Salt Lake.' This might be true but Utah County's population isn't shrinking and we're likely just 10 years away from having a population that's close to Salt Lake County's," he wrote. "I want to try my best to get ahead of it."
Related Story
The city is getting ready to issue a personal challenge to individuals to act on red alert days, with a list of things they can do to make a difference. They are also working on a city policy to help Provo become a leader on what cities can do on red alert days to tackle the air quality problem.
"A lot of times I feel like we don't do anything because the problem seems too big. We feel like we couldn't make a difference," Curtis said. "I'm starting to learn that one person can make a difference, so I've come up with a personal challenge to people for what they can do. "
What will make a difference is not one person doing big things, but thousands of people doing small things, he said.
Curtis made the goal to ride his bike to work 100 times in 2013. Although he lost count of how many times he rode, he said it was one of his favorite parts of the day when he could get on a bike.
He said people got a kick out of when he rode Frontrunner to a meeting in Salt Lake City with his bike Monday. He rode his bike in his suit from the station and even passed another person in their car on the way to beat them to the meeting.
Curtis said other mayors in Utah, like Salt Lake City's Mayor Ralph Becker, have shown how individuals can make a difference with bike riding.
Video Contribution: Brooke Walker
×
Photos
Related Links