Estimated read time: 3-4 minutes
This archived news story is available only for your personal, non-commercial use. Information in the story may be outdated or superseded by additional information. Reading or replaying the story in its archived form does not constitute a republication of the story.
INDIANAPOLIS — Most of us have had collections at one time in our lives.
Coins, stamps and baseball cards are all popular collectors items. But Indianapolis resident Kevin Silva has set a new world record for his superhero collection.
The 52-year-old has more than 2,500 Batman items in the basement of his home.
"This is the bat cave. The official home of Batman, at least in Indianapolis," Silva told WTHR.
His personal "bat cave" features action figures and toys, literally everything connected to the caped crusader.
Silva became fascinated with Batman as a young boy watching Adam West and Burt Ward on the 1960s television show.
"My first images of Batman were on a 19-inch color TV at five years old. I'm telling ya. It burned a hole in the back of my head," said Silva. "It just rocked my world, totally. I have items down here that I've had since I was five years old."
His parents gave Silva a Batman lunchbox, which he still owns. As a young boy, Silva began picking up Batman items.
"You gather things up and either destroy them or keep them and, in some odd way, I kept a lot of it. When I was (age) seven or eight, I had a wall in my bedroom had Batman all over it. My parents were pretty good at getting things for me," said Silva. "There's a moment in your teenage years when it's not hip, so you put it away and you don't do anything. But the Michael Keaton movie came back around in 1989 and all this merchandise came available. That's where a lot of this came from. A lot of the items are from 1966. Some trash and some treasures," said Silva.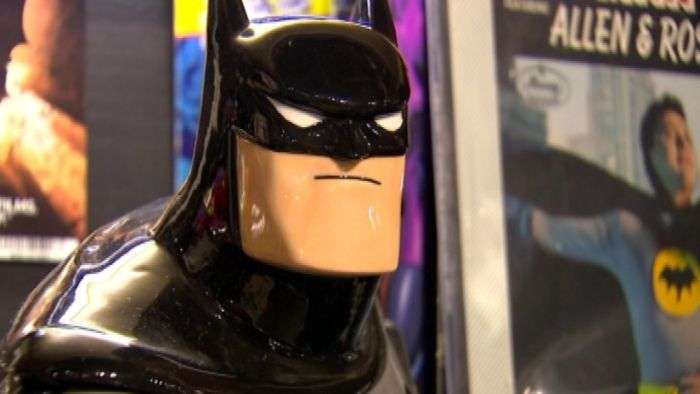 He bought anything and everything related to Batman. Silva finds most of the items on E-bay including a bat phone, bat skis and a bat guitar. His stuff includes bat skates, a Batman gum ball machine, even bat shoes. His favorite item is a Batman outfit. He spent $3,600 to have it made.
"That's why I like Batman is because of that guy right there. The gray and the blue and the cowl," said Silva.
When word got out that Silva had more than 2,500 Batman items in his basement, Guinness World Records contacted him. Silva counted all of his items, put them in a spreadsheet and took pictures. In December, he was contacted with good news.
"You've got the record. This is the official certificate is the largest Batman memorabilia belongs to me," said Silva. "The Guinness record is 2,501 pieces. That's what they counted," said Silva. "The information I sent them was 2,554 pieces. But, I have a lot of Superman, Wonder Woman and Green Lantern, which is part of the Batman family. They didn't count all of that. But the previous record was 1,150 pieces. So, I pretty much dusted that. I had it appraised at $100,000. But I don't have that in it. I didn't spend that kind of money on it."
In his 1,200 square feet basement, he has divided his collection into various sections.
"There's a section of Robins. Then it morphs into Catwoman. Then you've got the Riddler. Then you've got Twoface. You've got all my batgirls over here. A whole plethora of Batman. Then we've got the joker. Then we've got the Penguin. And then just Batman and Robin," said Silva.
Now his collection is making news in newspapers around the world But even though it seems like he has everything, there is one thing missing.
"The holy grail is an ideal bat-belt in the 60's. And, I had it, of course, but it's gone now. Those are $2,500 items and you just can't find them," said Silva. "When you're a little kid, you put a cape on. Here's a guy who's an adult and he gets to wear the whole outfit. He's got leather boots on and a Batbelt that has all these gadgets in."
"People love it. They just love Batman. It's colorful and creative. I like it."
×
Related stories