Estimated read time: 2-3 minutes
This archived news story is available only for your personal, non-commercial use. Information in the story may be outdated or superseded by additional information. Reading or replaying the story in its archived form does not constitute a republication of the story.
PRICE — Not all events warrant pulling 26 busloads of kids out of school. But Price Mayor Joe Piccolo believed a reading celebration qualified.
"Anything that can bring my community together for literacy is worth every penny of the effort," Piccolo said.
So a few thousand children carrying handmade welcome signs piled out of buses and onto the grounds of the Carbon School District to welcome Chopper 5 and Santa Claus.
The festive event had serious undertones. A few thousand families had pledged to make their 12 Days of Christmas include 12 days of reading. This group of children had tallied up 450,000 hours of one-on-one time with their parents. And that accomplishment was worthy of positive reinforcement.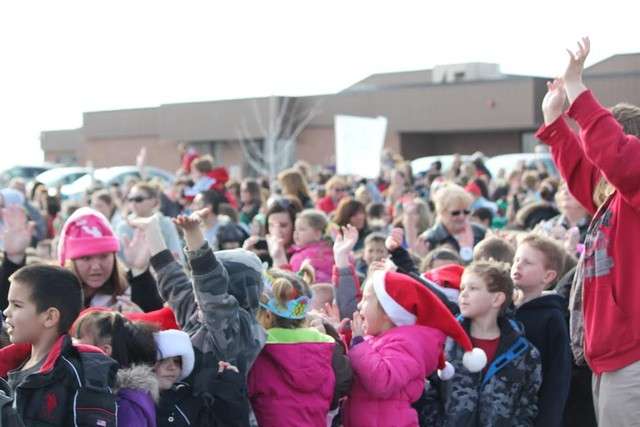 "It's really critical to have the parents, because if they're on board, the students are much more successful," said Principal John Thomas, of Creekview Elementary.
Also attending the celebration were coordinators and volunteers in the the schools' Read Today AmeriCorps program. The schools take part in this tutoring program to give struggling readers extra help.
Tutor Bonita Guess said she loves taking part in the program and knows she's making a difference.
"I've seen them go from 20 words a minute to more than 100. And they're not going to do that unless we're there to give them help," she said. "It takes that one-on-one time."
Coordinators who help oversee the program say it's that relationship between student and neighbor that inspires progress.
"It's the connection and they're excited to learn, because someone is really involved with them specifically," said AmeriCorps coordinator Lizz Davis. "It makes me cry."
---
It's the connection and they're excited to learn, because someone is really involved with them specifically. It makes me cry.
–AmeriCorps coordinator Lizz Davis
---
As Santa high-fived cheering children, Principal Jan Cox, of Castle Heights Elementary, hoped the community would see reading can be a rallying point.
"We're a small community, we rely on each other," Cox said. "It takes a village to raise our kids."
Several community leaders attended the event and praised those taking part, including the new chair of Prosperity 2020, a statewide group of business leaders working to raise awareness, funding and outcomes for Utah Schools.
Alan Hall said this sort of unified effort is exactly what schools and students need.
"When we see what we've seen here today, we say wow!" Hall said. "Congratulations to a community that got their arms around this whole topic. It's what makes education successful."
×
Photos
Related links
Related stories
Most recent Utah stories