Estimated read time: 4-5 minutes
This archived news story is available only for your personal, non-commercial use. Information in the story may be outdated or superseded by additional information. Reading or replaying the story in its archived form does not constitute a republication of the story.
SALT LAKE CITY — Winter can present a dangerous hazard for outdoor enthusiasts — snow. Snow can enhance a visit or hinder it, depending on one's level of preparedness, skill sets and experience level. Snow sports can be an exhilarating adventure in a world of striking beauty, but being unready for snow in its many characteristics can lead to such problems as hypothermia, getting lost or stuck, or getting killed or injured in an avalanche.
Know before you go
To help avoid nasty surprises, skiers, snowboarders, snowshoers, mountaineers and climbers should always familiarize themselves with vital information to help keep happy, healthy, and upright in the backcountry.
Check out the local weather report and the local avalanche forecast before leaving home — every time. The difference between an adventure and an ordeal is preparation, so go prepared with as much knowledge as possible. Knowing that there's a storm coming will hopefully prevent people from getting lost in unexpected whiteout conditions, and reading or hearing that the avalanche danger is considerable will hopefully convince a touring expedition to consider more gentle terrain.
Be familiar with the area you're visiting. Always bring a map and compass, even if you're bringing a GPS.
Take Appropriate Gear
Appropriate gear is essential to keeping a body dry and warm: waterproof/windproof outer layers are indispensable components of a smart layering system that allows incremental adjustments to changing conditions. Also, keep in mind the old axiom "cotton kills"; synthetics and wool are preferable.
Footwear should be insulated, waterproof, and have good gripping power. Gaiters will help keep snow out of the boot top, and ice cleats/crampons will help keep footing sure and solid. A good hat, two pairs of gloves (for changing needs/conditions or as extras in case one pair gets wet), and sunglasses or goggles round out the basic gear needs.
Related Stories:
Choose the Right TerrainChoice of terrain should be appropriate to terrain conditions, particularly in areas prone to avalanches. Avalanches kill several people every year in backcountry accidents, and many more are buried and injured by these fast-moving menaces. Most avalanches get triggered by the people traveling through the area (meaning most could have been avoided).
Safety is paramount on any visit to possible avalanche terrain. The science and study of snow stability and avalanche safety can take years to comprehend and apply, but here are some rules of thumb:
Avalanches require a cohesive layer of snow, or "slab" (which is a bed surface for the slab to slide on), and a trigger to get the slab moving.
Weak layers in the snow are the usual source of instability — either ice or powder snow are signs that the snow is unstable.
Avalanche danger is highest in the first 24 hours after a snowfall as the slab forms and the bed surface adjusts to the weight of the new snow.
Wind-blown snow can pile up faster than fresh snow and should be treated the same as a snowfall with giving 24-hour stabilization period.
An intermediate run at a ski resort is steep enough to be avalanche terrain as are similar pitches in the backcountry.
Avalanche danger changes dramatically with elevation and aspect (compass direction of slope) so what's safe at 8,000 feet may not be safe on the same slope at 10,000 feet.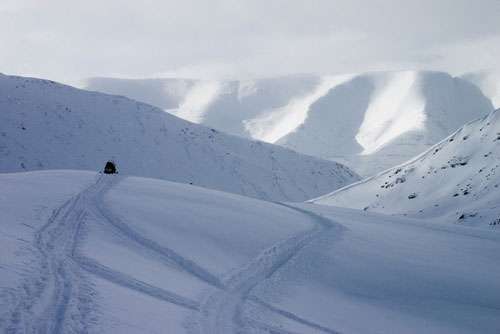 Avalanches can come from steeper or higher slopes above you. If you're traveling through an area with a steep slope above you, be aware of the potential avalanche path.
Previous tracks are not a sure sign of a safe slope. Someone could have gotten lucky, or conditions could have changed (even under the snow surface). Never expose more than one person to the hazard at a time and watch the person crossing the avalanche zone until they are safely out of the danger zone. Remember to always wait a day after a weather event before heading out into hazardous terrain, and then only go after checking the latest avalanche forecast to see if conditions warrant the adventure that's been planned.
Every visitor should be equipped with an avalanche beacon (and the knowledge to use it), a probe and a shovel just in case. It can help save the life of an outdoor traveler who made a poor decision. Take an avalanche class to maximize your understanding of traveling safely in the snow.
All gear brought to the backcountry should be in good, usable condition. All winter visitors should also be in good condition — meaning you are fed and hydrated to keep body temperature and energy at healthy levels. Hydration is not only a warm-weather pursuit. Hydration keeps you warmer with better circulation, and helps with sustaining strenuous activities and keeping a clear mind, even at altitude.
The most important piece of gear, that everyone has access to, is a brain. Bring it and use it! Poorly made or ill-informed decisions can be disastrous — make good decisions and stay safe.
Mike Coronella is the creator of the Hayduke Trail, owner of Deep Desert Expeditions, and a desert-wandering happy hiker! mike@deepdesert.com.
×
Related links
Related stories
Most recent Utah stories