Estimated read time: 6-7 minutes
This archived news story is available only for your personal, non-commercial use. Information in the story may be outdated or superseded by additional information. Reading or replaying the story in its archived form does not constitute a republication of the story.
SALT LAKE CITY — Before she saw her baby girl, Anna Wallingford had only heard her husband's descriptions of the "very pink" and tiny baby. She was terrified to meet the daughter who unexpectedly entered the world just six hours earlier.
Wallingford was scared because her baby girl, Jane, was born three months premature. Wallingford had developed a dangerous condition, HELLP – a variant of preeclampsia – and within hours of her diagnosis, was rushed to University of Utah Hospital for an emergency cesarean section.
"It was a rush of happiness but then a rush of, 'Oh my gosh, my little baby girl, she's coming tomorrow, she's coming in a few hours.' It was unbelievable, the mix of emotions," Wallingford said.
In the operating room, Wallingford's husband Daniel was able to sit near her head. As doctors operated, he helped her relax.
"I remember looking at him 'Daniel, tell me good things. I don't want to think about anything bad that could happen.' Throughout our marriage, I've always told him that whenever I want to relax, I think about California and going to the beach, how the beach is my favorite place to be. So he told me, 'Think about the beach and how the waves come rolling in and the tide comes in and out, the warm sand under your feet and the beautiful sunsets,' " Wallingford said. "Then all of a sudden, we hear the doctor's voice saying, 'Hear she is!' Daniel looked up and I looked up at Daniel."
At 10:23 a.m., on Feb. 23, 2012, Jane was born at 26 weeks gestation. The couple heard a little squeak come from a bundle of blankets before she was rushed to the neonatal intensive care unit.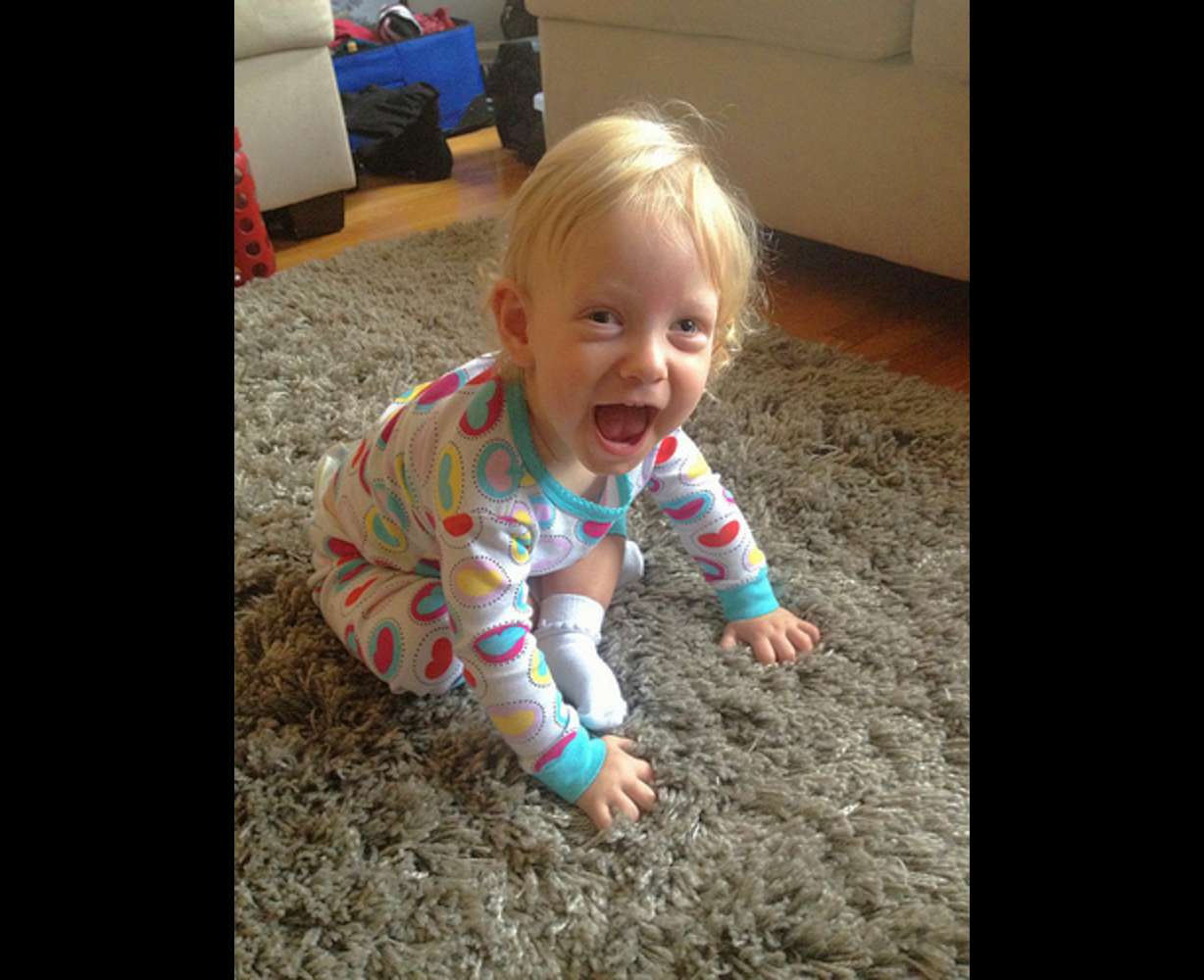 Wallingford went into recovery, sleeping for six hours before awaking. Knowing that seeing her baby would confirm the reality of the girl's condition, she was nervous to see her.
"It was kinda terrifying but exciting to be able to go see Jane. I didn't know exactly what to expect," Wallingford said. "People were telling me what she would look like, that she would be hooked up to machines, that she would be very small."
As they rolled her bed into the NICU, she recalls being unable to tell which infant of the seven in the unit was hers. As they approached Jane's isolette, a nurse pulled back a blanket to show Wallingford her baby. Jane weighed just 1 pound, 15 ounces when she was born.
"Even though she was small and pink and kinda looked like an alien almost, she was beautiful to me," Wallingford said. "I didn't know what to expect, really. She looked like a baby but like a little baby doll. But she had the most amazing, blonde hair. I couldn't believe how much blonde hair she had. It was silvery almost."
She was able to hold Jane's miniscule hand, which barely grasped Wallingford's pinky finger. Wallingford wouldn't hold her baby in her arms for another two weeks.
"(My mom asked), 'How do you feel? You're a mom now,' " Wallingford said. "I thought, 'Oh my gosh. I'm a mom now.' I'm so happy to be a mom. I'm so happy that, even though it didn't go exactly the way Daniel and I thought it would or planned that it would, it was still OK. I don't think I would change it for anything."
For five months, the family bonded in the NICU after scrubbing clean from the outside world, around tubes and machines, and between visits from nurses and doctors. Jane fought with necrotizing enterocolitis – a gastrointestinal disease that can result in death for premature babies. As babies her same age were leaving the unit for their homes, Jane was kept under watch as she grew strong enough to breathe on her own. Even as a tiny being in an isolette, the baby was filled with love.
Related:
"She became kind of a popular baby. Everybody loved Jane because she had been there for so long," Wallingford said.
With an oxygen tank and other medical necessities in tow, the Wallingfords brought baby Jane home on July 21, 2012 – 149 days after doctors delivered Jane by emergency c-section.
"We were so excited and nervous to take Jane home. But it was sad to say goodbye to all these people who had helped us," Wallingford said. "It was a happy-sad day."
Within weeks of Jane being home, on her own, she quit using the oxygen. She began eating normally rather than through her gastronomy tube. Her mother said Jane is "thriving" at home.
"It was so fun to see all the things she was doing, but we started noticing the things she wasn't doing."
Milestones like rolling over, grabbing at things and focusing. The Wallingfords observed her legs were always stiff.
In July, Jane was diagnosed with cerebral palsy. At Jane's young age, doctors are unsure of her condition's severity.
CB is a common motor disability that causes muscles to tense up, preventing individuals from maintaining correct posture and hinders movement. Autism, epilepsy and other developmental disabilities can co-occur with CB. The condition is common among children born prematurely, especially those born as early and small as Jane.
---
Jane's amazing. She is just such a happy baby. I don't know if she would be as happy as she is now if she was born on her due date or if because everything she's been through, she's able to appreciate life better.
–Anna Wallingford
---
The Centers for Disease Control and Prevention estimates that 59.5 per 1,000 of children born weighing less than 3 ½ pounds will be diagnosed with CP. Only 1.1 per 1,000 children who weigh 5 ½ pounds or more at birth are diagnosed. Jane began physical therapy almost immediately. As Wallingford watched her daughter with the therapists, however, she noticed Jane seemed uncomfortable. Through a friend of a friend, they discovered the Feldenkrais Method. The therapy, which isn't covered by their insurance, began to show remarkable results for little Jane.
"It was like a light turned on in Jane. Like her whole personality was there all of a sudden," Wallingford said. "Like she was happier than she was before and she wasn't as stiff. She loved going to her appointments."
Jane can sit up and roll on her own and with support, stand. She is able to put her toes in her mouth, clap her hands. She is talking and loves to use baby sign language.
"It's really slow. And it's kind of frustrating to see all these other little babies who are Jane's age walking and being independent," Wallingford said. "But it's amazing to see each individual step of progress that Jane is making instead of it happening so quickly and all at once."
The family is paying the $7,200 for six months of therapy out-of-pocket and with the help of others.*
Though the Wallingfords' lives are filled with question marks about Jane's future, they feel like Jane's tumultuous beginnings have blessed them with a unique perspective. She calls Jane a "little old woman in a little baby body."
"Jane's amazing. She is just such a happy baby," Wallingford said. "I don't know if she would be as happy as she is now if she was born on her due date or if because everything she's been through, she's able to appreciate life better."
---
*ksl.com has not verified the accuracy of the information provided with respect to the account nor does ksl.com assure that the monies deposited to the account will be applied for the benefit of the persons named as beneficiaries. If you are considering a deposit to the account you should consult your own advisors and otherwise proceed at your own risk.
×
Photos
Related links
Related stories
Most recent Utah stories