Estimated read time: 5-6 minutes
This archived news story is available only for your personal, non-commercial use. Information in the story may be outdated or superseded by additional information. Reading or replaying the story in its archived form does not constitute a republication of the story.
SALT LAKE CITY — Every week one of the chefs from Harmons Grocery Stores will be answering your toughest culinary questions. No question is too big or too small and each week we'll award a pair of Harmons cooking school passes to one lucky viewer whose question is selected. Email your questions to askachef@harmonsgrocery.com.
This week's question comes from Vicki:
"I'm planning our holiday dinner this year and want to make the perfect Christmas roast. Will you please share a recipe and some tips?"
One of my favorite Christmas traditions is sitting down to a delicious holiday dinner with my family and friends. There is nothing better than the people you love all gathered around the table for Christmas dinner, and a roast makes the perfect centerpiece.
Here are four things to keep in mind when you are preparing your roast:
Meat: Make sure you use a high quality meat that has good fat content. This will ensure the roast is juicy and flavorful. Harmon's has amazing prime cuts and offers dry age selections as well. Check with one of our knowledgeable butchers at any of the 16 Harmons locations to find the perfect roast for your family.
Seasoning: With a large roast you will need to make sure the seasoning is strong enough to add flavor all the way to the center. Salt is very important in this step. When you make your dry rub, make sure to taste it for salt, as it should be fairly salty. If you are worried about over seasoning your meat you can always put a salt shaker on the table.


What culinary questions do you have? Let us know! Email our Harmons chefs at askachef@harmonsgrocery.com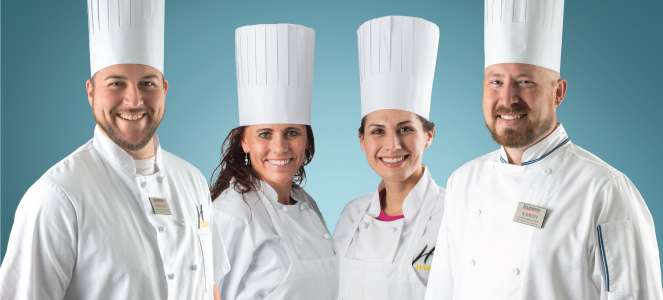 Temperature: It is very easy to overcook your roast, and it is heartbreaking when this happens. Make sure you set your oven to a lower temperature to ensure you evenly cook your roast without making it dry. To achieve a nice red center, remove the roast before your optimal cooking temperature because the roast will continue cooking once it is removed form the oven.
Resting: Allow your roast to rest for at least 20 minutes before serving to let the juices absorb back into the meat. Some larger roasts need to rest for over 30 minutes. Resting is crucial in almost any cooked protein.
Here are some of my favorite recipes for a delicious holiday meal. These recipes are perfect for Christmas, Sunday dinner or any special occasion.
Prime Rib
Ingredients:
1 12 pound bone in rib eye roast
1 container Spice Hunter brand Italian Seasoning
6 cloves garlic, grated
Olive oil
Salt and Pepper to taste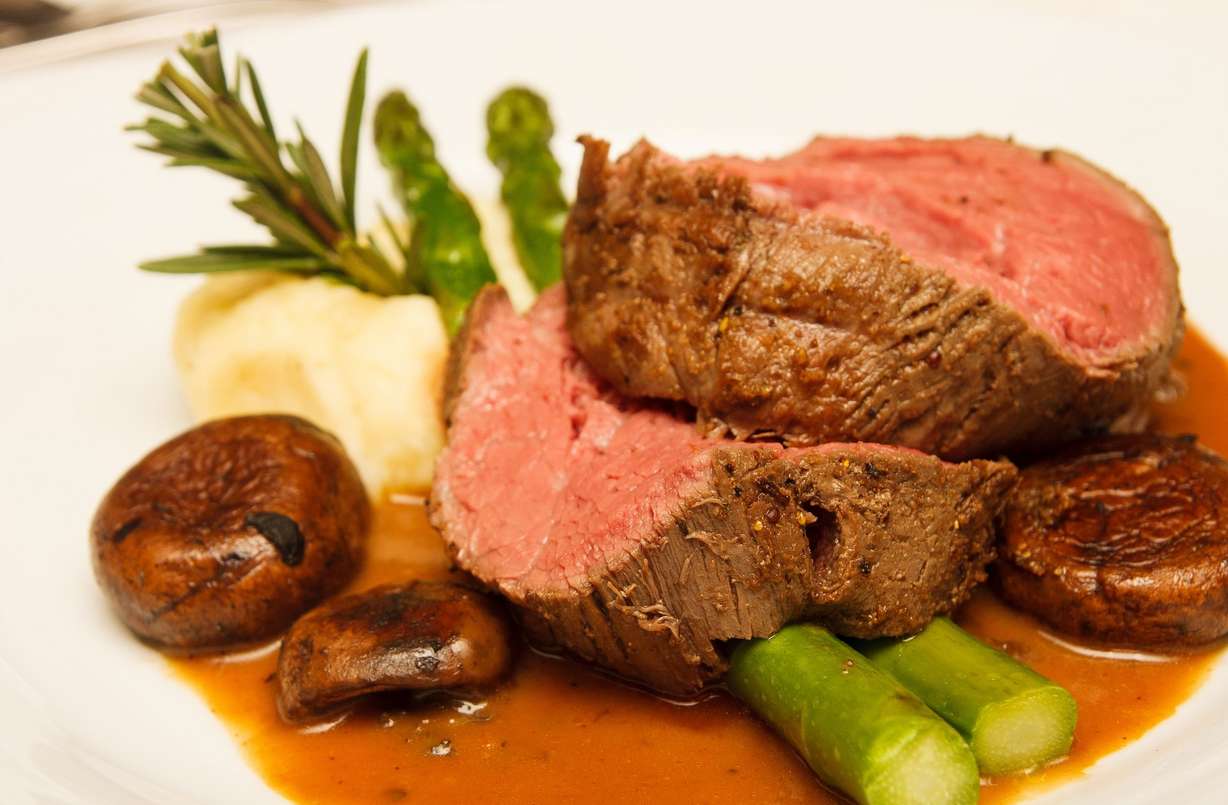 Directions:
Preheat an oven to 275 degrees.
In a bowl, combine the garlic, Italian seasoning, salt, and pepper.
Slowly add the oil to the mixture while stirring until the mixture turns into a spreadable paste.
Pull the fat cap back on the prime rib.
Season underneath the fat cap and fold it back over.
Season the rest of the prime rib with the herb mix, ensuring that everything is coated well.
In a hot roasting pan or grill, sear the prime rib on all sides until a nice crust has formed.
Remove and place into the oven.
Cook the prime rib until the internal temperature is 128 degrees. Once removed from the oven it should continue cooking for another 5-10 degrees.
Let the prime rib rest at least twenty minutes before slicing.
Remove the bone from the back of the prime rib by running a knife parallel with the bones.
Slice and serve with the delicious side dishes listed below.
Red Wine Jus
Ingredients:
Related:
1 cup beef stock
2 cups red wine, dry
2 cloves garlic, chopped
1 shallot, chopped
1 sprig rosemary, chopped
1 tablespoon olive oil
2 tablespoons butter, cubed
Salt and pepper
Directions:
In a medium pot, warm the oil over medium heat.
Add the garlic and shallot and cook for two minutes.
Pour in the red wine, beef stock, and rosemary.
Reduce the mixture by half.
Once the liquid has reduced, remove the pot from the heat and slowly add in the butter.
Do not add all the butter at once.
Season with salt and pepper and serve.
Basted Green Bean Salad
Ingredients: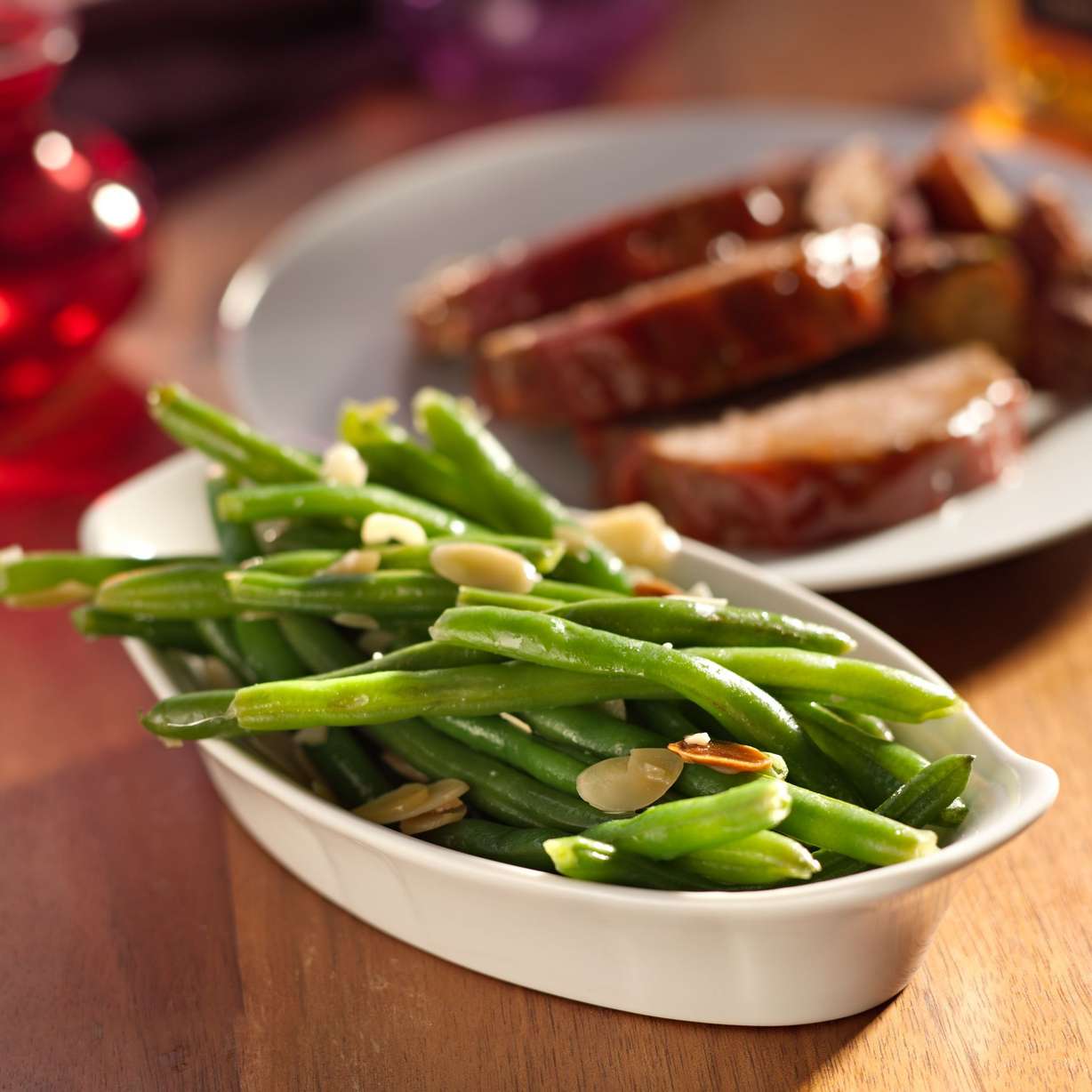 1 package French green beans
2 tablespoons butter
1/4 cup sliced almonds
6 cherry tomatoes, sliced
1 clove garlic, minced
1 shallot, minced
1 bunch kale, sliced thin
2 heads endive, sliced thin
1 tablespoon Dijon mustard
3 tablespoons lemon juice
5 tablespoons olive oil
1 tablespoon chives, chopped
Salt and pepper to taste
Directions:
In a pan, warm the butter and add the shallots and garlic. Cook until aromatic.
Add the beans and cook for three minutes or until the beans are warm.
Add the almonds and cook for another minute.
In a blender, add the lemon juice, mustard, and chives.
Mix to combine and while the blender is still running slowly add the olive oil to emulsify.
Toss the dressing with the kale and endive.
To assemble, place the greens on the plate and the green beans on top of the greens. Place the tomatoes around the plate as desired.
Herb Roasted Potatoes
Ingredients:
3/4 pound fingerling potatoes, quartered
2 tablespoons rosemary, chopped
1 tablespoon parsley, chopped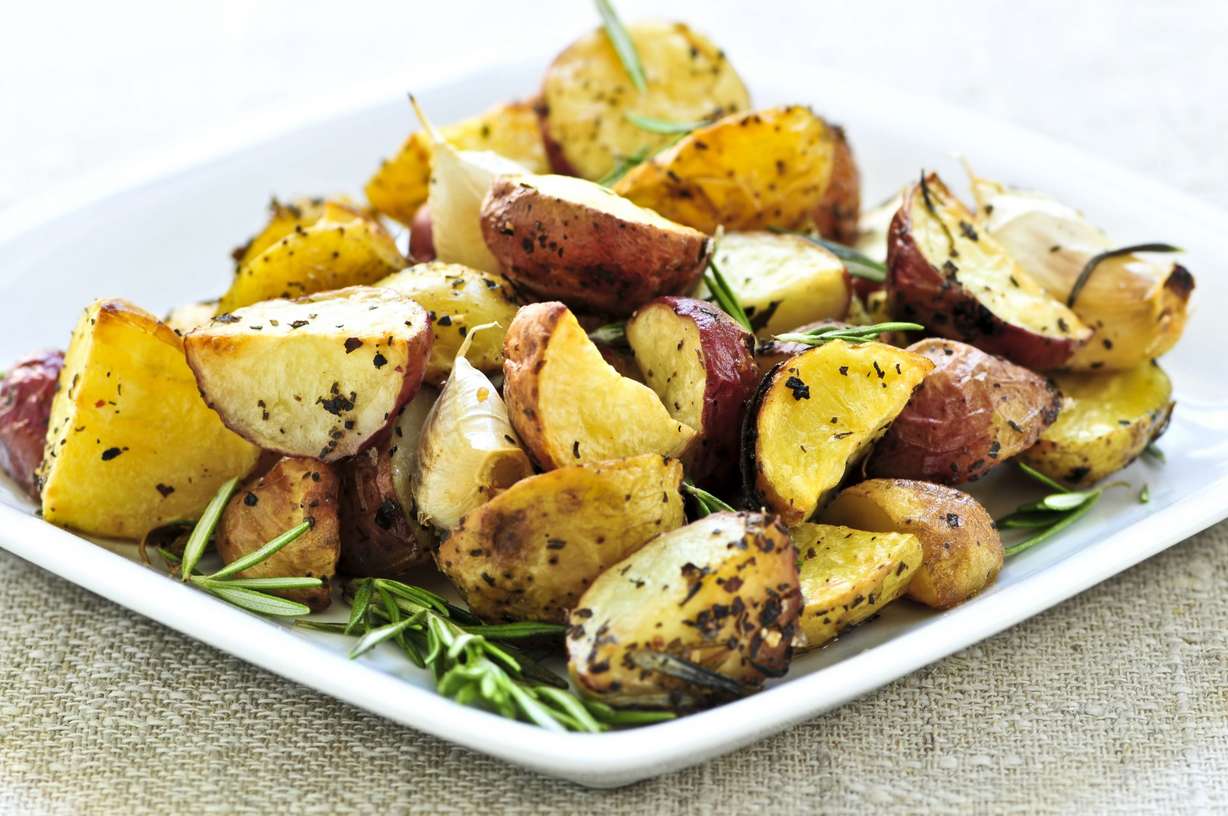 2 cloves garlic, chopped
2 tablespoons olive oil
Salt and pepper Directions:
Preheat oven to 375 degrees.
In a bowl, combine all ingredients.
Spray a sheet pan with non-stick spray.
Pour the mixture onto the sheet pan and place in the oven.
Cook the potatoes until they are tender, about 45 minutes.
Remove from the oven and serve.
Visit Harmonsgrocery.com for more holiday recipes and entertaining ideas.
Check out other Ask a Harmons Chef articles here.
×
Related links
Related stories
Most recent Utah stories