Estimated read time: 3-4 minutes
This archived news story is available only for your personal, non-commercial use. Information in the story may be outdated or superseded by additional information. Reading or replaying the story in its archived form does not constitute a republication of the story.
SALT LAKE CITY — Police officers joined the holiday crowds early Saturday, helping little Christmas shoppers check off their own little lists.
For more than 20 years, officers and civilian employees with the Salt Lake City Police Department, as well as citizen volunteers, have teamed up with about 100 kids to do their shopping. It helps familiarize the kids with police in a good way, but also serves the community, said West Jordan volunteer Miguel Ritz.
"It's just nice to see the smile on the little kids' faces," he said. "It makes it worthwhile."
After breakfast at the Little America Hotel, kids accompanied officers in police cars — complete with lights and sirens — to retail stores, where Santa Claus dropped in via the state's Department of Public Safety helicopter to wish them a jolly "merry Christmas."
Then the shopping ensued.
Santa said popular requests include toys from Disney's "Monsters, Inc." for the girls, and Legos for boys.
---
It can't be for mom and dad. It has to be for them. When you get to pick out anything you want, that's a fun experience.
–Keith Pasker, volunteer
---
"They have to buy stuff for themselves," said Keith Pasker, a volunteer. "It can't be for mom and dad. It has to be for them. When you get to pick out anything you want, that's a fun experience."
Kids filled their baskets with toys and games, clothes, shoes, school supplies and more as they whisked through the aisles. Their faces filled with delight as they watched each item get wrapped up to be seen again on Christmas Day.
Salt Lake City Police Chief Chris Burbank said its a great way to give less fortunate kids a "taste of Christmas."
"The stories behind some of these kids are very tragic and very personal to some officers, and so the opportunity to give a little something back, something different from a law enforcement aspect, is really unique and really a good opportunity for us," he said.
The Salt Lake Police Association has participated in the national Shop With a Cop event since 1990, with an objective to allow kids ages 4 to 8 have a positive experience with law enforcement.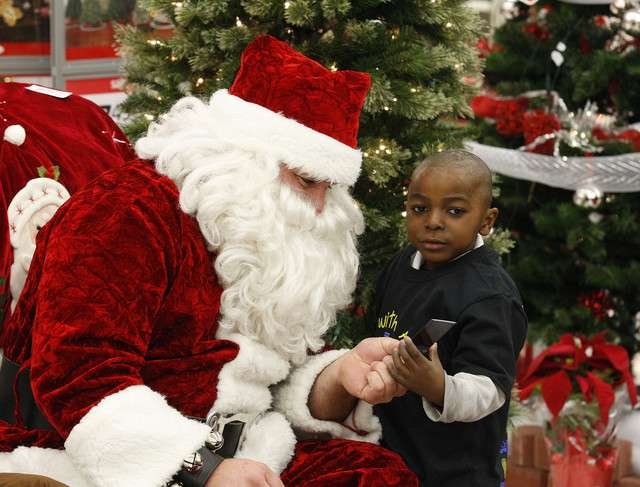 Kids involved in the program are from low-income families or families whose children might be prone to gang affiliation or drug issues, as well as kids who have seen a parent being arrested for some reason.
"It's a great day," said Salt Lake City police officer Tom Sawyer. "It's a day we can give back to the community and help these kids out and give them a good time and let them know the police are friendly and we're there for them."
Families provide waivers for the children to take part, and each child gets a gift card and partners with an officer. Similar events are held all over the state and country at this time of year.
Originally sponsored by Kmart, the local event is now supported primarily by donations to the Salt Lake Police Association, as Kmart has endured financial troubles. Kmart still supports the event where it can, as does Little America, which provided breakfast for the kids and cops Saturday.
"It's to help them know the local law enforcement has their back," Ritz said. "It opens the door to the police, where they're just not the bad guys. Some kids weren't raised in the best circumstances, so this kind of reunites them and the police together.
Contributing: Alex Cabrero
×
Photos
Related links
Most recent Utah stories