Estimated read time: 3-4 minutes
This archived news story is available only for your personal, non-commercial use. Information in the story may be outdated or superseded by additional information. Reading or replaying the story in its archived form does not constitute a republication of the story.
OGDEN — His walk is unusual, but it's a victory for 18-year-old Tommy Turgeon because he was born with spina bifida.
"I was completely paraplegic. I couldn't feel below my waist at all," Turgeon said. "And slowly but surely, I learned to walk."
Turgeon is not only walking, but he's getting a good start on making his dreams come true. On Tuesday, the college-bound Ogden resident was given a 2001 Mercedes SUV and a scooter to help him get around campus.
The gifts were donated by two Utah nonprofit groups who teamed up to help. He said the gifts open the doors to endless possibilities.
"The doctor said I would never live past 5 years old," Turgeon said. "Now, I've graduated high school and just had a great life."
Despite his physical condition, he knows he's not confined to the walls of his own home. Mainly because the Utah Center for Assistive Technology donated the SUV. Steve Townsend made the modifications so Turgeon can drive it to work and school.
What is spina bifida?
Spina Bifida literally means 'split spine.' It happens when a baby is in the womb and the spinal column does not close all of the way, but no one knows exactly what causes it.
Children and young adults with Spina Bifida can have mental, social and physical problems. Because of today's medicine, about 90 percent of babies born with spina bifida now live to be adults.
Source: Spina Bifida Association
"You have this little lever here that does the gas, like on a motorcycle," Townsend explained as Turgeon revved the engine. "I've created this little device for your turn signal, so you won't have to take your hand off the brake while you're driving."
U-CAT teamed up with nonprofit Ability Found and modified the SUV.
"There's a lot of people that just fall through the cracks nowadays with our health care system," said Ernest Robison, founder and president of Ability Found, "and we get calls every day for it."
Adrian Jackman donated a scooter that belonged to his daughter, Jessica. He said she had a debilitating disease that required her to use walkers and the scooter.
"I think that's what she would've wanted so that somebody could use it for the purpose that it was intended," Jackman said.
Jessica Jackman, her mother, Marilyn, and a family friend died last summer in a boating accident on Lake Powell.
"It was a blessing in her life, and it'll be a blessing in his," Adrian Jackman said.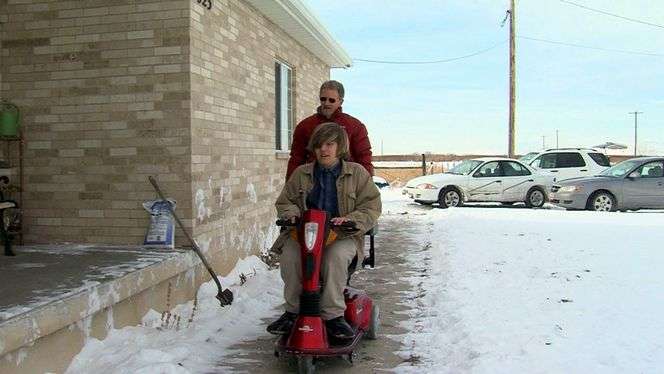 He shook hands with Turgeon after delivering the scooter Tuesday and told him, "Good luck. Work hard. Good luck in your schooling."
Those who work at Ability Found know just how significant the SUV and the scooter will be for Turgeon. While he can walk, getting around on campus will be a bit difficult without some help from the scooter.
"He's limited by how far he can go and the types of terrain and surfaces that he can get around," said Michael J. Workman, a physical therapist with Ability Found.
Turgeon plans to use his gifts to pursue a career in graphic design because "I'm really good with computers, and I'm really good with things visually," he said.
Now that Turgeon has his SUV modified to his abilities, he is now working on getting his driver's license before he heads off to college in January.
×
Photos
Most recent Utah stories