Estimated read time: 6-7 minutes
This archived news story is available only for your personal, non-commercial use. Information in the story may be outdated or superseded by additional information. Reading or replaying the story in its archived form does not constitute a republication of the story.
SALT LAKE CITY — Two Utah mothers know that when your newborn is in the intensive care unit, in that moment, the experience seems like it will never end. Seeing the light at the end of the tunnel, they said, seems impossible.
Jessica Olsen and Erin Koelliker, of Salt Lake City, have each watched their babies fight for life in a NICU bassinet. Now, they want to give hope and support to other mothers in similar circumstances.
The two have fundraised, worked with local companies and donated their time to put together baskets for mothers of babies in the NICU and mothers admitted to the hospital on bed rest. Monday night, the two will deliver a few surprise baskets of baby clothing and grown-up treats to mothers at the University of Utah Hospital.
"Thinking about these moms who are stuck in the NICU — because they cannot bear to be away from their babies because you have to be there, you love them and you want them to be OK — I thought this was really the way to let people know there is a light at the end of the tunnel," Koelliker said. "(That) even though every day is a long one and a scary one, there are people who have been where they've been."
Koelliker and Olsen were driven by empathy to do something, they said.
For Olsen, this is the first holiday season since her daughter, Nora, was in the NICU. For Koelliker, this has been a four-year process of healing from the death of her oldest son, Henry, and the more recent hospitalization of her premature second baby.
On Feb. 9, 2010, Henry was born after a "wonderful" pregnancy, three weeks before his due date. He wasn't breathing at the time of his birth, causing severe brain damage in a few moments. Koelliker and her husband spent four days in the NICU with their baby before he died.
Related:
"With him being our first child and losing him after such an unexpected and traumatic event, it had a very big impression on my husband and me," Koelliker said. "We grieved for him intensely for a long time. Always in the back of our minds, we wanted to do something for the NICU. But we were so wounded by the experience and so surprised to have lost our child, we were in no position to do anything and we definitely didn't want to go back."
Last year, Koelliker found herself in the same NICU worrying over her second son, Edward Henry — named after his brother and premature by nearly three months — for the first nine weeks of his life.
"I felt incredibly lonely," she said. "I had never heard of people going through what I was going through. I couldn't believe I was going through what I was going through."
As she listened to the monitors that let her know Eddie was growing, she prayed that he would keep doing so.
"We knew that Eddie was going to be OK. But when you're in the experience and you are a NICU parent, each day is truly a roller coaster ride," Koelliker said. "You never know what's going to happen. These babies are so small, they can get an infection and, tragically, they're gone within 24 hours. You are very hyper-aware of what's happening to your baby. By nature, you have to close off from the rest of the world so you're safe from germs. You're so exhausted at the end of each day."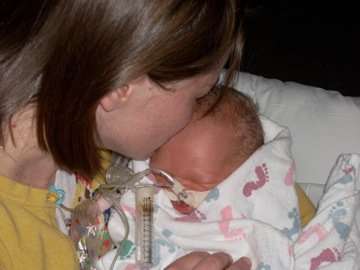 Olsen, a mother of a nearly three-year-old girl named Evie and one-year-old twins, Nora and Will, understands the experience of having complications with two children, as well.
In 2010, 20 weeks pregnant with Evie, Olsen's doctor discovered she was critically low on amniotic fluid. By 30 weeks, Olsen was admitted into the hospital where she and the baby girl were monitored multiple times a day.
"This is one aspect of pregnancy that people don't really pay attention to. I think that those moms, they're heroes," Olsen said. "It's such a big sacrifice to go and do something like that for your child and be in the hospital for such a long time."
For seven weeks, Olsen waited in the hospital for Evie's birth. She waited through Thanksgiving, Christmas, New Year's — missing celebrations and interaction she craved.
"Ever since that experience, I have always thought I wanted to do something for moms who find themselves in the same situation during the holidays," Olsen said. "It was such a hard thing to go through, it was so isolating, really lonely."
Evie was born without complications in January, sending the two home.
Less than two years later, Olsen delivered twins — a boy and a girl — and after a brief stint in the NICU, returned home.
Within a week of their return, however, Nora began exhibiting symptoms of necrotizing enterocolitis, a gastrointestinal disease affecting premature babies that can destroy the bowel and lead to death.
"I felt like we'd already paid our dues, we'd already been in the NICU for awhile, my pregnancy with Evie was so hard, I thought, 'we're gonna catch a break this time,' " Olsen said.
Want to help?

Koelliker and Olsen are fundraising on Fundly.*
For 14 days, Nora was administered an IV in the Primary Children's Hospital NICU, giving her bowels a rest and time to heal.
"We got through it and we did it, and it was really, really difficult. But Nora recovered. She was able to heal," Olsen said. "She didn't need an operation and she is doing remarkably well now."
Koelliker and Olsen feel that with their experiences — from losing a child, watching one fight in the NICU, to simply waiting in an isolated room — they can reach out to other struggling mothers.
"We really just want to say, first of all, we understand what you're going through. We've been there. And secondly, you're going to get through it," Olsen said.
As the two have reached out, fundraising to create kits with treats, clothes and accessories for mother and baby, mothers have responded, sharing their experiences of having a newborn in the hospital.
Local people and companies — like Bocobaby, Hoopla Earrings and V Chocolates — have donated many of the items in the kits, expanding the reach of the donations from the University of Utah Hospital NICU to Primary Children's NICU and expecting mothers admitted on bedrest.
Hearing the stories about other women, as well as being able to give mothers a show of support has helped Koelliker heal from her loss and fear.
"It's been a long time coming to try to give back to a place that kind of took something from me, but also gave me something as well. It's been a very rewarding thing to feel little pieces come back together again that have been broken apart," Koelliker said. "It's been nice to give back and I just hope that it helps."
---
*ksl.com has not verified the accuracy of the information provided with respect to the account nor does ksl.com assure that the monies deposited to the account will be applied for the benefit of the persons named as beneficiaries. If you are considering a deposit to the account you should consult your own advisors and otherwise proceed at your own risk.
×
Photos
Related links
Related stories
Most recent Utah stories