Estimated read time: 6-7 minutes
This archived news story is available only for your personal, non-commercial use. Information in the story may be outdated or superseded by additional information. Reading or replaying the story in its archived form does not constitute a republication of the story.
SALT LAKE CITY — During my two decades of being a sports writer, I've discovered that some of the best stories don't happen during games.
My favorite personal story from covering the Utah Jazz this season happened last week between the team's win over Chicago on Monday and its loss to Phoenix on Friday.
This uplifting story involved a struggling Jazz player who's received much more negative attention than positive because of some on-court difficulties.
It also involved kids, my kids, who couldn't care less about missed shots or statistics.
The Jazz, who lost 14 of their first 15 games, need all the extra work they can get, so it wasn't surprising when coaches scheduled a practice for Thanksgiving morning. Of course, I grumbled when I found out. If the team practiced, I also had to be there. There are two things sports writers usually don't have: weekends and holidays.
I decided to make the most of it. With the Jazz's permission, I brought three of my four children to Thursday's 9 a.m. practice.
Several players were shooting on the courts at Zions Bank Basketball Center when we arrived at 8:30. While waiting for Jazz coach Tyrone Corbin to come out of his office for an interview, my kids and I sat on the gym's purple bleachers and watched players warm up.
Most guys didn't pay attention to us, which was perfectly fine. My kids were there to be at work with dad, not to hobnob (not that they know what hobnob means).
When new Jazz players John Lucas III and Brandon Rush came out of the locker room, they saw us and walked straight to my rowdy bunch. Both NBA pros offered me a warm "Happy Thanksgiving" greeting. They then took a moment with my kids. Rush kindly told them "hi" and shook their hands.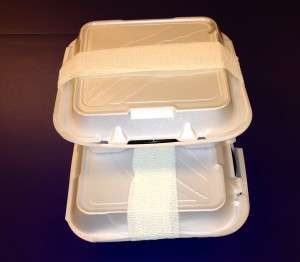 Lucas also grasped each child's hand, learned their names and asked what their favorite pie was. Ethan, 9, and Sydney, 7, both told him, "pumpkin." Aidan let him know that "punkin pie" was this 4-year-old's preferred Thanksgiving dessert.
"Have you ever tried pumpkin cheesecake?" Lucas asked.
"No," they replied.
"You should have your dad take you to the Cheesecake Factory and get some pumpkin cheesecake."
The good-natured Lucas then laughed, as he often does, and walked onto the court to shoot before practice.
A minute later, Corbin came out, gave my kids fist bumps and jokingly (I think) told them, "Your questions will be better than your dad's." Tribune writer Steve Luhm and I proceeded to do our interview, part of which was conducted with a toddler's head lodged between my legs.
Everybody laughed when the Jazz coach finished and preschool-aged Aidan said, "Can we go eat turkey now?"
The story was good on its own up to this point, but it gets even better.
Corbin has always been very pleasant to kids when they're around, and he was again this time. My oldest son thought it was cool to see forward Marvin Williams, who apparently plays well on a video game called NBA 2K13. Rush and Lucas didn't have to come over and meet my children, but they did. It was fun for them, and, honestly, was kinda neat for their dad to see the spontaneous interaction. A good job perk.
A Jazz public relations staffer later told me that Rush, Lucas and longtime NBA player Richard Jefferson are outgoing and gregarious like that whenever they attend community relations events or do meet-and-greets with fans. Say what you will about their basketball abilities — and, boy, have they received plenty of criticism — but they're the types of players that teams want representing them in public situations. Or in private ones, as was the case with my family.
Here's where this tale evolves into my favorite personal story of the season.
On Friday morning, I was in a hall near the EnergySolutions Arena court waiting to interview players after the Jazz's morning pregame prep session (called a shootaround). I was chatting with team employees when Lucas left the arena. When he saw me standing there, the point guard smiled and said, "I've got something for your kids."
Lucas returned from the Jazz locker room with two styrofoam to-go containers, securely (and awesomely) wrapped in sticky white medical tape.
He'd brought pumpkin cheesecake for my kids.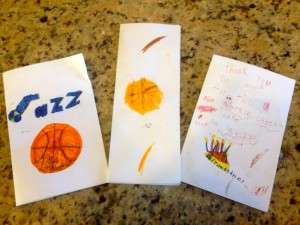 I was genuinely stunned.
And touched.
Society sometimes dehumanizes professional athletes, almost turning them into mythical characters, heroes and villains there to entertain and infuriate real people. Athletically, they can do things we can only dream or write about. Physically, they're often stronger, quicker and taller. Financially, they make more money than most of us could even think about spending. They lead rich-and-famous lifestyles that most people only fantasize about. We put them on pedestals when they succeed, help our teams win and do SportsCenter-worthy acts. Or we criticize and demean them when they play poorly and contribute to our teams' losses.
On this morning, John Lucas III showed that he's far from being a stereotypical narcissistic athlete.
I didn't see an NBA player standing in front of me.
What I saw was a good-hearted man trying to make three young strangers happy through a thoughtful act. I've been on this assignment for six years and have never had a similar experience. Athletes and writers often only give each other questions and quotes, maybe funny or awkward exchanges. I don't even think John knows my name or who I work for. I wouldn't doubt if he'd do this for anybody's kids. That just seems to be his character.
The considerate offering warmed this father's heart.
After thanking him, I jokingly told John, "I'll try really hard to make sure some of the pie makes it home to my kids."
It did. All of it even.
Friday was a busy day, including that night's Suns-Jazz game. I didn't get home until about midnight. But my kids were thrilled to have a Saturday morning breakfast that included pumpkin cheesecake with a graham cracker crust and whipped cream.
"It's nice," Ethan said, grinning, when told that the pie came from the Jazz point guard they'd just met.
"It's good!" Aidan exclaimed.
"Yummy!" Sydney added.
Baby Jack loved this breakfast of champions, too. Dad started digging in as well until Aidan noticed and joked, "How dare you eat my cake!"
My family decided it'd be fun to make thank-you cards, which were later read by a smiling Lucas. This card-making process resulted in one girl crying, fights breaking out, and cheesecake accidentally being smeared on the paper.
"How do you spell Jazz guy?" our 4-year-old asked while decorating his card with colorful markers.
My wife, Heather, helped him write "Jazz Guy John."
I can think of another way.
C-L-A-S-S A-C-T.
---
Deseret News sports writer Jody Genessy writes about his experiences — wacky family stories, travel tales and weight-loss efforts — in his personal humor blog at jodygenessy.com. Also follow him on Twitter at @DJJazzyJody.
×
Photos
Related links
Most recent Uplifting stories