Estimated read time: 4-5 minutes
This archived news story is available only for your personal, non-commercial use. Information in the story may be outdated or superseded by additional information. Reading or replaying the story in its archived form does not constitute a republication of the story.
Nadine Wimmer and Sandra Yi reporting A South Jordan couple accused in the death of their baby says they are innocent, and they announced plans today to try to stop a trial.
The baby died while sleeping with his parents. The couple lost another child in the same way, which is a concern to prosecutors. But defense attorneys say the death of their baby was not a crime but a tragedy.
"They're both trying to be a good mother and a good father. It's hard any time you lose anyone in your family. It's doubly hard when it happens twice," defense attorney Stephen Howard said.
Trevor Merrill and Echo Nielsen silently walked out of the courtroom this morning after pleading not guilty to charges in the death of their 3-month-old son.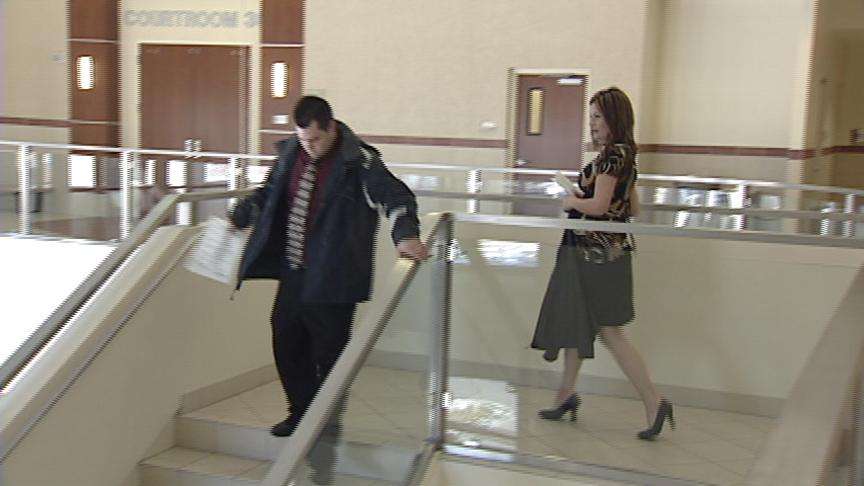 Prosecutors say the baby was placed to sleep on his back between his parents in their bed. When they awoke, the baby wasn't breathing.
Nielsen's attorney says the medical examiner couldn't determine the cause of death. "It's a tragedy. It's sad. The parents are devastated at the loss of their baby, but there's no one and no evidence that can tell us anything they did caused the baby's death," Howard said.
But prosecutors charged the couple with child abuse homicide and reckless endangerment because of negligence. They say both Merrill and Nielsen knew the risks of co-sleeping because they had another child who died in a similar way.
In 2004 Merrill and Nielsen's 24-day-old daughter also died after sleeping with her parents. The cause of death was ruled positional asphyxiation. The couple wasn't charged in that case.
"The allegation is these defendants had been told not to sleep with the child and chose to sleep with the child, and as a result the child is dead," said Salt Lake County District Attorney Lohra Miller.
Last month, a judge found there was enough evidence for a trial. In court today, defense attorneys said they plan to file a motion asking a judge to reconsider. "Lightning sometimes does strike twice," Howard said.
A decision has not been made on whether prosecutors can bring up the first baby's death to a jury during a trial. The couple has two other children and are scheduled to be back in court in May.
The details surrounding this child's death aside, it's estimated up to 70-percent of American parents do sleep with their babies at some point during the night. No wonder then that this case is controversial and drawing national attention. We sifted through a lot of information, much of it conflicting, to find how Utah families can Stay Safe.
D.A. Miller says, "Co-sleeping is a very dangerous thing to do. Many young parents are told this over and over again by their doctors, that they shouldn't sleep with their child in the bed."
Actually, the message is mixed. When moms talk to their pediatricians, research the mounds of recent literature, and even look to well-respected groups, from the American Academy of Pediatrics to the World Health Organization, there is not a uniform answer to the question: is sharing a bed with an infant ever safe?
One mother we spoke with, Annie Kuntz, said, "I feel like I am an educated mother, I feel like I did a lot of research when I was pregnant with my first son, trying to decide what was normal and natural and safe. To go on a witch hunt for people who co-sleep, it's horrible, just horrible."
Many moms in a breastfeeding support group agree. They've studied bed sharing and don't think a parent's decision should be on trial. Kestrel Liedtke said, "It's really sad that they're being blamed for it, because this does feel like the most natural thing."
Katherine Wojnowski said, "To have my baby close by me so if there's a problem in the night I'm there, in the same vicinity. To me I couldn't imagine anything safer."
In fact, some research suggests breastfeeding and co-sleeping may protect against SIDS. Renowned researchers at Notre Dame's Mother Baby Behavioral Sleep Lab conduct videotaped experiments that show when moms and their babies sleep in the same bed, they synchronize breathing and waking.
Nicole Bernshaw, with La Leche League of Utah, said, "Because both of them, the mother and the baby, don't stay in deep sleep for very long, then they're more aware of each other, and as a result it's easy for the mother to take care of her baby."
Bernshaw says the harsh stance from prosecutors is troubling. For instance, if the court says this couple should have "known the risks" because they had another child who died while co-sleeping, does that mean parents whose children die from SIDS shouldn't put other children in a crib?
The trial could add to the confusion women already face.
Amy Spangler, former President of the Breast Feeding Committee, said, "Because we don't have good evidence, everyone's kind of walking that fine line to balance what do we tell people, parents, and how do we make whatever sleep situation they choose safe."
In our review, we found some information everyone agrees on. Don't sleep with your baby if you are under the influence of alcohol or drugs, if you smoke in your room, or if you have excessive pillows and blankets on the bed.
×
Related links
Most recent Utah stories