Estimated read time: 4-5 minutes
This archived news story is available only for your personal, non-commercial use. Information in the story may be outdated or superseded by additional information. Reading or replaying the story in its archived form does not constitute a republication of the story.
NEW YORK CITY — Standing 12 feet tall on a busy New York City street, a Utahn's bronze sculpture "Think Big" was designed to remind passers-by they can achieve anything.
Jim Rennert, from Cottonwood Heights, said he hopes his sculpture can be on display in New York City indefinitely. A building owner supportive of the project is allowing it to be viewed at 3 W. 57th Street, but it may move soon.
A lot of people think the sculpture is a self-portrait of Rennert, but it's not. He said he sculpted it in a very simple way without much detail in the face so everyone can relate to it.
"Sometimes when you have a specific face you wonder who it is and really I wanted everyone to have the opportunity to almost feel like it is them," Rennert said. "I think with that simplistic form, it does actually allow people to interact with it in a very unique way."
Rennert hopes people will connect with the sculpture and has created a Facebook page and Twitter account for "Think Big" so people can post pictures of themselves and their ideas of thinking big.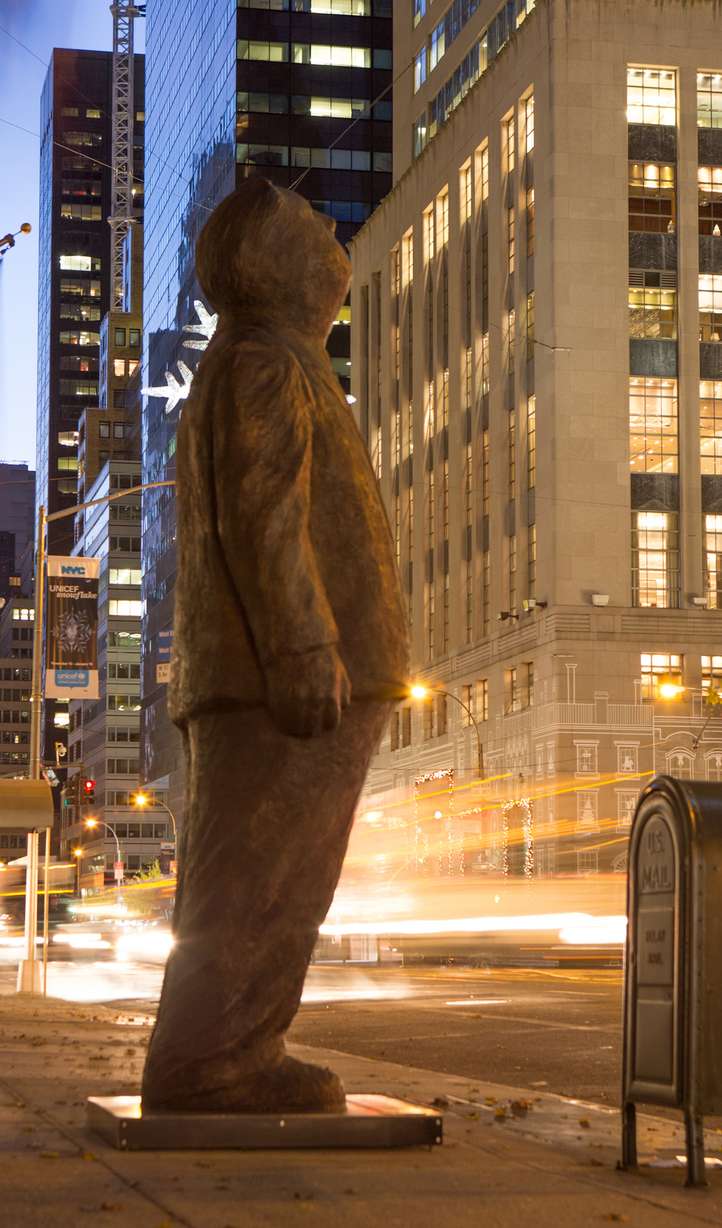 "One of the things about New York is that there are so many people from so many different nationalities that come here and their whole thing is to have a dream of a different life and they're thinking bigger and wanting to have that happen," he said.
The sculpted man wears a simple suit and gazes up towards the tops of surrounding skyscrapers. Most of Rennert's work is based on the business world.
"The reality is we're all in business," he said. "We're all working, we're all striving to make a living. Hopefully the inspiration of the piece is that as people are doing that, they can continue to think big and improve and continue to get better."
He said so far, people have loved taking pictures with it and their Twitter followers doubled Friday. The only person who hasn't liked it was the one who gave them a ticket for impeding pedestrian traffic Friday morning, he said. The ticket has prompted a search for a new location.
Rennert drove the sculpture to New York City from Utah on a trailer with his son. The trailer they were using broke in Nebraska, causing them to have to wait over the weekend until they could buy a new one and continue their journey. They arrived in New York City late Tuesday and had the sculpture in place at 5 a.m. on Wednesday morning.
"Think Big" was cast and built in an Alpine studio. Typically a project of this scale will take six months, but Rennert said they finished it in a shorter period of time because they wanted to get it to New York City.
To make the sculpture, they first had to model the work in its actual size in clay, then make molds of the clay and wax replicas. Eventually bronze was poured into the mold so it could be pieced together. Rennert said "Think Big" was cast in about 40 pieces.
---
We're all working, we're all striving to make a living. Hopefully the inspiration of the piece is that as people are doing that, they can continue to think big and improve and continue to get better. - Jim Rennert
---
However, "Think Big" wasn't always so large. The first version of "Think Big" stood at 2 inches tall. Then he made 13 inch and 6 feet tall versions before his latest 12 foot tall work.
"You stand next to it and it's just gigantic," Rennert said. "I didn't think 12 feet was really that tall."
Rennert loved to draw as a kid, but didn't get into sculpting until he was 34 years old. He said he doesn't have any formal training.
"I could never make a pencil do what I really wanted to do, so I kind of let it go and ended up in the work world working as a stock broker," he said. "I ended up finding clay at an art store after selling a company and found out I can make the clay do what I wanted it to do where I couldn't make the pencil or pen or paintbrush do it."
Once he discovered clay, he decided that was what he needed to devote his time to and he has been sculpting full-time since 1993. Rennert said he jumps into things with both feet.
×
Photos
Related links
Most recent Utah stories