Estimated read time: 3-4 minutes
This archived news story is available only for your personal, non-commercial use. Information in the story may be outdated or superseded by additional information. Reading or replaying the story in its archived form does not constitute a republication of the story.
SALT LAKE CITY — A new app could offer "books the way you want them."
Local company, PureMedia, has a goal to create an app where people have control over what content is displayed in their e-books. They began a Kickstarter campaign to crowd-fund development of the project.
"When you first download a book it's going to connect to our server and check if there is a filter for the book," said business manager Jared Hicken. "If there is, it will download all of the information for the book. If there isn't, what it will do is run a scan and find all of the profanity and then mark that ... and then from there you can make additional edits."
PureMedia is a family creation. Hicken and his brothers are behind the project, and he said his family is made up of readers. A conversation about a book he recommended to a brother sparked the idea for the app. He had warned his brother about some profanity, but forgot about a sexual scene he skipped over until his brother and sister-in-law encountered it.
"I was a little bit embarrassed about that, but we were laughing about that on the Fourth of July and thought 'We should fix this — we're all techies so we can solve this problem,' " Hicken said. "We started talking about it and brainstorming and that's where it started."
#poll
Originally they had only planned to develop the application for their own use, but after talking to friends and neighbors they realized other people were interested in filters as well.
"I think there's a lot of demand for that not just in the LDS community, but obviously from any parent who is interested in protecting their kids from that kind of content," he said.
The brothers have been working on PureMedia as a side project, so some of the funding from the Kickstarter campaign would be used to hire subcontractors to work with them and speed up the development. They hope to have the app ready at the beginning of 2014.
PureMedia plans to offer the app for free with ads, or without ads for a small subscription fee. Hicken said it is important to them to make it available for all types of devices, whether iPhone or Android, tablet or e-reader.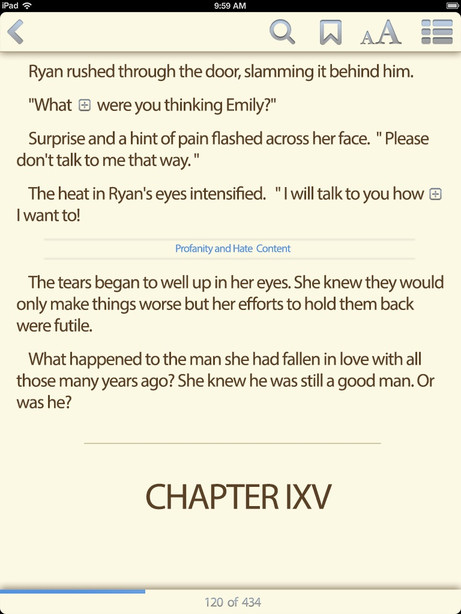 The app will work by checking for filters when e-books are downloaded to a device, and then the filters will be applied to the text based on the user's preferences. When people install the app they will be prompted to choose what level of different types of content they would like to block. For example, someone could choose to block sexual content and profanity at a high level, but decide they don't want to filter violence.
"There will be a little indicator saying this is hidden content, but basically it will be skipped unless they specifically open it up," Hicken said.
He said they might not always have filters for books that aren't as popular, but an automatic profanity scan would find offensive language and as people are reading they can make their own edits to the text that the app will remember. If they choose, they can send their own edits back to PureMedia to share with others.
"That's where the magic comes on the backend, because we can basically take all of that data and we can aggregate it and make our filters better," Hicken said. "When we do that, it helps everybody out."
They are also working on parental controls, which he said would allow children to join in on conversations with friends about popular books without reading content their parents are uncomfortable with.
×
Photos
Related Links