Estimated read time: 4-5 minutes
This archived news story is available only for your personal, non-commercial use. Information in the story may be outdated or superseded by additional information. Reading or replaying the story in its archived form does not constitute a republication of the story.
PROVO — Popularity on Instagram has led a Provo man to turn a fun side-project into a medium for people to show their state pride.
David Lesue is looking to fund his Stately Type project in time for the holidays with help from Kickstarter. He is producing T-shirts with hand-lettered shapes of individual states and a letterpress map of the United States.
"Everybody is sharing it and it seems to really resonate with people," Lesue said. "Everybody has a different state that they are from and a different shirt they want because of that."
Stately Type began as a fun side-project for graphic designer Lesue to scratch his design itch. He hadn't planned on selling anything, but posted work-in-progress pictures of his state designs on Instagram.
"A lot of people were really excited about it and I got more likes on those photos than I get on anything else," he said. "I'm kind of a T-shirt nut, so I thought it'd be fun to do T-shirts of the individual states. I started mocking those up as well, posting those on Instagram, and again the response was really positive and people kept asking where they could buy them."
Lesue said he thinks people want to share their love for their states, similar to how people support sports teams, but there aren't many well-designed apparel products to fill that need.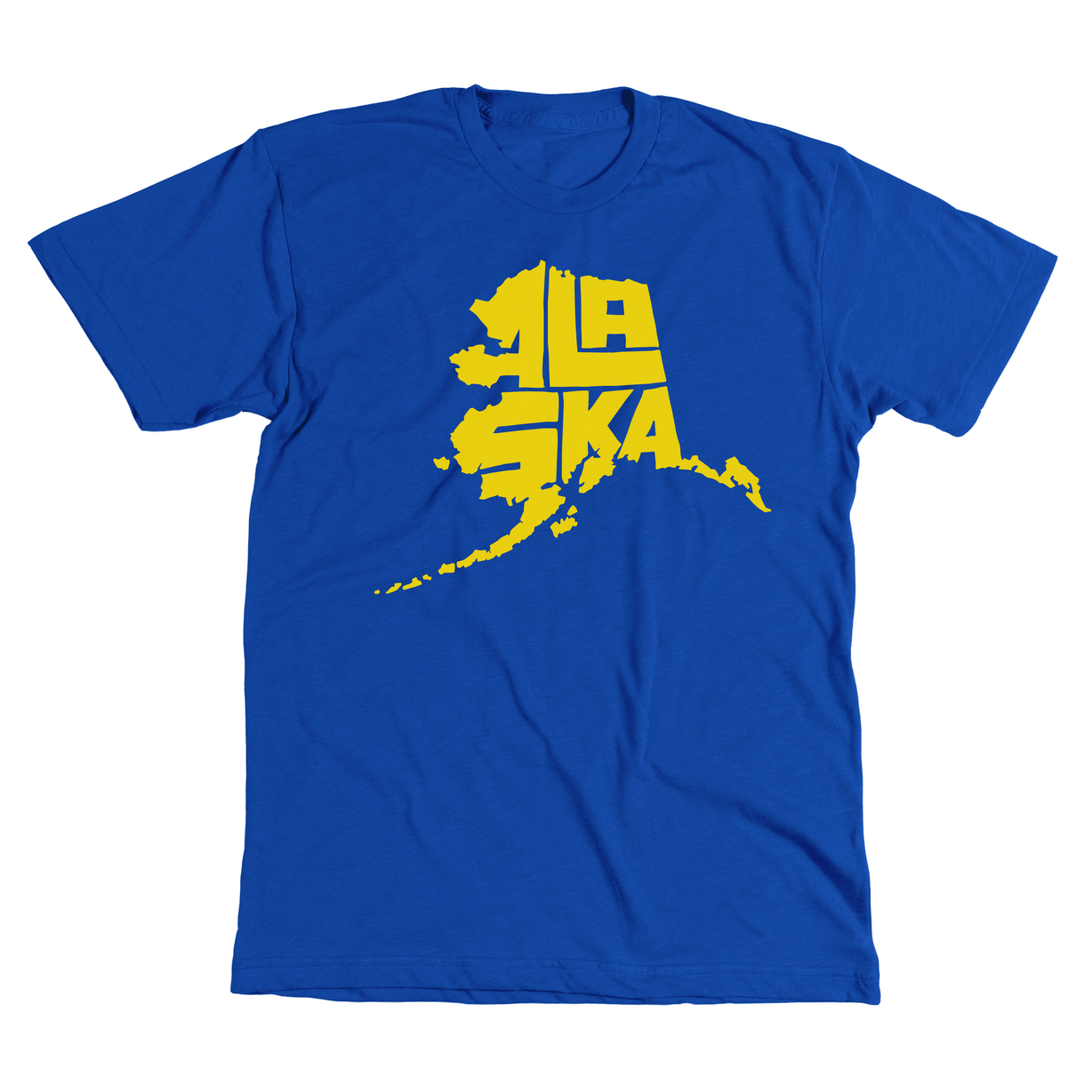 "It's kind of like a tribal thing," he said. "Everybody has the state where they're from and almost everybody feels some amount of pride in that."
He created the map by tracing the outline of each of the states and then hand-lettering the name within the borders. When he was happy with the results he would go over it with ink, scan it into his computer and convert it into vector shapes in Adobe Illustrator.
The most interesting part of the project was the design challenge each state presented, he said. Michigan was difficult because its shape is broken into two pieces, but even rectangular shapes like Colorado could prove difficult.
"Sometimes I would get it right away, but sometimes it would take a couple of tries before I could get it just right," Lesue said. "The more distinctive the shape of the state, the easier it was and the cooler the result turned out to be."
People can pre-order T-shirts and maps through different levels of contribution to the Stately Type campaign. Lesue's biggest surprise was how many people were buying Alaska shirts, making up about 10 percent of the orders. Another surprisingly popular state was Minnesota.
Some popular states were less surprising because of their large populations, like California, Texas and New York. There have also been a lot of orders for Utah, possibly because Lesue lives in Provo. The local interest prompted him to create a "Utah Pack" of goods and more options for Utah T-shirt colors.
Lesue has been living in Utah since he attended BYU and met his wife, but has made his round across the states.
"I moved around a lot as a kid," Lesue said. "My dad worked for the government, so I was in Texas, Nevada, Mississippi, Missouri, Virginia, all over the place."
Lesue said he has always been interested in drawing and creating new products.
"I've loved graphic design before I even knew it was called graphic design," Lesue said. "When I was a kid I used to draw shoes. I would draw pages and pages of shoes, like Nike and Adidas, and I would create my own brand."
Other projects outside of his work have included collaborating with his wife to create a line of fabric they are pitching to design houses. He also had a comic strip that ran in Brigham Young University's Daily Universe for a year called "Hives."
Lesue said the Stately Type project is his favorite so far. Once production starts, they will be sold at statelytype.com.
"Typically, as soon as I finish something I hate it immediately and I'm not super excited about sharing it, but this is one of the few projects where I'm still really excited about it," he said. "I think it turned out really well and the response has been great."
×
Photos
Related links
Related stories