Estimated read time: 2-3 minutes
This archived news story is available only for your personal, non-commercial use. Information in the story may be outdated or superseded by additional information. Reading or replaying the story in its archived form does not constitute a republication of the story.
SALT LAKE CITY — A new app will deliver real-time air quality information to users giving those along the Wasatch Front and elsewhere help in navigating their day, including whether to go outside at all.
The app was developed by Weber State University students who said they hope it will allow area residents to make informed decisions about driving, among other things, and reduce the number of bad air days in Utah.
"The Utah Division of Air Quality has a really good website. We wanted to take that good information because people don't have the opportunity to go that website when they are up and about," said Joe Thomas, director of the campus-based National Center for Automotive Science and Technology, which developed the app called Utah Air.
Available for both iOS and Android users, the app draws on the information posted on the state Division of Air Quality's website at www.airquality.utah.gov and incorporates the division's new air quality alert system that includes three basic symbols. Those symbols indicate if there are voluntary or mandatory actions the public should take based on the Environmental Protection Agency's air quality index.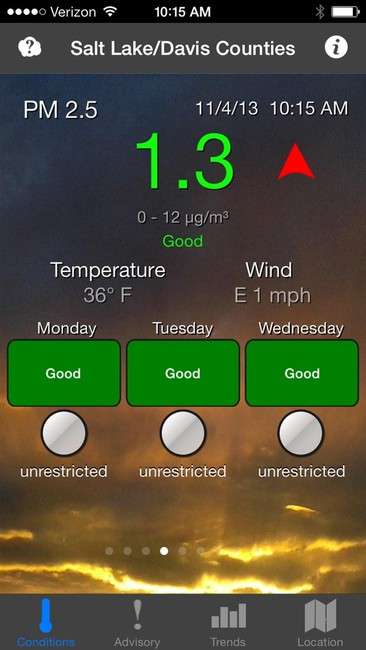 #screen_shot
Utahns can check the app daily to know when not to use wood- and coal-burning stoves or fireplaces, the best times to exercise outdoors, or make one consolidated trip for errands based on current conditions and trends. A three-day forecast is included so people can plan ahead.
Thomas said the idea for the phone app grew out of last winter's persistent inversions that settled over the Wasatch Front in January.
"We had terrible air quality at the beginning of the year. Our challenge was to make the information more user-friendly and put it on a smartphone so people can make choices," he said. "By making air quality data more accessible, we are helping residents actively participate in keeping Utah's air clean."
Thomas said the app came together after months of work by his students.
"That is what makes this so exciting. It was all done by our students," he said. "I gave a vision to our students: We have a wonderful alert system with DAQ. How can can we create it for everyone's phone?"
Thomas said he's anxious for residents to try the app so the next one can include modifications based on feedback. This app, for example, does not include push notifications or actual "alerts" should air quality worsen.
"That will be on our next version," he said.
×
Related stories
Most recent Utah stories