This archived news story is available only for your personal, non-commercial use. Information in the story may be outdated or superseded by additional information. Reading or replaying the story in its archived form does not constitute a republication of the story.
AMERICAN FORK — Born at a whopping 14 pounds 0 ounces, Joel Jr. may just be the biggest baby born in the United States in 2013.
Joel Brandon Jr., nicknamed "J.J.," was welcomed into the world at Timpanogos Regional Hospital in Orem on May 9. His mother, Sara Brandon, was warned he would be a larger baby at her last ultrasound before he was born, but at the time he was measuring around 11 pounds.
"When he came out and they put him on the scale and it said 14 pounds even, I was very shocked, to say the least," she said.
The claim of biggest baby in the world born in 2013 currently belongs to George King from England, who weighed in at 15 pounds 7 ounces in February, but J.J. beat out 13.74 pound Jasleen, who was born in July and reported to be the heaviest baby ever born in Germany.
The closest American baby to J.J.'s weight reported so far in 2013 was 13 pound 12 ounce Addyson Gale Cessna of Pennsylvania.
"We've kind of been watching and waiting to see if there is a baby who is bigger, because he might be the biggest of the year," Brandon said. "We thought it was pretty funny we had Germany beat, and so far we haven't heard of a bigger one."
Brandon was scheduled for a c-section 38 1/2 weeks into her pregnancy. J.J. spent his first week and a half in the Neonatal Intensive Care Unit because of respiratory problems, but his mom said he has been healthy ever since.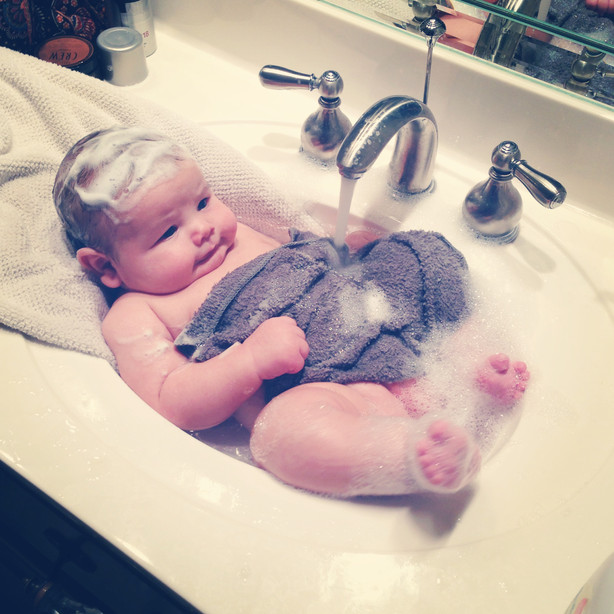 His larger than average size may be attributed in part to Brandon's type one diabetes, as well as family genetics of big babies and her husband's height, she said.
"He's my cuddly, chunky baby," Brandon said.
She joked that it seems like she can't have normal sized babies — her 2-year-old identical twin daughters were born at the opposite side of the spectrum from their brother, weighing in at 4 pounds each.
Now, all of her children wear the same sized diapers, she said. J.J. skipped newborn diapers and went straight to size two. People who meet him for the first time never believe his age because of his large size, Brandon said.
He weighed in at 23 pounds at his four month checkup, Brandon said. His doctors classified him in the "150th percentile" for height and weight based on how he compares to normal charts, but said he is growing at his own special, healthy rate.
"(The doctor) said he'll be a normal, healthy boy as he grows; he'll probably just be a big, tall guy but he'll probably slim down as he gets into his toddler years," she said.
J.J.'s twin sisters love playing with their big baby brother and their mom said they love to hold him, although he is too heavy for them to do it without her help. She said they also love to make messes together, and have put baby powder and Vaseline all over him.
"He is so sweet, just the happiest guy," she said. "He laughs all of the time and he is just very calm, which he probably has to be with his crazy toddler sisters. We feel very, very lucky to have him."
×
Photos
Related Links