Estimated read time: 6-7 minutes
This archived news story is available only for your personal, non-commercial use. Information in the story may be outdated or superseded by additional information. Reading or replaying the story in its archived form does not constitute a republication of the story.
LAYTON — Residents on his street called him the "perfect neighbor."
Weston Gerald Green, 36, of Layton, always waved to his neighbors when he left or arrived at his house. They called him "thoughtful" and say he was always available to lend a helping hand.
"He's just the nicest guy," neighbor JoAnn Sparks said. "He's there when you need something. He does his yard work."
But on Wednesday, investigators said the man who was arrested Tuesday after driving his pickup truck up the west stairs of the Utah State Capitol in Salt Lake City also had a small marijuana growing operation in his basement.
A motive for Tuesday's incident at the Capitol was still being investigated, but investigators hinted that it may be connected.
"He did tell investigators, specifically, he was up at the Capitol to promote the legalization of marijuana," said State Bureau of Investigations Capt. Tyler Kotter.
As investigators tried to learn more about Green Wednesday, questions about tightening security were also being raised.
Green was taken into custody Tuesday afternoon and kept overnight in a local hospital. Utah Highway Patrol Capt. Barton Blair could not disclose what he was being treated for. He also could not say whether Green was under the influence of drugs or alcohol when he was tackled by Capitol security, but it was being investigated.
Once Green is released from the hospital, he is expected to be booked into jail. But there was no indication Wednesday when that might be.
Search warrants were served Tuesday night on Green's pickup truck and Wednesday at his house in Layton, 847 Poplar Circle. A hazardous materials response vehicle was parked in his driveway all morning and a sign posted on the front door said: "Closed by order of Davis County Board of Health."
Related:
A hydroponic marijuana farm was found in the basement of Green's home. Neighbors said they never noticed any erratic behavior from him.
"I've never seen him drunk, I've never seen him on any type of drugs or anything, not that I know of," said neighbor Brenda Oveson. "I'm shocked, absolutely shocked. Because he's just a quiet, really nice guy. Just never would have expected that from him ever."
"He always acted the same. There was never anything," added Sparks. "I just kept thinking about (the incident), because it's just not him."
The only thing that ever raised any suspicion for neighbors was that his window shades, particularly in the basement, were always closed.
"I've never ever noticed anything out if the ordinary. The only that bothers me is his blinds are always closed. And I say to my husband, 'Why do they do that? It drives me crazy.' But I've never seen his blinds open or anything," Sparks said.
Green had a couple of DUI convictions and minor traffic violations on his criminal record in Utah. Neighbors say he is divorced and a young son stays with him every once in awhile. A paternity suit was also filed against Green in 2012, according to court records.
"He does not have anything in his criminal history that would cause us any suspicion of his actions (Tuesday)," confirmed Blair.
It took about three to four minutes for the man to be taken into custody Tuesday after police say he drove his truck up the Capitol steps. But Utah Highway Patrol Sgt. Travis Trotta said Capitol security had an eye on him the entire time. He said a trooper watched through surveillance cameras as the truck drove up the many steps.
---
The last thing that we want is to not be inviting to the public. This (incident) will be discussed. And we'll look at this vulnerability and see if there's a solution we can come up with that will work within the balances of what we're trying to provide — safety and accessibility to a state building.
–Utah Highway Patrol Capt. Barton Blair
---
Blair said Capitol Security and the Utah Department of Public Safety plan to meet with the state Capitol stakeholders to discuss the incident and whether there should be increased security. The challenge, he said, is to not make the building feel restrictive to the general public.
"The last thing that we want is to not be inviting to the public," he said. "This (incident) will be discussed. And we'll look at this vulnerability and see if there's a solution we can come up with that will work within the balances of what we're trying to provide — safety and accessibility to a state building."
Trotta concurred that the "perfect storm" of events unfolded on Tuesday. When the Capitol was renovated several years ago, the steps were built at a steeper angle as a security measure, designed to make a vehicle either bottom-out or be unable to make the climb.
"It was just the perfect-sized truck with the right amount of clearance to do what it did," he said.
A couple of Utah lawmakers said Wednesday that they don't believe Tuesday's incident calls for a knee-jerk reaction.
"We don't need to add anything more," said Rep. Curt Oda, R-Clearfield. "I don't see that we need to do anything other than make sure large vehicles can't go up the steps."
Oda said there was nothing going on at the Capitol at the time of the incident. The governor was at a function in Ogden and there were no interim committee meetings being held. If a similar incident had happened during a busier time, then maybe security would need to be looked at, he said.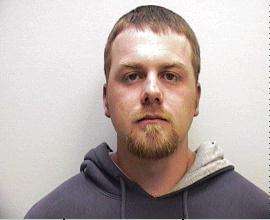 "For the most part, we don't have that problem. I think the main thing is to make sure a big vehicle like that can't drive up the steps," he said. "You're never going to stop an ATV or a motorcycle or something of that nature, so the main thing is just a large vehicle."
Trotta said Wednesday that Capitol security does staff differently on days that the Legislature is in session. Even with the Legislature out of session, if the governor had been in his office Tuesday, Trotta said the incident would have been handled a bit differently.
Sen. Curt Bramble, R-Provo, agreed that there needs to be a balance between security and accessibility to the public.
"I think the real question is, 'What is the balance?' Because the Capitol is the people's house. And it's important that the people have free and unfettered access to their house," he said.
There are different types of security at each state capitol building around the nation, Bramble said. Increased security measures were discussed when the Utah Capitol underwent its renovation about six years ago, he added.
But adding increased security, such as metal detectors at all the doors, "tends to impede the ability of the average citizen to contact their legislator," he said. "We have a very active, passive security system at the Capitol."
Trotta added that because those with concealed weapon permits are allowed to carry their guns on Capitol grounds and even inside the Capitol, "We have chosen that metal detectors aren't any good. Our laws say you can have guns."
Many of the security measures implemented with the Capitol renovation are things that aren't visible to the public, such as back hallways that lawmakers can use that are inaccessible to the public and a bunker in the basement for the governor, Bramble said.
The biggest question, he said, is knowing where to draw the line.
"That may change over time, given changes in society. But as an elected official, I think it's critical that the average citizen have access to their own house, their own Capitol."
Bramble said there is an internal email system at the Capitol to alert people of danger, but not a public address system.
"We're always looking for ways that we can implement better use of technology or better use of communication to make sure if there is a threat, we get that information out," he said.
Contributing: Andrew Wittenberg
×
Photos
Related stories
Most recent Utah stories