This archived news story is available only for your personal, non-commercial use. Information in the story may be outdated or superseded by additional information. Reading or replaying the story in its archived form does not constitute a republication of the story.
OGDEN — Police are looking for a man who walked into an Ogden Ford dealership and stole a car in broad daylight. Owners of dealership hope surveillance video of the theft will help detectives track down the thief.
The theft happened on Oct. 4 at Westland Ford, 3450 Wall Avenue. Used car sales manager Rich Beenman said he believes the same guy drove off with another car in September, but this time he was caught on video.
"It's personal. It's become personal with this guy," Beeman said Monday.
The surveillance video shows a man in a flannel hoodie strolling through the front door of the dealership. He casually looks at a vending machine, and then moves back near the reception desk. Cameras only capture a slight profile of his face as he heads out to the lot.
In the distance, the thief can be seen getting into a gray Ford Taurus. Beeman thinks the man wasn't familiar with the starting procedures of a push-button ignition, because he gets out of the Taurus and into a red Ford Focus.
In just a few minutes, the video shows the thief driving off the lot.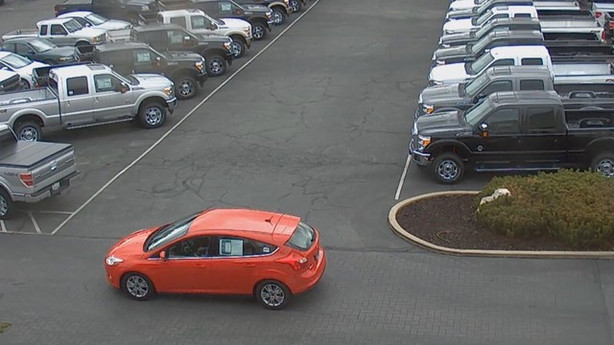 "He came in at lunchtime, when there's less people here," Beeman said, "walks right in — and he knows what he's doing."
In nearly 27 years with the company, Beeman said he's only seen a couple of cars stolen.
In early September, a Taurus disappeared from the lot, and Beeman thinks the man seen in the Oct. 4 video took that car.
He said the thief also stole some temporary tags from another new vehicle and used them on the stolen Taurus. Those temporary tags are harder for police to track, Beeman said.
The sales manager admitted his company made a big mistake by keeping the keys inside some of the cars during the work day, but he said employees don't do that anymore.
The Taurus was recovered by police in Riverdale shortly before the Focus was taken. Since then, Beeman has kept his eyes peeled, looking out for the nearly-new red sedan.
"I hope to nail him," Beeman said. "I hope I can catch him in the car."
But he's also hoping someone who sees the video knows who this thief is.
If you recognize the thief or have information that would be helpful to the investigation, contact Ogden police at 801-395-8221.
---
×
Photos