SPANISH FORK — Bryce and Trudy Nielsen's 3-year-old son, Dayton, lost his battle with cancer less than two weeks ago.
The news was devastating, and to make matters worse, the Spanish Fork family recently found out the money donated to help them pay for funeral expenses was stolen.
Dayton Nielsen was born June 17, 2010. On May 17, 2013, Dayton was diagnosed with stage 4 neuroblastoma in his abdomen. It's a cancer that most commonly affects children ages 5 and younger, according to the Mayo Clinic.
Even with his cancer diagnosis, Dayton kept smiling and making his signature "silly faces," his mother said.
"Oh, he was an angel," Trudy Nielsen said. "He was our world."
His parents remember him as a busy, happy toddler who often got into things and loved rough-housing with his dad.
"He would just look up at you with his blue eyes, and you just couldn't get mad at him," Nielsen said.
Dayton loved Mickey Mouse, riding ATVs and spending time with his family, according to his obituary. He was full of love, energetic, outgoing and very tender-hearted, family members said.
The cost of Dayton's medical bills nearly crippled the family financially, but friends and strangers pitched in and formed "Team Dayton," holding several fundraisers to help with the bills.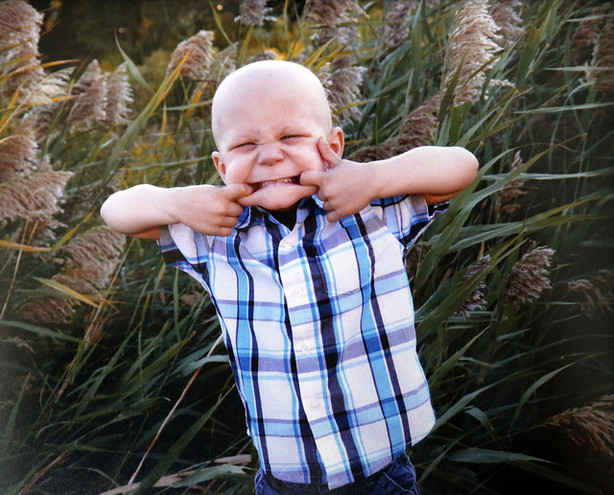 After two rounds of chemotherapy, doctors broke the news that Dayton wasn't responding to treatment.
"They felt we needed to get that large mass out so that we could hopefully move on to the bone marrow transplants," Nielsen said. "He was in the (operating room) for 14 hours."
But that surgery performed Oct. 2 to remove as much of the tumor as possible came with complications.
"His liver started shutting down, then his kidneys and finally his heart," his mother said.
Two days later, Dayton passed away in his parents' arms.
The 3-year-old was laid to rest on Oct. 8. While she was running errands and picking out a headstone following the funeral, Nielsen said someone stole $450 in donations for Team Dayton from her purse.
"Those days were such a blur," she said. "It doesn't seem like a lot, but when you have a sick little boy, and then funeral costs, every little bit helps."
Though the family said they felt violated and hurt, they're choosing to focus all their energy on what really matters.
"I'm going to dwell on the memories of my son and the happy times of my son," Nielsen said.
The family still has a many bills coming due. Friends have made special bracelets and set up a foundation under the name "Team Dayton." For more information, visit www.gofundme.com/Dayton. People can also make a donation* at any Wells Fargo Bank under the name "Team Dayton."
---
*ksl.com has not verified the accuracy of the information provided with respect to the account nor does ksl.com assure that the monies deposited to the account will be applied for the benefit of the persons named as beneficiaries. If you are considering a deposit to the account you should consult your own advisors and otherwise proceed at your own risk.
×
Photos
Related Stories