This archived news story is available only for your personal, non-commercial use. Information in the story may be outdated or superseded by additional information. Reading or replaying the story in its archived form does not constitute a republication of the story.
Keith McCord ReportingDo your kids have Legos, those plastic building blocks that can be formed into just about anything? Kids love 'em, but we found an adult in Utah County who's been playing with them since he was four years old.
Now he has a chance to make a living out of working for the company that makes them-- and coming up with creative ways to use them! He's hoping that his love for Legos lands him his dream job!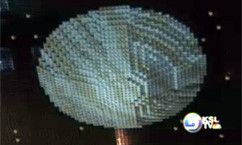 Gary McIntyre just has a knack at building things with Legos! Take a look at this room, that he did in a home at the Utah Valley Parade of Homes. On the ceiling, a complete solar system, made entirely out of Legos.
"All the planets are in order away from the sun. There's the sun, Mercury, Venus, Earth, Mars."
Gary used between 40- and 50-thousand pieces to produce this 3D mural. He spent four months planning the design and 200 hours building it.
McIntyre has been playing with Legos since he was four; he has so much stuff now, his collection is probably worth 100-thousand dollars.
Gary McIntire/ Lego Builder: "I love Lego because it's a way for me to be creative. It's kind of an outlet, a creative outlet for me."
That creative outlet has made him one of 24 finalists in Lego's National Model Builder Search competition. The winner will join the Lego design team at it's Legoland headquarters in Carlsbad, California.
The final test for Gary and the others comes next Tuesday. He knows that he'd better have his creative juices going!
"We'll be given a theme and two hours and a set number of pieces. We'll have to build something on that theme, out in the middle of the park while people are watching us."
Gary says it'll be two hours of intense building! What's his day job? Well, he's in the construction business, of course!
×