Estimated read time: 6-7 minutes
This archived news story is available only for your personal, non-commercial use. Information in the story may be outdated or superseded by additional information. Reading or replaying the story in its archived form does not constitute a republication of the story.
UTAH STATE PRISON — Michael Doporto has spent 20 years in prison for raping a child.
But his victim and other women who say they, too, were raped or sexually assaulted by Doporto say it's not enough.
"We are living in fear. When you guys get to go to bed tonight and you all get to go to sleep, none of us get to sleep tonight," said Tennille MacLean, Doporto's niece who was raped by her uncle starting when she was 5. "My life is turned upside down because of this monster."
On Thursday, those women tried to convince the Utah Board of Pardons and Parole that Doporto should not be paroled from prison on Nov. 26 as scheduled.
Doporto was convicted of one count of sexual abuse of a child and sodomy on a child in 1998. The sex abuse conviction carried a sentence of up to 15 years, which he has served. The sodomy conviction carries a sentence of 10 years to life in prison.
Even though the parole board has already set a release date for Doporto, many of the women who say he sexually abused them felt they weren't properly notified of his prior parole hearing in 2010. Because of that, the board held a victim impact hearing Thursday to take comments from some of those women.
The small parole hearing room was filled to capacity. The majority of people were there opposing Doporto's release. Many had to wait outside the hearing room because there were no more chairs. Several members of the group Bikers Against Child Abuse also came to support the victims.
Victims speak out against Doporto
Five of the women delivered comments during the hearing, pleading with parole board officer Jim Hatch to keep Doporto in prison for life.
Although Doporto was only convicted of raping one of the women because the statute of limitations prevented the other cases from being brought to trial, he has admitted in post-conviction documents that he did assault the others.
Related:
All of the women spoke of how they continue to struggle in their personal lives today, many saying they suffer from post-traumatic stress disorder and battle depression, panic attacks and anxiety daily. One of the women said she has had suicidal thoughts and has cut herself in the past as a way to deal with it.
"I don't trust people, especially men," said one woman, who said she was raped at 11 when she tried to go to Doporto's house to play with his daughter.
She told Hatch that she was serving her own "life sentence," and that if Doporto had been convicted of all the rapes he actually committed, he would never have been given parole.
"Every time I think of my childhood, it makes me sick," said Jessica, another family member who said she was raped from the time she was 4 until age 11.
"He does not deserve to get out. He is sick," she said. "This sick person belongs in his cell."
MacLean said after she was raped the first time, Doporto threatened to sick his pit bulls on her if she told anyone.
"(If) you let him out, the victims behind me are not going to know how to move forward," she told the parole hearing officer. "The world is not safe with him.
---
He does not deserve to get out. ...This sick person belongs in his cell.
–Jessica, sex assault victim
---
"If you have daughters and you let him out, God rest your soul, because I don't know how you're going to sleep at night," she said.
The women and their families started an online petition to keep Doporto in prison. Azure Davis, another of his victims, said as of Thursday there were more than 2,200 signatures.
"My life has never been the same and will continue that way," she told the board. "I am 32 years old and still have trouble sleeping. I beg you, don't let him out. I beg you. Please. I don't want him to hurt any more children."
Doporto's apology
Doporto's head remained bowed, his chin resting on his chest as he listened to the women. Because of the way the hearing was set up, he never faced them. His back was to them as he sat in a chair just a few feet away.
After the five women had spoken, Doporto read a prepared statement. His remarks were prepared specifically for the one victim he was convicted of molesting.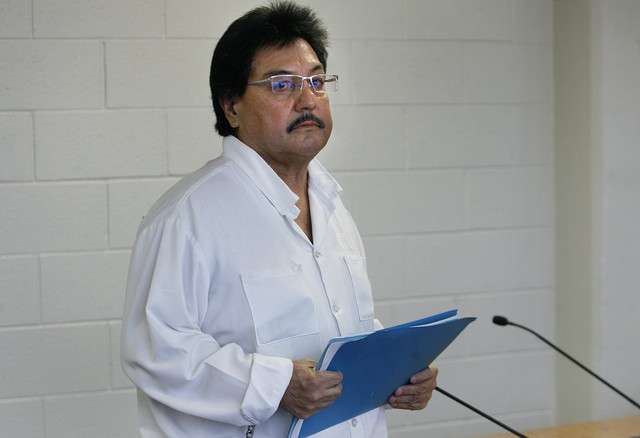 "I truly wish I had never hurt you or any of my victims," he said.
Doporto said he had read all the hate mail sent to him, including letters from people telling him they wish he were dead.
"Make no mistake, I wish I was dead," he said. "I'll never know peace. It will haunt me forever."
Doporto, who has had many health issues while in prison, including a kidney transplant, said he believed he should be dead, and he thought at times it would be easier to die than face responsibility for what he did.
After the hearing, however, Davis said she didn't think much of Doporto's apology.
"Pathetic. Really pathetic. Because he did not apologize to me, Jessica, Tennille, and (another woman). It's stupid. He should have addressed us all, not just one person. Because it was like he just apologized for one," she said.
"He apologized to one victim when he has five sitting there. He has no remorse. He doesn't have any consideration. He doesn't have any love," MacLean added. "He's going to do this again."
But the comment that drew the most fire from the women and their families was when Hatch asked Doporto if he would be a threat to children again if he were released.
"Not at this time," he said, sparking a couple of angry remarks from the congregation.
"Like he said, he should be dead," MacLean said outside the hearing. "Maybe if he does die, maybe all of us can live a safe, happy life after this."
Son supports Doporto at hearing
Sitting in the very back of the hearing were three of Doporto's family members, including his son, Adam Doporto.
Adam Doporto said he believed his father, who he said was 80 percent to 90 percent deaf, did not fully hear the question.
"I could tell you couldn't understand or hear," he told his father.
Adam Doporto also told his father, "We love you" and to "stay strong" during the one minute they were allowed to talk after the hearing was completed.
Several times during the hearing, Hatch had to repeat his questions because Michael Doporto could not hear him. His son said his father, a Vietnam War veteran, also suffers from PTSD in addition to other health issues.
Adam Doporto said his mother did not attend the hearing because there had been threats made against her and she felt it wasn't safe. When the five victims spoke, many of them expressed their belief that Michael Doporto's wife should also be in prison.
The full parole board will now consider the victim impact statements and decide whether to proceed with Doporto's scheduled release or whether to extend his sentence. A decision could take a couple of weeks.
Contributing: Nkoyo Iyamba
×
Photos
Related stories
Most recent Utah stories