LOGAN — Hype surrounded the Battle for The Wagon Wheel for months. Utah State isn't just much improved, they are a legitimate team that will compete for the Mountain West Crown. On the BYU side the Cougars have one of the best defenses in the land with weapons on offense.
The showdown we've had marked on our calendar for months turned out to be a dud, but big quarterback news came out of both camps during those four quarters in Logan.
BYU sophomore QB Taysom Hill broke out of his shell and, for the time, put the concerns about his arm to bed. USU veteran QB Chuckie Keeton, on the other hand, left the game early with what could potentially be a season-ending injury.
The Cougars came to play and no one more so than line backer Kyle Van Noy. On the very first play of the game Van Noy picked off Keeton and took it in for six. That was just the start of a stellar night for the future first-rounder which also included five tackles, a pass break-up and a QB hurry. But that doesn't begin to explain the effect Van Noy had on this game.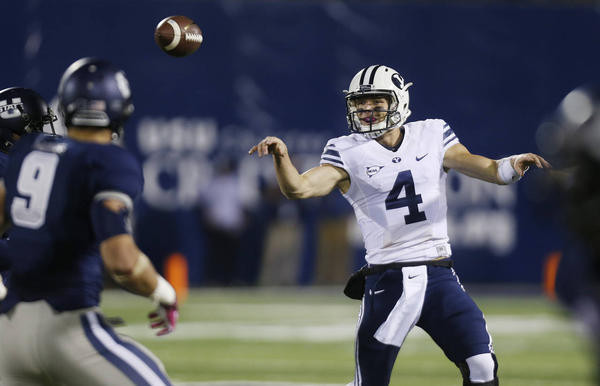 With the stellar play of Van Noy, however, he was not the star of the rivalry game. That title goes to QB Taysom Hill.
The Aggie defense prepared for Hill by stacking the box and forcing him to beat them with his arm. Hill took the challenge and had a career night.
When all was said and done Hill completed 54 percent of his passes and had 278 yards through the air along with three TD's. He only had 14 yards on the ground on 9 carries. Not the stats Cougar fans expected, but stats they are ecstatic to have.
Hill picked apart the USU defense and hit pass after pass with on-the-mark tosses and a fade that was reminiscent of the Hall/Beck days.
Hill received serious ridicule by fans following the Utah game and the sad offensive output and lack of passing game that came out of that night. Even I was skeptical about Hill's arm at times and it was clear in my articles following both the Texas and Utah games. But Hill taught his doubters an important lesson — patience is a virtue.
Many seemed to forget that Hill is just a sophomore and this is his first year as a true starter. He's young, inexperienced and learning a new offense. After just four games some were calling for Ammon Olsen and dubbing Hill a mistake. Just four games into his career as a starter and they were ready to revoke his scholarship and send him to work in the kiosks in the University Mall.
Those with these kinds of views made a mistake.
Hill is starting to come out of his shell, but he still has a long way to go, but that's OK. Take a look back at John Beck and Max Hall's first years as starters. They had moments of brilliance and moments that seemed more like nightmares, especially Beck. But we forgave them and stuck with them and they both became some of the best QBs to play at Level Edwards Stadium. Hill could do the same.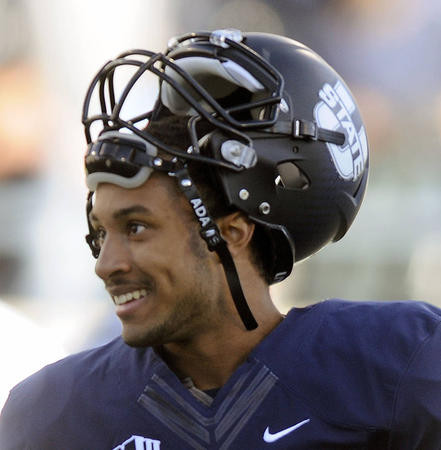 Five games into the season the Cougars are 3-2 with wins over, at the time, No. 15 Texas and a stout and talented Utah State team. While a loss to the Utes always stings, this isn't a terrible way to start a season with a green QB and arguably the toughest schedule in school history.
Hill will trip up from time to time throughout the season, but we have now seen his potential and how dangerous he can be. Fans need to get behind Hill at this point and make their presence and support known.
It's important to remember Hill led the Cougars past a very good USU team in one of the toughest places to play. Cougar fans will experience growing pains along with Hill as he matures and hones his game this season, but those pains will be well worth it when we finally see the full potential of the most athletic quarterback to play at BYU reveal itself.
On that note, watching the most athletic and prolific QB to take the field for USU go down Friday night was devastating. Your heart can't help but break for Keeton and the USU Aggies.
Keeton is an amazing player and you never want to see someone with such talent and integrity go down.
Chuckie, I believe I speak for the entire Cougar Nation when I say, get better, come back stronger and do everything you can as a teammate, on or off the field, to help your Aggies bring home a Mountain West championship. I think it's time it comes back to the great state of Utah.
×
Related Stories