PROVO — The BYU-Utah rivalry came to a close for the next two years Saturday night in Provo, and the outcome is something that both BYU and Utah fans have become accustomed to: BYU lost and Utah won.
Utah QB Travis Wilson wasn't spectacular, but he did just enough and made crucial plays when he needed to. BYU QB Taysom Hill, on the other hand, seemed to be the polar opposite.
Utah scored 20 points on four red zone appearances. BYU scored just 13 points on five red zone appearances. What makes that stat even worse is that BYU was facing first and goal from the four on one of those drives and from the two on another.
The BYU defense played fantastic, just like every other week, only to be frustrated and almost ignored by their offense.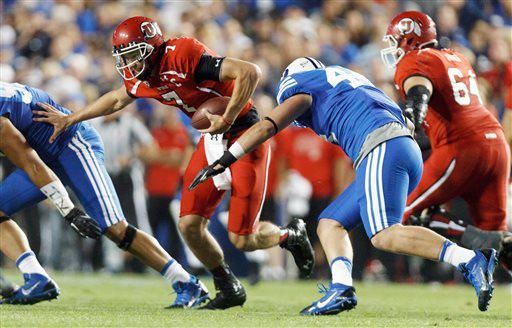 The Cougars held Wilson to a QBR of just 51.4, by far his lowest of the year, and held the team to just 1 for 14 on third down conversions. Kyle Van Noy and Co. continually pounded Wilson and held their explosive offense to 402 total yards and 20 points, both lows of the season. Despite physical and solid play from the defense, the BYU offense could not execute.
Taysom Hill had 260 through the air, but was only 18/48 with no TD's and one interception on a crucial fourth and 13. The run game couldn't gain much, but BYU knew that was coming. After running all over Texas two weeks ago Utah head coach Kyle Whittingham game planned to keep the BYU run honest and forced Hill to air it out. BYU OC Robert Anae had a plan to keep the ball moving and it was actually a good one, but he didn't have an offense that could execute it.
Watching the game was difficult for any BYU fan as they watched their defense give the offense opportunity after opportunity just to see it squandered away. The defense had its lapses, but overall they were solid and even Wilson acknowledged they were the best defense they've seen all year.
For the past two years BYU has enjoyed the best defense they've ever put on the field only to watch an ineffective offense lose game after game. Including four in a row to rival Utah.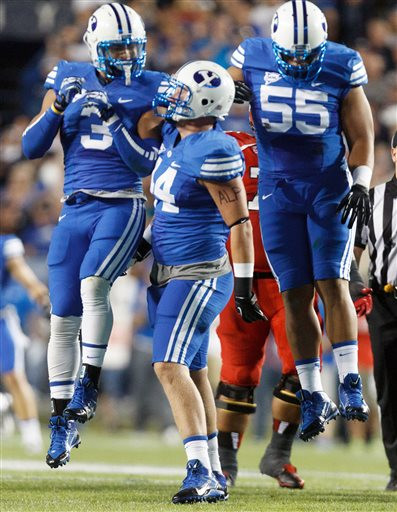 This is not a plea to pull Hill and put in Ammon Olsen, he'll get his opportunity, but it's time for the offense to show its gratitude to their defense.
BYU's offense could only manage one TD and two FG's against a defense that gave up 81 points in just three games. Utah's defense was efficient, but they are one of the weaker defenses they've assembled in some time. Their offense, on the other hand, is the most explosive since 2004. BYU's defense was able to hold them to just 20 points and force punt after punt, but still the BYU offense could not capitalize on a mediocre defense and good field position.
It's difficult to not feel like a fantastic defense led by a future first round NFL pick is being wasted by an offense that refuses to produce.
With the way the offense is playing BYU's main focus will be to win six games this season and squeak their way into the Kraft Fight Hunger Bowl.
The BYU offense is talented and chock full of athletes, but they cannot seem to find a rhythm and until they do they do not deserve this defense.
It's time for this offense to start rewarding their outstanding defense on the field and putting checkmarks in the win column.
×
Related Stories