This archived news story is available only for your personal, non-commercial use. Information in the story may be outdated or superseded by additional information. Reading or replaying the story in its archived form does not constitute a republication of the story.
Ed Yeates ReportingThink that big dragonfly outside your window doesn't look real? Maybe it isn't! BYU engineers have built a small remote controlled plane that flaps its wings, and it can do some amazing things.
This craft is neither a fixed wing nor a helicopter, but what is called an "ornithopter." It flies by flapping its wings up to 30 times a second, like a dragonfly.
Joe Wahlquist, BYU Engineering Team Captain: "The first time it really flew, we were ecstatic."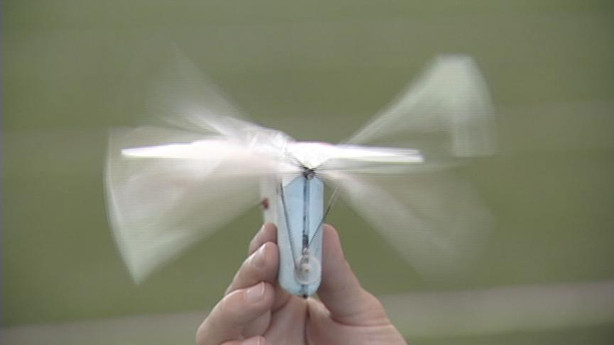 Ornithopters are not new, but in this first year of researching the crafts, BYU student engineers never thought they could get one as small as eighteen centimeters airborne.
NASA and the Air force sponsor a contest every year, challenging students to build and fly all kinds of remote controlled planes. Most are fixed wings with cameras, drones that someday might go on reconnaissance missions for military, police or search and rescue agencies. But small ornithopters with their flapping wings have an advantage.
Joe Wahlquist: "You can fly it at a much slower speed than a fixed wing aircraft, so you can make much tighter turns."
Tighter turns means taking cameras into tighter places.
Joe Wahlquist: "You have some people you're trying to find inside a building. You can fly through doors, through windows, possibly even stop it, perch it, videotape or sound record them, then fly out of the building."
We've all heard the expression, 'If we were only flies on a wall, we could see and hear everything that's going on.' Well, how about going from one this size, to only about as big as a quarter.
Joe Wahlquist: "They're hoping to get them as small as flies. I mean, it's a long way off from where we are now. But 20 years down the road, they're hoping to fly them less than an inch in size."
Incidentally, Leonardo da Vinci first proposed building an ornithopter more than 500 years ago. Does that now mean this is the da Vinci code, broken?
×