This archived news story is available only for your personal, non-commercial use. Information in the story may be outdated or superseded by additional information. Reading or replaying the story in its archived form does not constitute a republication of the story.
PEPPERONI FALLS, Mozzarella County — We all feel that deep, unsettling hunger, the kind that only comes from craving the best and most addictive food mankind has ever created. Innocently, naively, we took that first bite of precious pizza, the cheesy dragon, and we've been fighting the hunger ever since. More. More. We always need MORE.
Some have tried to fight it. What happens to folks in the depths of pizza withdrawals is not safe to mention here. Suffice it to say, there's nothing we can do now except keep consuming slice after slice in order to temporarily stave off that ever-present pang of infinite desire and keep the hunger under control for another day.
Of course, the only way to do that is to know exactly where you can get your hands on some of the good stuff. We've got you covered over at ksl.com because we feel your pain. Below is yet another list of pizza joints that you can count on to deliver the fix of saucy, melty, bready goodness you so desperately need. Decisions were based on comments from our previous list, and of course on what your humble author thinks. Because I'm sitting in front of this keyboard and you're not.
Relatedly, shocking evidence has been uncovered that Cedar City is the Portland, Ore. of Utah. Scant but convincing evidence is below.
At any rate, enjoy. In order from West to East, because for some reason:
Related:
We millenials may not be bothered to get a job, move out of our parents' house, get a degree in something worthwhile or generally move into adulthood until we're roughly 35. But one thing you can count on is that everything we eat must be local, organic, friendly, sustainable and totes photogenic. We have Tumblrs and Twitter to focus on, and what's the point of eating something you can't also post? There is no point. That's the answer. Also, every flavor has to come in the form of an explosion. Only explosions of flavor are acceptable to us.
Pizzeria 712 is unique in giving you all of these things. Not only do they make a darn fine disk of joy, they do it using locally-grown, high-quality foodstuffs and deliver it to your table in a strictly-casual-but-still-over-$10-a-meal atmosphere. Exactly how we like it. It's our parents' money anyway.
The menu is always changing and they don't name their pizzas, but looking especially explosively tasty right now is the spinach, fontina, speck, garlic and shaved grana padano pizza (translation: two super tasty cheeses with really fatty, fancy bacon, plus some spinach and garlic). Also, the homemade sausage, carmelized onion, roasted fennel, tomato sauce and mozzarella pizza.
If they got any more millenial, the menu would include a suggestion for the best Instagram filter to use when posting with your iPhone. Actually, ya'll can tell us what the best filters are in the comments.
Este serves New York-style pizza. That's their thing. Actually, that's really their only thing. Other than being delicious, there's this one main thing about Este that you, the pizza consumer, should know about and that thing is its being a New York-style pizza joint.
#poll
What does that mean? Big slices made with a thin crust and consumed folded like an East Coast pizza taco. Possibly the best form of pizza intake known to man, and certainly the most well-known. As a matter of fact, many folks on the coast don't think you can find real pizza outside of a 100-mile radius centered on New York City. Those jerks are wrong, and the evidence is Este. And, I guess, also the other pizza places on this list. And also the last list of pizza joints we did. But still Este.
Este serves by the slice as well as by the pie, so a quick lunch is totally an option. But be forewarned that they have two menus, one for the Sugar House location and one for the Downtown location. So make sure you're looking in the right place, lest you be yelled at, New York-style, for ordering something they don't make. They have plenty of vegan and vegetarian options as well.
Of course, try the NYC Combo pizza as well as the plain cheese, both of which are winning and probably the best pizzas to judge according to NYC standards. Also looking tasty is The Vortman, which has a toppings list longer than I'm willing to type here. But it's a good list. Trust me. The Garlic Knots also come highly recommended.
The first thing to do with the WIld Mushroom is ignore the annoying automatic video on their website that you can't figure out how to get rid of. It may seem like you've traveled back to 1999, which is roughly 300 years ago in Internet time, but great pizza is timeless and cares not for the petty whims of contemporary website design. Simply carry on, order, and be satiated.
If you're a mushroom hater, don't worry, this is not an exclusively mushroom-oriented niche restaurant where you'll be forced to consume some freaky fungus you abhor. It's just a regular pizza joint that also happens to serve a higher than average number of pizzas containing mushrooms.
And look, haters gonna hate, that's a fact, but if there was ever a pizza to convince said haters that mushrooms are worthy of human consumption, indeed are among the most scrumptious things we ever eat, it would be the Mushroom Trio. It even has sausage on it to smooth the transition into your newly-found world of mycotal delight.
Also recommended are the Pesto Pesto, which unsurprisingly contains pesto (but also other things like mesquite chicken, portabello mushrooms, mozzarella, garlic and red bell peppers), and the Hawaiian Bleus, which is like a Hawaiian pizza, but with bleu cheese, because seriously, genius.
Gabor Brothers Main Street Grill — Layton
It may look like a tiny corner diner, but it's actually an Italian restaurant, so don't let that fool you. Its size and the devotion of its customers means there will likely be a wait. But again, don't let that deter you. The most common phrase on every review board for Gabor Brothers is "worth the wait."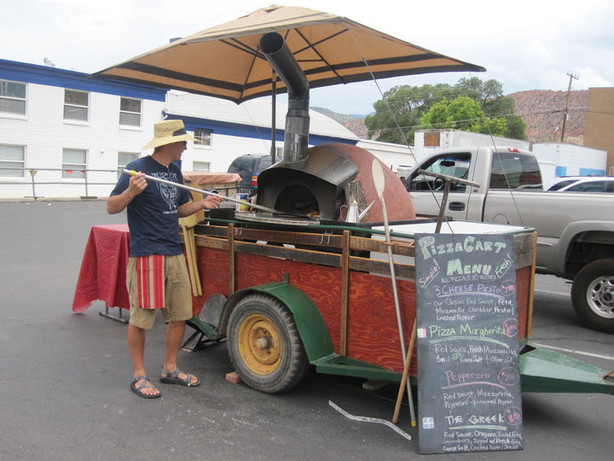 They offer a full italian menu, but mostly the pizza is what draws people out. It's your basic pizza fare, with only four pies in addition to the build-your-own menu. But in this crazy world full of infinite variety and impossible combinations of flavor, perhaps you should be more willing to sit down and just eat a traditional pizza. After all, whatever we eat ends up in pretty much the same place in the long run anyway. It may as well be freaking tasty, and quality beats out variety every time. They also make both thick and thin crusts, so really, there's two pizzas for every one listed on the menu.
Try the Chicken Alfredo Garlic and/or the Garden Pizza, or make up your own. This is one of the few places that lists anchovies on the menu. So probably try that. If they're tasty enough to give Zoidberg a severe case of the hunger, they're good enough for you.
It seems impossible, so difficult as to defy the very physics of the universe, but the folks over at The Pizza Cart have done the impossible and cartified pizza. It's a little wood-fired stove on a mobile platform, as the name suggests, and is located in a parking lot next to an Ace Hardware, which is just awesome. Pick up some tools, pick up some pizza. Plus, if the cart breaks, bam, supplies for fixing are just right there. You can trust a pizza joint with forward thinking like that.
Not only that, it's cheap. Perhaps the lowest-priced wood-fired pizza in the state, based on no evidence other than it's pretty cheap. They even offer a $5 special every day between 2 p.m. and 4 p.m., which means they're looking out for the little guy.
Also, given that the only other city that seems to have mastered the science of cartified pizza is Portland, Ore., millenials should take note: Cedar City is the Portland of Utah. Need further evidence? The owner built the cart with his own hands, totally DIY, from scratch, at least according to a video I found on the Internet, a very reliable source.
Begin the tattoo-laden mass exodus immediately.
Try the New York Garlic and the Four Cheese Pesto. And then put a bird on it.
×
Related Stories