SALT LAKE CITY — There wasn't a lot of money around in Utah in 1847; Mormon pioneers lacked cash, just like the rest of the country.
Brigham Young brought just $50 with him on his first trip to the Salt Lake Valley, according to numismatist Douglas Nyholm.
Due to the lack of currency in Utah at that time, Spanish dollars, French francs and other foreign coins were used alongside U.S. coins.
"It was quite a difficult system to keep things straight," Nyholm said.
Coin dealer Bob Campbell told the story of a Utah man who received a letter with five cents postage due. The man gave the post office a five dollar coin and had to wait six months for his $4.95 in change. Eventually the settlers simply printed and minted their own money.
"Outside the U.S. government there is no entity that has created or produced more and varied currency and scrip than the Mormons," said Nyholm, who wrote a book about the subject.
The first paper money printed was called white notes or valley notes. Because paper was in such short supply, Campbell said the paper used for those first bills is believed to have come from Brigham Young's own journals.
A variety of other bills followed including Salt Lake City Corporation notes, scrip from cooperatives and reissued currency from a failed Kirtland, Ohio bank.
---
Outside the U.S. government there is no entity that has created or produced more and varied currency and scrip than the Mormons.
–Douglas Nyholm
---
Deseret Currency Association notes were the only currency in U.S. history to be backed by livestock, specifically a herd of cattle that grazed on Antelope Island.
But paper money didn't work well when doing business outside of Utah — what was needed was gold.
"Everybody can figure out what an ounce of gold is worth," Campbell said.
When members of the Mormon Battalion returned from Sutter's Mill in California with thousands of dollars of gold dust, church officials turned it into money. Those coins were the first coins minted from California gold strike gold.
Campbell said that today those coins are worth far more than their weight in gold because outside of Utah, the coins were thought to lack the right amount of the precious metal and many were melted down.
"I don't think there's more than a dozen on the market at any one time," Campbell said.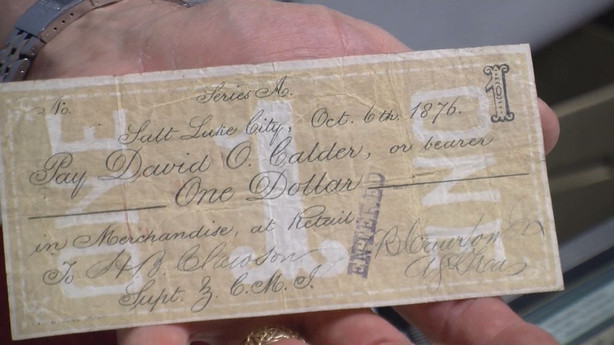 Today a Mormon gold coin is worth $10,000 or more.
Campbell showed off a $20 gold piece from his personal collection. Only two dozen are known to exist and Campbell said it's worth $350,000.
"There's something fascinating about saying you own Mormon gold," he says.
But what Campbell really wants for his collection is a $10 gold coin, the rarest of all Mormon money. One $10 coin could be worth up to $1 million.
×
Photos
Related Stories