OAKLEY, Summit County — Roughly 25 Utah children with special needs participated in their very own rodeo Wednesday during the 78th annual PRCA Oakley Rodeo and Fourth of July celebration.
The children got to ride horses, take roping lessons, ride a mechanical bull and meet with the Oakley rodeo queens and bull riders. After eating dinner, they were all presented with belt buckles and treated to a wagon ride to attend the PRCA Rodeo for free.
Penney Tucker, of Bluffdale, a mother of four children with Down syndrome, snapped picture after picture as her 13-year-old daughter, Abby, rode a mechanical bull. Tucker said her children had talked about going to the rodeo for weeks.
"This really touches me," she said. "Kids with disabilities really bring out the best of people, and it's just amazing to see how many people will bend over backward to help them."
As soon as Abby got down from the mechanical bull, she pulled her mother to ride one of the real horses.
"These kids love stuff like this because they get to do everything that everybody else gets to do," Tucker said. "These people are amazing to do this."
By participating in the rodeo, the children simultaneously assisted in an effort to bring attention and aid to children on the other side of the world.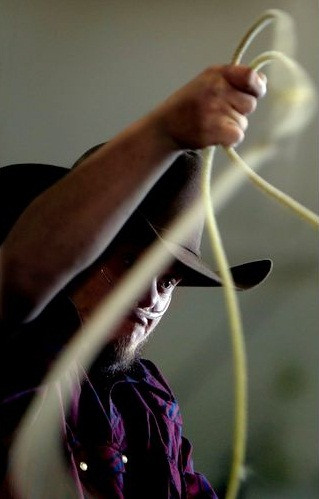 John Simmons, chairman of Ele Lembra, a nonprofit organization to help children aging out of eastern European orphanages transition successfully into the real world, partnered with the Oakley Rodeo to establish a fundraiser for his cause.
Centered in the Republic of Georgia, Ele Lembra's after-school program helps orphans prepare for when they age out of orphanage care. Those who perform well and maintain college scholarships receive government assistance and a stipend of $150 a month from Ele Lembra to help pay for life's necessities, Simmons said.
Without the ability to pay for food, clothing and transportation, it's very difficult for the orphans to keep their scholarships and living situations, Simmons said.
"So these kids drop out of school, lose their scholarships, lose their government-subsidized housing, and they have to try and scrape together enough money to survive," he said.
All of the proceeds of the Oakley Remembers fundraiser went straight to the cause to support the orphans, as well as draw attention to the issue, Simmons said.
"The difference it's making here is it's allowing the kids to participate in something that's very real to them and something that they wouldn't normally get to do," he said. "And it's helping others in places far away from here, too ,by giving kids an opportunity at a life, where they're looking dismal failure in the face. We're saying, 'Help us help them.'"
Andy Woolstenhulme, an Oakley Rodeo committee member, said it was exciting to know the rodeo made such a difference in so many lives.
"The kids just seemed to be really enjoying themselves, and those that donated their time and efforts seemed to be having as much fun as the kids," he said. "It's pretty cool to think that we can do something in the small community of Oakley and affect those in need around the world."
More information about Ele Lembra's cause is available at the organization's website, elelembra.com.
×
Photos
Related Stories