TAYLORSVILLE — Most people get excited to go car shopping, but very few get as excited as Lydia Palm.
"I'm so happy," Palm said as she looked at cars at the Larry H. Miller Ford Lincoln in Sandy Tuesday afternoon.
She was picking out a new car after winning one this past weekend at the Nugget Resort in West Wendover, Nev. Palm won a Ford Focus in a ticket drawing, but the downside of the new vehicle is its a manual transmission.
"I like it, but I cannot drive it," Palm said. "I want something I can drive and be safe."
She was hoping to find an automatic transmission she could trade the manual car for.
"My husband is looking down on me, helping me be happy," Palm said as she looked at more than a dozen cars.
People have won cars in Wendover before, but what makes Palm's story unique is that it's the second car she has won there — in two weeks.
"Sunday the truck, and then the next Sunday the car," Palm said. "My friends say they can't believe it, but then I showed them the papers."
The week before car shopping in Sandy, Palm had won a Ford F-150 pickup truck in another ticket drawing at the Peppermill Resorts. It's now parked in her Taylorsville driveway.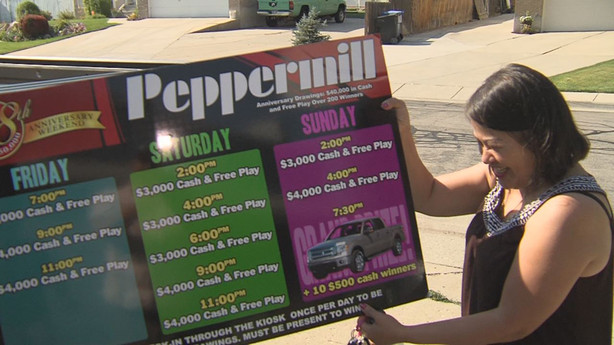 "The brand new truck? I gave it to my son for an early birthday present," Palm said.
Now her son is planning on selling his old truck.
"That's awesome," said John Dalton, Palm's son. "She gets lucky, but this is a first."
Palm said she has won a television before, but she hasn't been this lucky until now.
"I don't know. I guess I just try to be a nice person," she said.
She left the car dealership without finding the right car to trade in for, but said she still needs a few days to decide.
She already knows what she's going to do this coming weekend, though. The Peppermill Resorts group is giving away two more cars at the end of this month.
"Maybe go to Wendover? Win another car," Palm said.
×
Photos
Related Stories