This list is continually being updated. If you have more restrictions to report, please email us at kslweb@ksl.com.
SALT LAKE CITY — With the extreme heat wave and the dry conditions, Utah officials are warning residents about the potential fire hazards throughout the state. Each city council has determined the restrictions for fireworks and open fires to meet their safety requirements. During the fourth of July and Pioneer Day festivities, these areas are off limits for fireworks:
Apple Valley
The Apple Valley town council voted to restrict fireworks from July 1 to July 27. Fireworks are prohibited within city limits. Legal approved fireworks may be launched at the Smithsonian Fire Department on July 4.
Brian Head
Brian Head has prohibited any lighting of fireworks. Fires are also prohibited except in approved camp site areas.
Bountiful
The city of Bountiful is restricting fireworks in certain areas. All adresses and areas east of 400 East and east of Orchard Drive are not allowed to light off fireworks.
Brigham City
Brigham City prohibits fireworks to be launched with 20 feet of a building or structure. They are also banning fireworks from being launched anywhere along the East Bench, near the airport, and near the annexation portion of the Bear River Bird Refuge.
Bryce Canyon City
The city of Bryce Canyon has completely prohibited any type of fireworks, including sparklers within city limits. No private fireworks are allowed. Open fires are also prohibited.
Cedar City
Cedar City is not allowing any fireworks including Class C common fireworks to be launched except at the following parking lots:
The parking lot north of the bicentennial softball fields
The parking lot west of the Cedar City Aquatic Center
The parking lot on the south side of Canyon View High School
The parking lot on the south side of Cedar High School
The Iron Springs Elementary School parking lot
Cedar Fort
Cedar Fort has banned all fireworks including Class C common fireworks from being launched within city limits.
Centerville
The city of Centerville has prohibited launching fireworks in several areas including any area east of 400 East to 1000 North (Chase Lane), west of 1000 North to Main Street and east of Main Street to the Farmington City boundary line.
Cottonwood Heights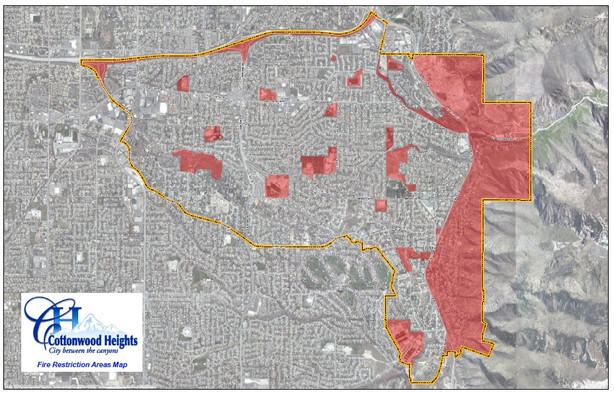 The city of Cottonwood Heights has restricted the use of fireworks in or near designated "wildland interface" areas and public parks. Some examples of wildland interface areas include any areas east of Wasatch Boulevard, the area around Spencer's Pond (Old Mill Pond), and the hillside around Crestwood Park.
Daggett County
Daggett County has banned all fireworks and open fires.
Draper
The city of Draper has restricted fireworks in several areas including everything north of 1000 East and 123000 South to 700 East and any area south of 700 East to the TRAX Railroad line and following the TRAX line to 12300 South.
Eagle Mountain
Eagle Mountain City is banning fireworks or ignition sources from several subdivision including following homes next to the bike park, Lake Mountain Road, Cedar Pass Ranch, North Ranch, Ruby Valley, Lone Tree, Kiowa Valley, Eagle Top, Point Lookout, Hidden Canyon, Fremont Springs, Meadow Ranch, Valley View and White Hills.
Elk Ridge
All fireworks have been banned in the city of Elk Ridge for the 2013 season.
Enoch
The city of Enoch has banned the discharge of any and all fireworks within city limits except at the Enoch City Office paved parking lot and at the Enoch Elementary School west parking lot.
Heber City
Heber City has restricted several areas from launching fireworks including any area east of Mill Road and North of Center Street, north of 550 East and north of 550 North and 600 North. Residents living in restricted fireworks zones can launch fireworks at the Timp Meadows Park/Eagle Park and Cove Park.
Henefer
The Henefer City Council has also banned all fireworks, and open fires within city limits. A resolution was passed on June 28, for as long as the fire danger is high.
Hyrum
Hyrum City has restricted fireworks in all areas east of 1300 East.
Layton
The city of Layton has put a ban on fireworks in several areas including the following:
East of 2000 East from the south city limits to Cherry Lane.
East of Fairfield Road north of Cherry Lane to Church Street
East of Church Street from Fairfield Road to Highway 193
North of Hwy 193 both sides of Church Street
East of 2400 East from Highway 193 to the north city limits
North of 3450 North to the city limits, east of 2000 East
All fireworks are prohibited east of Highway 89 based on the 2004 City Ordinance
Midvale
Midvale has placed fireworks restrictions from Acoma Road south to Paula Road and from Euro Road east to Well Spring Road.
Moab
The city council of Moab has placed fireworks restrictions within 150 feet of Mill Creek and Pack Creek.
Murray
The Murray City municipal council banned fireworks from several areas including the Murray Parkway Trail, Murray Park and the Wheeler Farm. Fireworks are also prohibited from being launched within 300 feet of these areas.
North Ogden
Fireworks are banned in North Ogden in all areas north of 3300 North Street and east of Mountain Road.
North Salt Lake
North Salt Lake has restricted fireworks in all areas east of Orchard Drive to Bountiful Boulevard.
North Tooele County Officials from North Tooele banned the discharge of fireworks in the county and on unincorporated private lands including all of Stansbury Park, Erda, Pine Canyon and Lake Point.
There are no fireworks allowed in the unincorporated areas of Tooele County.
Ogden
Several areas in Ogden have fireworks restrictions including the following:
All areas east of Harrison Boulevard from the north city boundary to the south city boundary
All wooded areas along the River Parkway beginning at Harrison Blvd and continuing along the pathways to the west city boundary and the south city boundary
All associated parks along the River corridor
The city baseball park and dog park area located off of A Avenue
The old landfill property located near 2550 A Avenue near Fort Buenaventura
All open fields, vacant lots, wooded areas, and brush covered hillsides throughout the city
Orem
The city of Orem has placed fireworks restrictions right along U.S. 189 throughout Orem. Restrictions have also been placed on all areas east of 800 East from 800 North to 2000 North. Fireworks are also banned in all public parks unless sponsored by the city.
Pardise
Paradise has placed fireworks restrictions on areas east of 100 East and west of 300 West.
Park City
Park City has prohibited any and all fireworks including Class C common fireworks within city limits.
Payson
Fireworks restrictions have been placed on all of the wildland, canyon, foothill areas, and any lands used for agricultural purposes including
all incorporated areas west of I-15. Incorporated areas of Payson City south and east starting on south Main Street north to 1150 south, east to Payson Canyon Road, north to 800 South, east to 600 East, north to 400 South, east to Goosenest Drive and continuing to Gladstan Golf Course.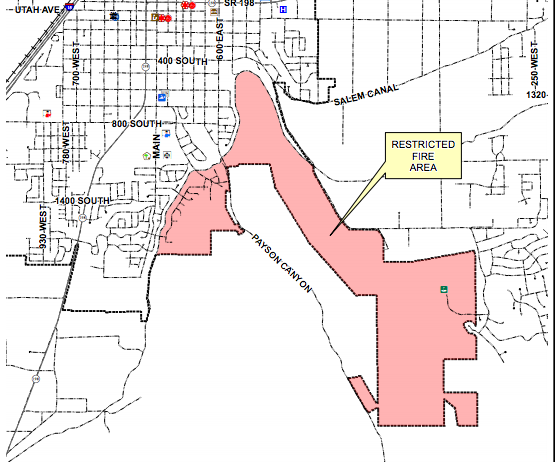 Pleasant Grove
Pleasant Grove has restricted aerial fireworks for several areas including areas east of the Murdock Canal from the south boundary of Pleasant Grove city to 1100 North and east of 100 East from 1100 North to the north boundary of Pleasant Grove city. This area represents the neighborhoods of Battle Creek, Grove Creek, Big Springs and a small portion of Manila.
Pleasant View
Fireworks are not allowed in Pleasant View city limits north of the Ogden Brigham canal.
Provo
Fireworks are restricted within the city limits in the follow areas:
East of US 89 (South State Street) beginning at the Springville City line and proceeding 94 north to 1320 South
south of 1320 South as it proceeds east along 1320 South until, after
95 becoming 1400 South, it intersects with Slate Canyon Drive
east of Slate Canyon Drive 96 as it proceeds north by northwest until Slate Canyon Drive becomes 300 South
north of 97 300 South as it proceeds west until 300 South intersects with 900 East
east of 900 East 98 as it proceeds north until 900 East intersects with Center Street; south of Center Street as 99 it proceeds east until Center Street intersects with Seven Peaks Boulevard
east of Seven 100 Peaks Boulevard as it proceeds north until Seven Peaks Boulevard intersects with 700 101 North
north of 700 North as it proceeds west until 700 North intersects with 1200 East
102 east of 1200 East as it proceeds north and becomes Birch Lane; east of Birch Lane 103 proceeding north by northwest until it intersects 900 East
east of 900 East as it proceeds 104 north until 900 East becomes 2200 North
north of 2200 North as it proceeds west until 105 2200 North intersects Timpview Drive (650 East)
east of Timpview Drive as it proceeds 106 north until it intersects with Foothill Drive; north of Foothill Drive as it proceeds west 107 and intersects with US 189 (University Avenue)
east of US 189 as it proceeds to the 108 Provo City Border
Richmond
The city of Richmond has prohibited all aerial fireworks, and fireworks that have sparks or embers that travel more than 10 feet off the ground. Fireworks restrictions have also been placed on areas north of 300 North, east of 300 East/250 East and south of 800 South.
Roy
The city of Roy has restricted fireworks including Class C common fireworks in the following areas:
The Denver and Rio Grande Trail Roy Segment
Layton Canal and Property Maintained by Weber Basin Water including the Water Reservoir located at approximately 5200 South 3750 West
Property at 4800 South Midland Drive to approximately 5000 South Midland Drive East to 3500 West from 4800 South to 5000 South
The property at 2175 West 4000 South to George Wahlen North Park and East to approximately 1950 West
Property Owned by the Ogden City Airport
Salem
The city of Salem placed fireworks restrictions in several areas including the following:
South of the Highline Canal
East of Woodland Hills Drive
North of 400 North and west of Main Street, except in developed subdivisions
Within twenty (20) feet of any building
Within two hundred (200) feet of any open field, unimproved lot with dry vegetation, or any vacant building with dry vegetation on the lot;
Within two hundred (200) feet of any haystack, straw, or other flammable agricultural product
Salina
The city of Salina has placed fire restrictions within all city limits.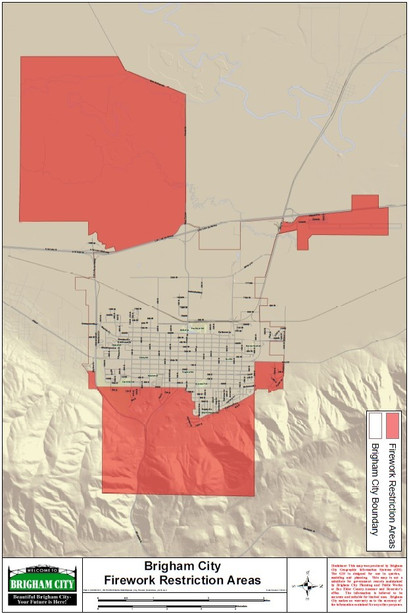 Salt Lake City
Fireworks restrictions have been placed in several areas of Salt Lake City including all city parks, in wildland urban interface areas, areas west of I-215 from 2500 North to 2100 South, areas east of Beck Street from 2100 South to 2300 North, and all of City Creek Canyon Road.
Sandy
Fireworks are restricted in Sandy in city and state parks, in any of the county islands within Sandy, everything east of 2700 East between Little Cottonwood Road and Wasatch Boulevard, and the area along Dimple Dell Nature Park.
Santaquin
The use and/or discharge of fireworks Santaquin city limits shall be restricted to city use only. Personal fireworks are completely prohibited.
Saratoga Springs
The city of Saratoga Springs has banned all fireworks in any areas within 200 feet of any undeveloped and urban interface area including foothills, large areas of undeveloped property or agriculture fields.
South Jordan
South Jordan has prohibited the possession and discharge of fireworks within 200 feet of the natural vegetation border of the Bingham Creek and Jordan River Parkway open space and trail systems and within 30 feet of any undeveloped wildland.
South Ogden
The city of South Ogden has prohibited the discharge of any fireworks east of Harrison Boulevard within 300 feet of the South Ogden Nature Center and within 300 feet of Burch Creek.
South Weber
Fireworks are restricted in all residential areas east of U.S. 89 in South Weber.
Spanish Fork
Spanish Fork has prohibited fireworks in several areas including:
The use of fireworks is prohibited in all areas south of the Spanish Fork River from the west end of the Spanish Oaks Golf Course, eastwardly to the city limits
The use of fireworks is prohibited within 200 feet of any open field, unimproved lot with dry vegetation, or a lot with a vacant building and dry vegetative growth on the lot
Springville
Springville has placed fireworks restrictions in several areas including:
Within 1,000 ft of the Springville City / US Forest boundary near the foothills
Starting at 1400 North Main (State Road 75) East to 150 East
South to 1150 North then East to Millpond Drive then South to 400 North 400 East
Everything east to 800 East and South to 200 North
East to 1170 East and follow 180 North to 1300 East Center
From 1300 East to Canyon road then East to 2450 East Canyon Road and proceed South to the Springville / Mapleton boundary line.
St. George
See attached map for restricted areas for fireworks in St. George.
Taylorsville
See attached map for restricted areas for fireworks in Taylorsville.
Torrey
The town of Torrey is banning all use of fireworks including Class C common fireworks.
Tropic
Fireworks and open fires are not allowed within the city limits of Tropic.
Utah County
The Utah County Fire Marshal has issued a ban on all fireworks use in all unicorporated areas of Utah County, including all canyons in Utah County.
Vernal
The city of Vernal has prohibited the discharge "of any aerial fireworks on Vernal City property unless specifically permitted by Vernal City," according to a recently passed ordinance.
Washington Terrace
Washington Terrace has banned the use of fireworks in several areas including the incorporated limits of the City of Washington Terrace south of Ridgeline Drive, west of 500 West, and along Adams Avenue below 5500 South.
West Jordan
Fireworks are in areas west of Bacchus Highway (state Route 111) within city limits; within 200 feet of the Jordan River Parkway Trail and east of 1300 West; within 200 feet of the area known as Clay Hollow Wash that runs east and west near 7800 South; and all areas within 200 feet of Bingham Creek.
West Valley
Fireworks cannot be discharged within 20 feet of any residence, dwelling or other structure; any area west of state Route 111; property owned by West Valley City; or within 100 feet of temporary stands, LPG flammable liquid, or gas storage and dispensing units. Fireworks are also being restricted within 100 feet of the Jordan River Parkway and within 100 feet of irrigation canals in the city.
×
Photos
Related Links
Related Stories