Estimated read time: 4-5 minutes
This archived news story is available only for your personal, non-commercial use. Information in the story may be outdated or superseded by additional information. Reading or replaying the story in its archived form does not constitute a republication of the story.
SALT LAKE CITY — You may not think of shopping and dining on 700 South and 300 West, but a nonprofit and a group of businesses hope you soon will.
The Granary District, which makes up the area between the 600 and 1000 blocks between I-15 and West Temple, is in the middle of a transformation. In its beginnings, the residential and industrial neighborhood grew around the railroad, but was cut in half by the interstate, creating what is now the Gateway District.
Now, the area — dotted with warehouses, vacant lots and abandoned buildings — houses hidden gems like the art and theater house Utah Pickle Factory, Classic Cars International Museum, Kilby Court and Ruby Snap cookies, among others.
Local non-profit Kentlands Initiatives and neighbors saw its potential, though, and with the proposal of a streetcar connecting the area to Downtown, are pushing to revitalize the area into a vibrant business and residential community.
"When people see the Granary District, and they come down and they look over the one-story building that they're next to, and they can see Downtown from where they're standing, they realize just how close it is to everything they love and how different it is," said Christian Harrison, a partner at Kentlands Initiative. "When people come down, that sells them."
As part of their efforts, Kentlands has partnered with other local nonprofits and businesses to create Granary Row: a seasonal 16,000-square-foot shopping area filled with tiny retail spaces and food carts, open Thursday through Saturday from June 15 until November 15.
Granary Row opening night
Saturday, June 15 6-11 p.m. 700 South, between 300 and 400 West Granary Row will continue to be open Thursday-Saturday from June 15 until November 15.
The idea, Harrison said, came from a workshop of 500 people held in May 2012. They felt that Granary Row would inject the area with new retail shops and eateries, and offer small businesses an affordable place to open up shop.
Shipping containers house the shops, offering just more than 100 square feet of retail space for a $50 a weekend or $250 a month.
Robert Tranter, of Just Fold, is one of the small businesses taking advantage of Granary Row. He and his partners target commuters and students with their foldable bikes, scooters and longboards.
"What the city is doing is providing something to a business that is so small that has so much potential, to fill a need within this area," Tranter said.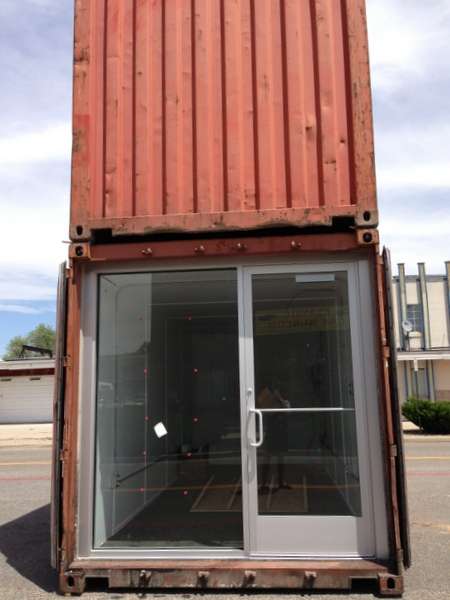 Tranter heard about Granary Row and immediately saw an affordable solution to the 100 square feet of retail space his suppliers required.
"It's interesting to think that when we went into this, the suppliers had a few demands, obviously, because they don't want to sell a bike and then have the shop close down. They require at least 100 square feet." Tranter said. "Our overhead was at the very early stage, even though we had a really fun product that could do good, it was hard to see how it would pan out. When the Granary Row was starting to release these really small containers, it was perfect. It brought down the cost and then their whole motive to try to get people down there seemed like a really good opportunity for people like us."
When Harrison first approached stakeholders in the area with the idea, they were cautiously supportive. He said a local business owner posed the question, "Look at what we do for our business. We rent our warehouse out to small businesses. Why shouldn't we be angry that you're doing the same thing with our money?"
Just Fold's situation was very nearly the answer.
"We're a stepping stone for small businesses testing out what it means to have a physical space. It's a big step to go from being at the Farmers Market to having a space of your own," Harrison said of their micro-business rentals. "Put another way: We're a greenhouse for seedlings of businesses and you're the real deal."
The area, Harrison said, is shaped by the support and input from existing businesses in the Granary District and the city.
"You can start to see that we have a good deal of support and people that are actually there doing business that are voluntarily helping," he said. "The project is better because of the input of the city. We believe in collaboration. And part of collaboration is both getting slaps on the back and slaps upside the head."
But they are still a work in progress, Harrison said. They continue to look for businesses interested in renting their retail space and musicians willing to play music for Saturday afternoons and cafes.
×
Photos
Related links
Related stories
Most recent Utah stories