BIG COTTONWOOD CANYON — A woman has been rescued after falling 15 feet while climbing Monday in Big Cottonwood Canyon, and a teen is safe after getting stuck on a cliff while trying to avoid traffic from the first rescue operation.
The woman, a 20-year-old Southern Utah University Student, was hiking Monday with a group of seven friends in the Storm Mountain area. Her brother, Ryan Jones, was belaying her when the rope slipped and the woman fell about 15 feet, landing on her side.
She pretty much fell right to my feet," Jones said. "My first thought was, 'Is she OK?' I Wanted to make sure everything was fine, keep her still, then we were able to call 911."
Jones said his sister is an experienced climber and had never fallen before. He said he believes the rope they were using was 60 meters: 10 meters too short for the climb they were doing.
"We were under the impression that it was a 70-meter rope, which was the length you need for that climb," he said.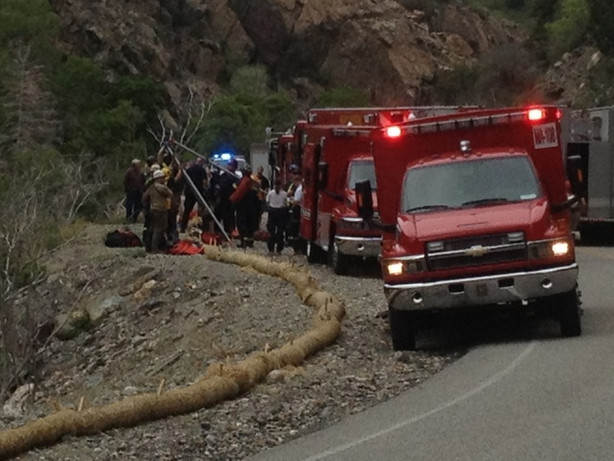 Search and rescue used a high liner to pull her to the roadway. It was almost two hours before she was sent to the hospital by ambulance.
Jones said next time they'll be more prepared, but his sister's fall hasn't scared them from climbing again.
"I know she'll want to get back out here as soon as she can," he said.
He said he is thankful — his sister's injuries could have been a lot worse. She does have lower back pain and was taken to University Hospital to be treated.
A second search-and-rescue team had to be called out Monday evening as a result of the first rescue operation.
A father and son were stuck in traffic in Big Cottonwood Canyon due to the rescue and decided to wait it out by going for a hike. The son, 14, then got stuck on a cliff.
Rescue crews were called to lower the teen about 200 feet to safety.
Contributing: Stephanie Grimes
×
Photos