This archived news story is available only for your personal, non-commercial use. Information in the story may be outdated or superseded by additional information. Reading or replaying the story in its archived form does not constitute a republication of the story.
Ed Yeates and Paul Nelson reporting A 10-month-old girl is back home after getting a new heart. She was the first patient at Primary Children's Medical Center to get a heart-assist device. Her parents say they weren't sure she would survive without it.
Little Kaidence Stephenson seemed like a normal child until around October. "That's when we decided we need to listen to her heart. She just laid there and would just drip sweat," her mother, Shauntelle, said.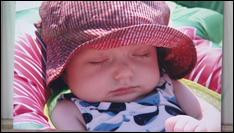 Shauntelle says doctors found Kaidence had an enlarged heart, and the blood vessels couldn't push blood through the body.
The FDA allowed doctors at Primary Children's to hook up an artificial assist pump to Kaidence. She was dying and never would have survived had the government not given Utah doctors a sort of special permission to use the European device.
Tubes from the Berlin heart, as it's called, were hooked up to the left side of her own heart. The pump itself remained outside the body. The device kept Kaidence's blood flowing. "It's more compatible with the blood, for example. So, there's no wear and tear on the blood," explained Dr. Patrick Kouretas.
That assist device now has been removed, along with her failing heart, and replaced with a real heart transplant. Doctors say she's doing very well with it.
Because she's on an immuno-suppresant drug, Kaidence wore a mask today to protect her from colds and coughs.
Shauntelle said, "We know this is what was meant to be. It was scary going into it because it was so unknown. But it felt so right at the same time."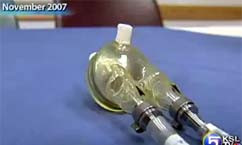 Clinical trials for infant-designed devices will soon begin in this country.
Primary Children's, in partnership with the University of Pittsburgh, will soon be testing a whole new generation of devices, including a Utah-designed heart that uses a magnetically suspended impeller to drive the pump.
Dr. Kouretas said, "We're probably less than a year away from clinical trials. We've implanted it in animals and we're on the brink of being able to implant it into babies."
Again, all these pumps will be designed to keep infants alive while they wait for real heart transplants.
The prognosis for Kaidence is very good. The new heart will grow with her. She'll grow into childhood able to romp and play with her friends, and do pretty much what she wants to do.
Dr. Melanie Everitt, a cardiologist at Primary Children's, explained, "Generally, patients who are transplanted in infancy, about half of them still have the heart that they were transplanted with 15 years or more later."
Her parents say it's good to have their daughter back. Her dad, Mike Stephenson, said, "I've had so much fun in the last couple of weeks because I've had my daughter home."
Kaiedence survived on the Berlin pump for 47 days before she got her real heart transplant.
The Stephenson's thanked a lot of people today for their daughter's gift, but most especially the family that donated the heart the day before Christmas eve.
×
Related Links