SALT LAKE CITY — While expecting parents are aware they need to prepare for the additional expense of a new child, some financial counselors say many parents are going about it all wrong.
Expectant parents understand having a baby is expensive; they'll need clothes, baby food, a stroller, a car seat, a crib, and the list goes on. The USDA estimates that parents spend about $12,000 per year on a child under 2 years old, and with each birthday that number increases. By the time a child is 15-17 years old, parents are paying an average of $14,320 per year.
It's the little things that add up, day after day, and financial counselors say that's where parents run into problems. AAA Fair Credit Foundation Director of Counseling Services Will Vander Toolen said expectant parents often forget to plan for life after the baby and the mountain of expenses that come with that child every month until he or she moves out.
Maintain positive cash flow
Couples should be looking ahead and setting long-term financial goals, said Vander Toolen. Delving into the details of expenses and paying close attention can help set realistic goals and give expectant parents a better idea of how much they can cut back.
Vander Toolen said parents must ask themselves, "We know we can cut back in this area, but are we actually willing to do it?"
There's more to cash flow than just expenses. Vander Toolen said many people don't think about ways to maintain their income after having a child. Many don't think about maintaining their income or the consequences of reducing a paycheck until they're in debt.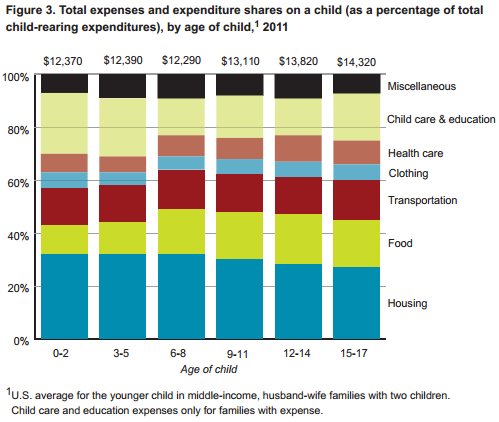 "Not only will expenses go up as they have an additional child, but income may also be reduced if one of the individuals chooses to reduce their hours at work or quit their job to stay at home and care for the children," Vander Toolen said.
Change tax withholdings
It's common for people to limit their withholdings on their tax papers so they can get a big refund check once every year. Vander Toolen said this may not be practical for expectant parents, since many people end up using that refund to pay for a big-ticket item and not monthly expenses.
Instead, he recommended spreading the refund throughout the year to help lighten the financial burden of day-to-day costs.
"They should be able to redistribute that throughout the year in the form of a higher monthly paycheck, which would allow them to care for these additional expenses that are about to come their way with this new child," Vander Toolen said.
Take a close look at extracurricular activities
As a child gets older, it's normal for parents to enroll their children in activities like sports or music classes to make them active, social and well-rounded. However, some parents may get carried away and spend too much of their income on the activities.
"Some parents are willing to jeopardize the financial stability of their households just to ensure that their children have everything that the parents feel they need in their life," Vander Toolen said. "(They) have made the comment to me that, 'We would rather lose our home than take our children out of these extra-curricular activities.' "
Losing a home and relocating because of spending too much on sports isn't exactly ideal for a child, Vander Toolen said. It can be more traumatic than beneficial. However, he added that he has received calls from parents who lost their homes saying they wish they had taken his advice.
×
Related Links
Related Stories