SUGAR HOUSE — The discovery of hundreds of goldfish in Parleys Creek has wildlife officials worried about the larger trend of people releasing aquarium fish into the wild, and the impact it has on native fish.
Division of Wildlife Resources was notified of the goldfish in the Sugar House Park pond, and when officials arrived, they discovered what they estimate to be hundreds of fish. An exact count is impossible at this point, the department said. It is unknown if all the fish were released into the water, or if they are the offspring of a few released fish.
"What tends to happen, and happens really often, is pet owners — aquarium owners — grow tired of their fish, their pets. And instead of disposing them ethically, we see a lot of releases in the wild," said Drew Cushing, sport fish coordinator at DWR.
Whatever the case, Cushing said, the state has a real problem on their hands not just in Sugar House Park, but in various waters throughout the state. Since 2001, the DWR has been alerted to more than 100 illegal introductions of fish in Utah's fisheries. While some are house pets like koi and other aquarium fish, Cushing said they have found other species like tilapia, burbot, gizzard shad, pacu and even piranhas.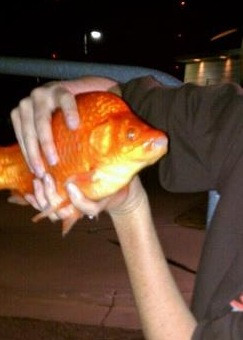 Illegal releases are most common in urban areas and popular fisheries, Cushing said.
"Releasing it into the wild is always a bad thing. Whatever you do, don't release them alive. It's OK to kill a fish now and then. We do it when we go fishing. This is no different," Cushing said. "These kinds of introductions always end up affecting the native fish badly."
Those effects range from disease and overpopulation to predation of native fish, he said.
Cushing recommends selling or giving away an unwanted fish, or, if you are unable to do so, to kill the fish and dispose of it properly. Otherwise, Cushing said, the DWR could end up killing hundreds of a pet fish's descendants to restore native fish populations and environments.
The DWR employs several tactics of management of illegal and invasive species, including chemical renovations, shocking and removing the fish, increasing the number of native predatory fish, and removing the catch limit on that fish.
The department has not yet determined how to move forward removing the koi from Parleys Creek, but Cushing said they are in the process of creating and enforcing measures to prevent further illegal introduction of fish.
First, he said, DWR is working with specialty aquarium shops in Utah to cooperate with pet owners who no longer want pets. Secondly, it is educating anglers about the harm of illegal introductions. Third, he said, DWR is working with the Utah courts and law enforcement to enforce current penalties for illegal introductions.
According to current law, a person caught illegally moving live fish can be charged with a Class B misdemeanor and receive up to a $4,000 fine. Illegally releasing fish in water is a Class A misdemeanor, and can be penalized with up to a $5,000 fine.
"The damage these fish can do when you release them in a system is millions of dollars," Cushing said.
He pointed out the treatments of Panguitch Lake and Strawberry Reservoir for Utah Chub, a bait fish moved to those waters illegally. The treatments cost the state $300,000 and about $3 million, respectively.
"These are not cheap fixes once it happens," he said.
In other areas in North America, Cushing said, illegal introductions have become nearly unmanageable and a financial burden.
Montana has documented more than 500 illegal introduction of fish in 298 waters, according to the Montana Fish and Wildlife Resources. In British Columbia, the state estimated illegal introductions in more than 200 waters. Washington estimated up to 21,000 aquarium fish are released each year in the Pugent Sound area, Cushing said.
"My opinion is we're on the cusp of something that is really bad," Cushing said. "When you look at other areas, that very well may be where we're headed, where we're not seeing a small number of these, but we're seeing hundreds of these introductions. And that's what I'm afraid of, because if that happens, we're not prepared to deal with it."
Top picture: Goldfish, weighing 2 to 3 pounds each, were shocked out of Willow pond in 2011. By Tonya Kieffer, DWR.
---
×
Photos
Related Links
Related Stories