AMERICAN FORK — The city of American Fork is fighting back against panhandlers by literally putting concrete barriers in their way.
The city said the barriers were installed for safety, because it is dangerous for panhandlers to be in the middle of the road.
A flood of complaints about the panhandlers has hit City Hall, especially from drivers who feel trapped while waiting at the stoplight.
"Citizens don't like being stuck at a light and have someone approach them," said city administrator Craig Whitehead, "and they have had some very aggressive ones who have come up and looked in the window."
Over the weekend, the city installed the barriers in the island median at 900 West and State Street, which the panhandlers had been using to beg for money while drivers wait for the light to turn green.
"I think it is brilliant," said American Fork resident Jeneil Morrill. "I think it is about time, and I don't think there is any other way to do it, except to give them no place to stand, no place to be."
The retail hub in the city has become a magnet for those holding signs, begging for money.
"This is a very nice community," Whitehead said, "and so the panhandlers have found it to be a good spot."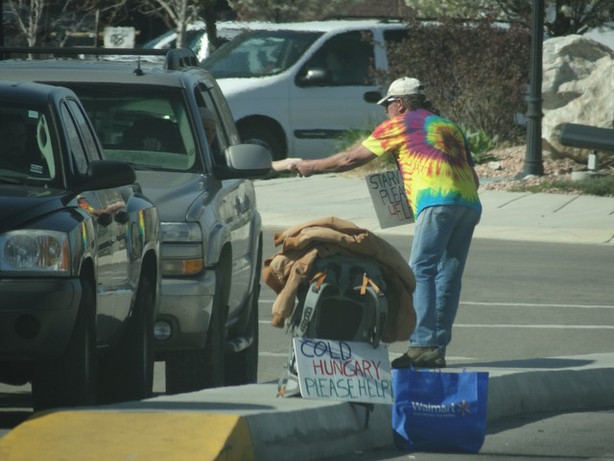 "I'm tired of seeing them standing there, and it is something that I am tired of people always giving them money, so they will always be there," Morrill said.
Last week, the city issued a memo called "Guide to Handling Panhandlers," encouraging residents to give to charitable organizations, which help the homeless, instead of handing money to just a few.
Mayor James Hadfield said families in need are best served by Jesus Feeds Food Bank, and Community Action Services and Food Bank; adults without children are best served by Food & Care Coalition. People can donate to these charities to help those in need. They may also contribute to any local LDS Church bishop.
The memo said a better way to help is to donate to impactfulchange.org. All donations go to local resources like those listed above; $1 can provide five meals, $35 can shelter a family for one night, and $35 can provide an entire winter outfit for one person.
The city noted it cannot prohibit panhandling because people have the inherent right to make "solicitations." But it does have an ordinance prohibiting "aggressive solicitation," such as physical contact, following, repeated solicitations, impeding free passage, and use of obscene or abusive language.
Residents say they live in a generous town, but don't want the same panhandlers to take advantage of them day after day.
"It just gets old," Morrill said. "We're ready to have them be gone, and I think this is a good solution."
One of the regular panhandlers in the area sued American Fork last year after he was cited for aggressive solicitation. The man argued that panhandling is a free speech issue. It's unclear if these concrete barriers to keep panhandlers out will really work over time or if they could be a reason for more legal action.
---
×
Photos
Related Links
Related Stories