MURRAY — A truck that hauls dumpsters struck an overpass near Union Park Avenue on I-215, damaging the bridge. The incident happened around 8:30 a.m. when an Ace Waste Disposal truck was merging onto the westbound freeway at Union Park Avenue. The truck had its lift arms raised as it tried to pass under the 16-foot bridge at 900 East, and it crashed into the structure, Utah Highway Patrol Sgt. Nathan Croft said.
"I'm sure the truck is totaled," Croft said. "It's in really bad shape."
It's believed the truck may have lurched forward from the momentum of the crash, prompting at least two wheels to leave the ground, he said. "So it was either doing a wheelie or something similar."
The driver, who was wearing a seat belt, was taken to the hospital as a precaution but did not appear to be seriously injured, he noted.
The company that owns the truck and employs the driver said that he has been suspended pending further investigation into the cause of the crash.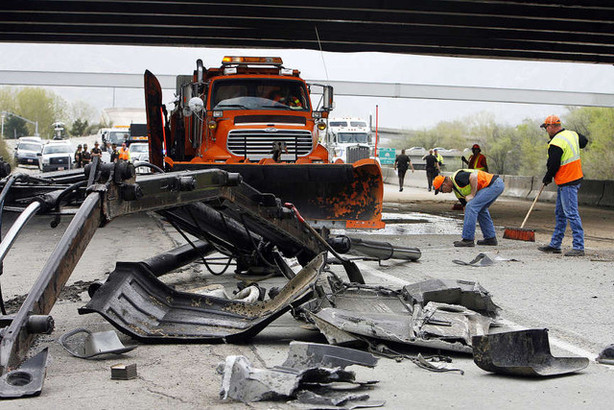 "The accident today could have been a tragedy without the use of a seat belt," said Matt Stalsberg, operations manager at Ace Recycling and Disposal. "Our driver did not perform a critical operational function, and that resulted in his hoist being raised to an unsafe driving level."
Stalsberg said the company is looking into why safeguards and standard practices were not followed, and how such incidents could be prevented in the future.
"Right now we are just glad to see that nobody else was injured and our driver walked away with only minor bruises," he added.
As for the bridge, inspectors with the Utah Department of Transportation said the damage to the structure was not major, but it will require repairs to two steel girders and some of the interior reinforcement beams.
"The cross frames in between the girders have been broken in four locations," said UDOT bridge management engineer Josh Sletten.
Crews will spend the next two weeks making repairs to the damaged portion of the bridge, he added. To minimize the impact on traffic, crews will work in the overnight hours.
As far as the overall safety of the bridge with regard to vehicles using the overpass, Sletten said the structural integrity of the bridge was not compromised.
"There are plenty of girders to take all the load that needs to be carried," he said. "We put a lot of factors of safety into these bridges, and even though those two girders look really bad, there are enough good ones that we're not worried about traffic up above." ---
×
Photos