SALT LAKE CITY — Free Comic Book Day, which falls on the first Saturday of May every year, is one of the biggest days of the year for comic book retailers. Here's what you need to know.
The history:
Free Comic Book Day began in 2002 as a way to help the North American comic book industry bring new readers into independent comic book stores.
The idea was first made public by Joe Field of Flying Colors Comics in Concord, Calif. Field wrote about the theoretical event in a column for Comics & Games Retailer magazine in Aug. 2001. The first event was in 2002 and has become an annual tradition.
Coordinated by Diamond Comic Distributors, the largest comic book distributor in North America, the day is often coordinated with the theater release of a superhero film.
On Free Comic Book Day, participating comic book stores give away special copies of comic books for free, and some offer discounts on other comic books. The stores pay 12–50 cents per copy of the books.
2013 Sponsored comics:
Title, publisher
Gold comics:
Bongo Free-For-All, Bongo Comics
DH Star Wars Captain Midnight Avatar, Dark Horse
Infinity, Marvel Comics
It's an Ugly Doll Comic & Other Stuff, VIZ LLC
Kaboom Summer Blast (Net), Boom Entertainment
Sesame Street & Strawberry Shortcake, Ape Entertainment
Silver comics:
Endangered Weapon B, Aam Markosia
Molly Danger/Princeless, Action Lab Entertainment
NFL Rush Zone: Season of the Guardians, Action Lab Entertainment
Fubar FCBD 2013 Special, Alterna Comics
Action Time Buddies, Antarctic Press
Steampunk Originals Presents: The Steam Engines of Oz, Arcana Studios
Mouse Guard/Rust FCBD 2013 Flip Book, Archaia Entertainment
FCBD 2013 Sonic the Hedgehog Mega Man Flipbook, Archie Comics
Worlds of Aspen 2013, Aspen Comics
Absolution: The Beginning, Avatar Press
Bleeding Cool Magazine FCBD, Bleeding Cool
Capstone Presents: Mr. Puzzle, Capstone Comics
The Red Ten #0, Comixtribe
Mass Effects/Killjoys/R.I.P.D., Dark Horse Comics
DC Nation Super Sampler, DC Comics
Damsels, D.E./Dynamite Entertainment
Grimm FCBD 2013, D.E./Dynamite Entertainment
Marble Season, Drawn & Quarterly
Pippi Longstocking Color Special, Drawn & Quarterly
SpongeBob Comics Freestyle Funnies, United Plankton Pictures
Superman Special Edition, DC
The Smurfs, NBM
TMNT New Animated Adventures, Idea & Design Works LLC
Walking Dead Special, Image Comics
World of Archie Digest, Archie Comic
Publication
Hal Foster's Prince Valiant, Fantagraphics Books
Overstreet Comic Book Marketplace, Gemstone Publishing
Buck Rogers in the 25th Century, Hermes Press
Scratch9 FCBD, Hermes Press
Judge Dredd Classics, IDW Publishing
Aphrodite IX, Image Comics
Stan Lee's Chakra the Invincible, Liquid Comics
Ramayan Reloaded Preview, Liquid Comics
Avengers Assemble/Hulk and the Agents of S.M.A.S.H. #1, Marvel Comics
The Tick, New England Comics
Rated "Free" for Everyone Starring Mermin & Crogan's Adventure, Oni Press
The Strangers, Oni Press
Disney Fairies, Papercutz
2000 AD FCBD 2013 Special, Rebellion
Atomic Robo & Friends, Red 5 Comicsv
Finding Gossamyr/Stuff of Legend, Th3rd World Studios
Top Shelf Kids Club, Top Shelf Productions
Harbinger Wars FCBD 2013 Special, Valiant Entertainment
Valiant Masters Showcase FCBD 2013 Edition, Valiant Entertainment
Kellerman/L'Amour FCBD 2013 Sampler, Villard Books
Shonen Jump Presents: Dragon Ball/Rurouni Kenshin Restoration, Viz Media
Descriptions of the comics can be found here.
Comic book stores
Northern Utah: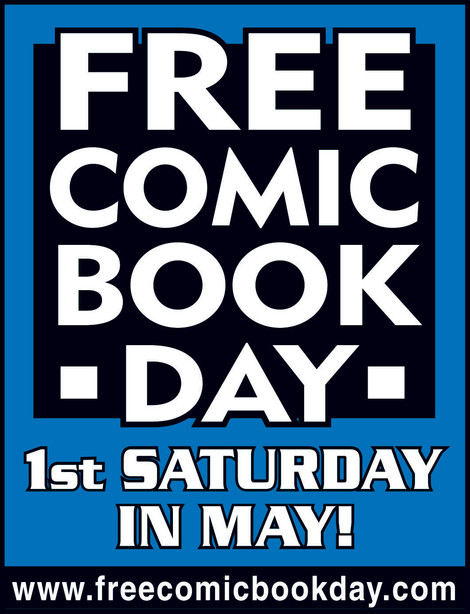 Salt Lake Valley:
Utah Valley:
Southern Utah:
Do you know of a participating store? Let us know on the comment board.
---
×
Related Stories