Estimated read time: 3-4 minutes
This archived news story is available only for your personal, non-commercial use. Information in the story may be outdated or superseded by additional information. Reading or replaying the story in its archived form does not constitute a republication of the story.
MURRAY — A family is holding on to hope as their father, a youth soccer referee who fell into a coma after being punched in the head by a player over the weekend, remains in extremely critical condition.
Riccardo Portillo, 46, sustained a punch to the side of his head after he issued a yellow card to a 17-year-old player during a soccer game Saturday. The teen was booked into a juvenile detention center for investigation of aggravated assault, according to Unified Police Lt. Justin Hoyal.
Hoyal said the player did not use a weapon but is being investigated for that potential charge because of the severity of the injury.
Initially, the family didn't understand the severity of their father's injuries. Portillo had been hurt before while officiating games, his daughter said. They waited for the call to come pick their father up from the doctor's office, but it never came.
Shawn Smith, a doctor at Intermountain Medical Center, said the hit to the side of Portillo's head caused bleeding around the blood vessels in one area of the brain, and blood loss and edema in another.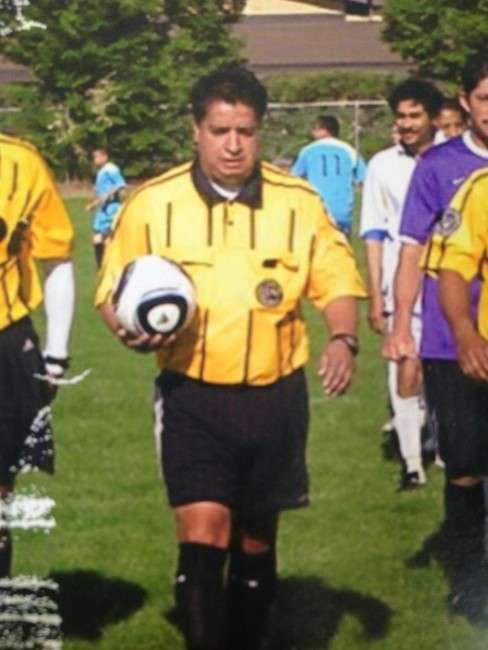 Smith couldn't provide much information about how the injury occurred, but as of Thursday, Portillo was still suffering from immense swelling in his brain, despite the hospital's efforts to alleviate it.
Portillo remained in extremely critical condition, the doctor said, but more answers could come in the next several days.
The family expressed appreciation for Smith and other hospital personnel who have cared for their father and the family.
Ricardo Portillo's oldest daughter, Johana, wept as she said that one person's decision had impacted her entire family.
"It's just not fair. He was a really loved person," she said of her father. "We'll just have to wait. We wait and we hope for a miracle that he'll be OK."
Johana Portillo said her father loved to be a referee, spending whole weekends outside for the game he loved.
More than that, he loved his daughters. Before Saturday's attack, the family had been planning a vacation and a birthday party for Ricardo Portillo's youngest daughter, who turns 16 on Friday.
"He was always there for us," Johana Portillo said. "He wasn't just my dad. He was our friend. And I know he doesn't want to leave us."
As they wait for their father to heal, they also wait for justice, Johana Portillo said.
"I don't want another family to go through the same pain as we are right now," she said. "For me, I want (the teen accused of assault) in jail forever. That's what I want for my dad."
An account* has been set up at Chase Bank in Johana Portillo's name for anyone wishing to help the family.
---
*ksl.com has not verified the accuracy of the information provided with respect to the account nor does ksl.com assure that the monies deposited to the account will be applied for the benefit of the persons named as beneficiaries. If you are considering a deposit to the account you should consult your own advisors and otherwise proceed at your own risk.
---
×
Photos
Related Stories