SALT LAKE CITY (AP) - A Salt Lake City pediatrician charged with murdering his ex-wife has told the court he can't pay for his own attorney even though he makes $7,000 a month.
John Brickman Wall filed the declaration of indigency Friday morning, court records show. He lists four dependents, a home mortgage of $380,000 and car loan of $2,000 in the paperwork. He reports no assets worth more than $10,000.
The filing came as a surprise to the attorney who has been representing Wall since October, G. Fred Metos.
Metos said Friday he wanted to visit Wall in jail to find out more, but learned Wall is not yet allowed to receive visitors.
Wall, 49, was arrested and charged Thursday in the September 2011 death of his ex-wife, Uta Von Schwedler.
Police called the death suspicious after they found Von Schwedler drowned in the bathtub, but had not filed charges until Thursday. Prosecutors said a combination of evidence stacked up to lead them to finally charge Wall.
Wall, who is being held on $1.5 million bail, also was charged with aggravated burglary. Metos said Wall maintains his innocence.
Judges determine whether to grant indigency requests using the Utah statute for guidance, said Utah courts spokeswoman Nancy Volmer. Those rulings usually occur during an initial appearance. Wall is scheduled to make his first appearance Tuesday at 1:30 p.m. before Judge James Blanch.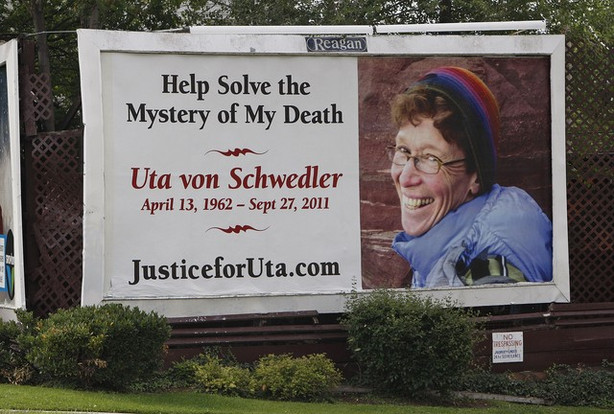 It appears unlikely Wall will get his wish of being appointed a public defender, based on the guidelines outlined in Utah law.
Statutes say that a person must have an income at or below 150 percent of the federal poverty level. That threshold for someone with four children like Wall is an annual income of $35,325. At $7,000 a month, the longtime doctor makes $84,000 a year.
Wall continued to work as a doctor up until his arrest Thursday, Metos said. But a cloud of suspicion had followed him since Von Schwedler's death, fueled by his oldest son's belief that his father had killed his mother.
While the request may seem unusual, it's worth noting that a retainer fee for a private attorney in a murder case can be very expensive, said Emily Chiang, a University of Utah law professor. The flat fee for a private attorney to take on a murder case in Salt Lake City is at least $20,000, said Kent Hart, executive director of the Utah Association of Criminal Defense Lawyers. That doesn't include extra charges for experts and investigators.
"The doctor would certainly be able to afford a lawyer for a run-of-the-mill case, but circumstances here may be different," Chiang said.
Schwedler, 49, was a biologist at the University of Utah and left behind four children. After the couple divorced in 2006, they become ensnarled in a bitter custody battle. Pelle Wall, the oldest of their four children, testified at a custody hearing that he was so afraid of his father when he was living with him that he slept with a pellet gun and a knife.
The couple's other children are 17, 14 and 12. John Wall never lost custody of the two youngest, though they were temporarily placed in another home after Pelle Wall petitioned the court to remove them from his father's house. Now that John Wall is in jail, arrangements are being made to place the two youngest children with family members. The 17-year-old is an emancipated minor who has already moved out.
__
Follow Brady McCombs at https://twitter.com/BradyMcCombs.
(Copyright 2013 The Associated Press. All rights reserved. This material may not be published, broadcast, rewritten or redistributed.)
×
Photos
Related Stories