SALT LAKE CITY — Apple's Q2 earnings call announced increased revenues, reduced margins, and increases in stock buybacks and dividends. Tim Cook, CEO of Apple, also hinted at new products and launch timelines through 2014.
"Surprises" coming through 2014
Cook stated in the second quarter earnings call that consumers can expect new products in "the fall and all of 2014." While new models of the iPhone and iPad are expected as part of Apple's typical annual product updates, the ever-rumored iTV product, the iWatch and other products may make their debut in this time frame.
Cook specifically addressed issues raised by Wall Street analysts, stating, "We know (we) didn't meet everyone's expectations. ... The most important objective for Apple is developing innovative products."
While Apple's stock price and potential has been under increasing scrutiny since it peaked at $700 per share last fall, Cook also stated that Apple's product pipeline, powerful market position and ecosystem, and the potential for introducing new product categories all keep Apple on solid footing as it moves forward.
Apple announces conference
Apple's annual Worldwide Developer Conference will be held at San Francisco's Moscone Center June 10-14. WWDC is always a landmark event for Apple enthusiasts and developers, and has historically been a major event for new product and software releases. Tickets for the event go on sale on April 25 at 10 a.m. PDT. Historically, the tickets sell out within minutes.
---
We can't wait to get new versions of iOS and OS X into their hands at WWDC.
–Philip Schiller
---
Despite expectations that no new products will be launched until this fall, Apple issued a press release on Wednesday with details about schedule, tickets and an interesting quote from Philip Schiller, Apple's senior vice president of Worldwide Marketing, who said, "We can't wait to get new versions of iOS and OS X into their hands at WWDC." His comments in the press release may be a strong indication that iOS 7.0 and Mac OS X 10.9 may be released either publicly or as beta versions to developers.
Q2 results beat forecasts
Apple released its second quarter earnings results this week, announcing it brought in $43.6 billion in revenues, outpacing its own high-end guidance of $42 billion. Revenues were primarily driven by sales of 19.5 million iPads and 37.4 million iPhones, with software and iTunes content sales increasing to $4.1 billion — a 30 percent increase from last year.
Macintosh sales declined 2 percent from last year, contributing $5.4 billion to the bottom line. Apple's sales figures mirror overall industry trends as consumers and businesses continue to shift toward preferring mobile devices. Despite this shift, the decline in Mac sales this quarter is a fraction of the overall decline in PC sales, which declined 14 percent in first quarter 2013.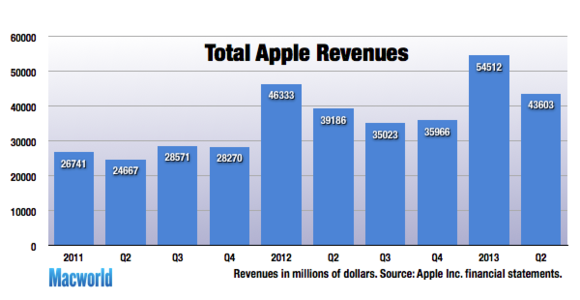 Apple projects the third quarter will see an overall decline across all revenue categories, expecting revenues between $33.5 billion and $35.5 billion, and gross margin between 36 and 37 percent. These forecasted declines are strong indicators that Apple will not be releasing new products until at least this fall.
Apple increases dividends, stock buybacks
Apple also announced during its second quarter earnings report that it is doubling its return of capital program to $100 billion, increasing its stock buyback to $60 billion and increasing dividends by 15 percent to $3.05/share. Apple was also quick to note that its share buyback program is the largest of any company in history.
In an effort to optimize its capital structure, Apple announced that it will finance its dividend and stock buyback programs by issuing bonds, avoiding repatriating its foreign cash reserves and subsequent tax consequences. Following the announcement, Standard & Poors gave this new bond issue a AA+ rating — the same rating as the United States Government. This will be Apple's first entry into issuing bonds, prompting Businessweek to dub the bonds as "iBonds."
---
Brent Anderson is a mobile app developer and founder of Juicy Development LLC. He studies Information Systems at Brigham Young University and loves connecting businesses with technology in new and valuable ways. Online at www.BrentJAnderson.com.
×
Related Links
Related Stories