This archived news story is available only for your personal, non-commercial use. Information in the story may be outdated or superseded by additional information. Reading or replaying the story in its archived form does not constitute a republication of the story.
NIBLEY, Cache County — A Nibley woman was simply hoping to have a less-painful childbirth experience with her third son. Instead, she ended up giving birth in her front yard when her contractions escalated faster than she could get to the hospital.
"I knew he was coming and the best thing to do was to lie down and let him out," said Heather Telford. "Not even five minutes later, he was born."
Telford was induced for two previous births, but she said she thought a more natural process involving a simple epidural shot prior to birth would have gone smoother this time.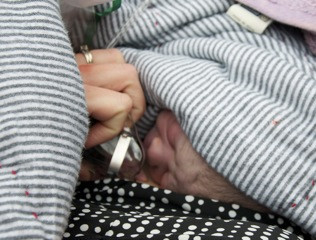 However, Telford wasn't expecting the process to go so quickly that she would never reach the hospital for the epidural. As it happened, her family and neighbors helped deliver the child on the lawn on April 13.
Telford's contractions were becoming more painful by the hour. She was in the bathtub eating her dinner when the contractions got even worse.
"By the time I was done eating, I had a pretty hard contraction and stood up and decided, 'I think I might need to push. It seems like it's time,' " she said.
Her in-laws wrapped her in a blanket, she put on slippers and the family walked her to the van go to the hospital. It was there that she had a hard contraction and her water broke.
"It happened so fast," she said. "I just knew that we were not going to make it."
Out of the womb, Telford said Peyton Alexander appeared bluish. Her in-laws told her to begin speaking to the child.
Related:
"He started to pink up and move around a little bit," Telford said. "It was pretty amazing."
Paramedics eventually arrived on scene and checked out Telford and the boy, later transporting them to the hospital.
Peyton weighed 7 pounds 9 ounces at birth and is doing well, according to Telford.
"It was a pretty big surprise and exciting experience," she said. "A little scary, but we all were healthy."
×