SALT LAKE CITY — More than 500 officers. Four bomb squads. At least four police mobile command units.
But the the stat that most impressed Salt Lake City Police Chief Chris Burbank at Saturday's Salt Lake City Marathon was zero.
"The best measure that I have is my phone never rang once and that's perfect. That's the way a marathon should be," the chief said when asked to assess the safety of the marathon.
Going into Saturday's race, there was a tremendous amount of attention focused on how secure the event would be. The Salt Lake City Marathon was the first major marathon in the U.S. since the tragedy in Boston on Monday when two bombs were detonated near the finish line, killing three and wounding 170.
Local, state and federal law enforcement officers were visible all along the 26.2 mile race route and especially at the starting line at the University of Utah and the finish line at Liberty Park. But by the end of the marathon the focus had shifted from the men and women with badges pinned to their uniforms, to the men and women with race numbers pinned to their running clothes.
"It has not been a security event, it has been a marathon. And that's exactly how it should be," Burbank said.
Related:
Unified Police Lt. Justin Hoyal said Saturday's event was one of the smoothest running marathons they've ever had.
""We've had a lot fewer issues than in years past," he said.
The only issues were a few traffic problems due to this year's change in the race route and motorists unfamiliarity with the course, he said.
But the security was ever-present.
As runners crossed the giant finish line banner, flanked by four large clocks telling their time, what they might not have noticed was a small box-shaped piece of equipment sitting on a barrel just past finish line scaffolding.
The box was a bomb detecting machine, constantly measuring particulates in the air. Several of those boxes could be seen around Liberty Park, 1300 South 700 East, and some were hung from light poles.
On the west side of the park, near the tennis courts, both Salt Lake City police and the Utah Department of Public Safety had their mobile command units set up. Just a few feet from them were trailers from various bomb squads, including the Army and Air Force. Vehicles from the Weber, Davis and Utah County Sheriff departments were also in Salt Lake.
Beginning well before the first runners crossed the finish line, members of Salt Lake's bomb squad were walking the perimeter of the park with bomb sniffing dogs, checking every trash can or place where an explosive device could be hidden, several times over.
Men in camouflage uniforms drove all-terrain Rhinos around the park with hand-held particulate detection devices, while others with "bomb squad" written on the back of their rain-soaked jackets, stood at various points along the finish line monitoring crowd activity.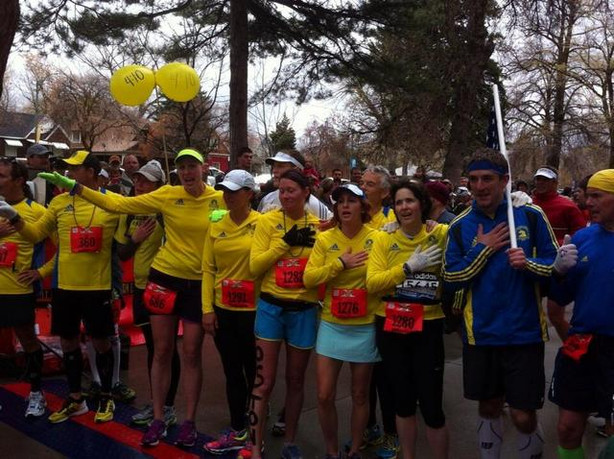 The state DPS helicopter flew overhead. Fire and ambulance crews were also stationed at various points on the ground.
Further away from the finish line, Unified, Murray, West Valley and South Salt Lake police along with the Unified Fire Authority had officers stationed at every corner of the race route by 6 a.m. Unified police alone had more than 200 officers on duty for the race Saturday.
Salt Lake County Sheriff Jim Winder said the goal was to stay engaged with the public, but not be overbearing.
"We want to be low profile and allow the race to be enjoyable. But we want to be close enough so we can respond if we need to," he said. "We want this to be a fun and safe event."
Unified police and South Salt Lake police quietly began setting up their command units in a high school parking lot mid-valley about 4 a.m. By 6 a.m., officers were dispersed all along the race route, both in uniform and street clothes.
"Some of those were very strategically placed for special assignments. Explosives detection and mitigation. Instead of call-out basis, we actually have them out on scene," Winder said.
Unified police had been constructing its security plan for the marathon since November. Because of the bombing in Boston, the number of law enforcement officers working the event was increased by 10 to 15 percent during the past week.
But while bombs and explosives received the majority of attention this week, Winder said the more realistic safety concern was simply controlling traffic and keeping runners and motorists safe. Protecting runners from being hit by a car and helping motorists keep calm heads and get through blocked off roads were the biggest challenges of Saturday's marathon, he said. Not acts of terror.
Bryant Jensen of Ogden was the first to cross the finish line with a time of 2 hours, 30 minutes, 14 seconds, qualifying him for the next Boston Marathon.
---
All of added, extra security that everyone's going to feel obligated to put in place now is going to raise the prices and make everything harder. But, we're Americans; we find a way.
–Becky Sondag, women's winner
---
"I've had thoughts and it's been on my mind," Jensen said of qualifying for the Boston Marathon. "I wanted to wait another year and get my training up and make sure it's a great race when I'm out there."
Becky Sondag, 43, of Casper, Wyoming won the women's race in 3 hours, 6 minutes and 34 seconds. She said marathoning has changed forever.
"All of the added, extra security that everyone's going to feel obligated to put in place now is going to raise the prices and make everything harder," Sondag said. "But, we're Americans; we find a way."
The Salt Lake City Marathon began with a moment of silence for victims of Boston's deadly bombings.
Runners signed a tribute banner and wore blue-and-yellow ribbons and sang "Sweet Caroline" to honor the Boston victims.
Sondag has run in the Boston Marathon three times and Salt Lake four times, and she said she had never seen bomb-sniffing dogs before a race. Other runners said they felt comfortable today, especially knowing that the Boston terror suspects are off the streets.
Marathon organizers said they noticed an increase in people wanting to run today mainly to show support for Boston.
More than 7,000 competed in the marathon, half-marathon and related events. The marathon started at Olympic Legacy Bridge at the University of Utah.
A pack of runners finishing at 4 hours, 9 minutes, 43 seconds - the time the first bomb exploded. They said they finished for the Boston runner who couldn't.
Contributing: Peter Samore and Associated Press
Video Contributing: Richard Piatt and Courtney Orton
×
Photos
Related Stories