Editor's note: This is the first in a two-part series looking at the good and bad about iPhone and Android. Look for part two — 5 reasons Android is better than iPhone — next Wednesday.
SALT LAKE CITY — Android and iOS (on the iPhone) are constantly neck and neck, battling each other for the largest share of the U.S. smartphone market. But comparisons between the two smartphones show a number of ways in which iPhones excel.
One irrefutable fact in the battle for best, however, is that there is no universally correct answer. Different people have different preferences regarding what they want in a smartphone.
That being said, below are five features of iPhones (or iOS, the software that powers them) that tend to cause people to prefer them over other smartphones. This is, by no means, a definitive list of qualities, but these are simply some of the most lauded and appreciated features of the phone.
1. Availability and quality of apps
A quick history lesson. The iPhone was the first smart handset to hit the mainstream smart cellphone market. It gained an early lead over competing smartphone devices. Although other smartphones were available when the iPhone was introduced, such as Windows Mobile, Symbian, Palm OS and Blackberry, iPhone was the first to become mainstream, riding on the success of iPods.
Because of the popularity of the iPhone, iOS apps were given priority by most companies. Their iOS apps received much more development and polish. Many argue that iOS apps today still reflect that early effort and are better developed and of a higher quality than apps on other handsets.
iPhone today. Many people choose iPhone for the selection and quality of its apps. While apps of mediocre quality can be found on the App Store, most apps are well developed, full of features and easy to use.
All major mobile apps and services are available for the iPhone — it doesn't make sense for a company to leave iPhone users out of the loop. Many people feel apps have more polish on iPhone than on other phones. In fact, many companies choose to start as iOS-only services before becoming available elsewhere (such as Instagram).
2. Ease of use
An iPhone's ease of use is a popular response to the question "Why do you prefer iPhones to other phones?" This can be attributed to a few factors.
The iPhone has a very simple interface. You see everything on the screen, and there are no hidden menus. People are familiar with the iPhone. Many got into the smart-device game with iPod Touches, which have the same interface as iPhones.
There are many fewer ways to mess up your iPhone, when compared with the Android operating system. With Android it is possible to have apps configured incorrectly, such that they will not be able to perform as they were intended. With iPhone it is very simple — you're fairly locked down to doing things the way Apple intended. Many people see this as one of its best features.
This difference between iOS and Android can be summarized as follows: Android can do more, but everything is easier to do on an iPhone.
3. Accessories, accessories and more accessories
There are all sorts of accessories available for iPhones. From all sorts of phone cases, attachable camera lenses and iPhone-disguising cases to Victorian-style gramophone horns, iPhone-holding ramen bowls and cases with a built-in stun gun, iPhone has it all.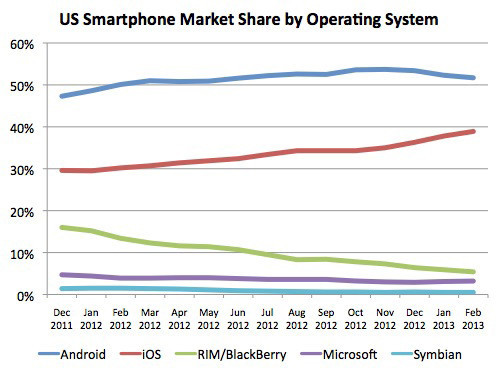 And if you're just looking for something nice and simple, there are plenty of those too.
The reason there are so many accessories for iPhones is that the hardware is so consistent. The outside of the iPhone only changes about once every two years. With Android, the phones are split among many manufacturers, making each gadget compatible with a much smaller selection of phones.
4. Compatibility with other Apple devices
One great feature all Apple products share is their integration with other Apple products. Apple has managed to create an ecosystem within which many people prefer to live.
Some examples of Apple integration services:
Photo Stream allows pictures to sync automatically with your Mac computers and iOS devices, as well as those of your friends.
iMessage allows you to do group chat and is available across all your Apple computers and devices.
Find My Friends can show you where your friends or family are.
Find My iPhone helps you locate your lost phone and lets you lock and wipe it remotely if needed.
With an Apple TV you can show anything on your iPhone or Mac computer on your TV.
Notes keeps copies of your notes on all your iOS devices and Mac computers.
Reminders sync across all Apple devices.
Safari keeps a reading list and your bookmarks synced across your Apple devices and Mac computers.
5. Great hardware
The iPhone is widely regarded as great hardware. Apple has a reputation for creating beautiful and sturdy hardware.
The iPhone's industrial glass-and-aluminum design appeals to many and can be a deciding factor in pulling customers toward Apple.
The iPhone's external dimensions can also be a point for Apple. At 4.87 inches tall, 2.31 inches wide, 0.30 inches deep and a weight of 3.95 ounces it is a good balance between screen size and portability.
Apple also makes each new version of the iPhone with high-end internal components. When you buy an iPhone you know you're getting powerful hardware that will last a good number of years.
Bonus: Accessibility
The iPhone seems to be the go-to smartphone device for many people requiring special accessibility options.
Low-vision users, as well as those with less-precise motor function, particularly rave about the iPhone's accessibility features.
Tommy Edison, a film critic who has been blind since birth, has demonstrated the usefulness of some of iPhone's accessibility features. His website provides an insightful view into his world.
Whatever kind of phone you prefer, don't forget to give it a good spring cleaning.
Did we miss some of your favorite iPhone features? Let us know in the comments.
---
Taylor Wilson is an IT professional at a small Utah company. He has a passion for helping people with technology. Email: taylorwilson@testonetwo.com Online: www.testonetwo.com
×
Related Links
Related Stories