PROVO — A new Gallup poll shows Provo-Orem is the most religious metro area in the country.
Gallup surveyed residents in 189 metropolitan areas and found Provo-Orem topped the list, with 77 percent of its residents considering themselves very religious.
The study found some of the most religious cities are in the south, with the exceptions of Provo-Orem and Ogden-Clearfield, Utah; and Holland-Grand Haven, Mich.
The least religious cities generally are in the northeast and along the Pacific coast, except for Boulder, Colo., and Madison, Wis. Boulder tied with Burlington, Vt., as the least religious city, with only 17 percent of residents calling themselves very religious.
Gallup called the 77 percent level of frequent church attendance in Provo "clearly exceptional." By comparison, only 63 percent of residents in the No. 2 city, Montgomery, Ala., said they attend church on a weekly or nearly weekly basis.
Nationwide
Throughout the country, 40 percent of Americans were classified as very religious based on them saying religion is a very important part of their daily life and that they attend religious services every week or almost every week.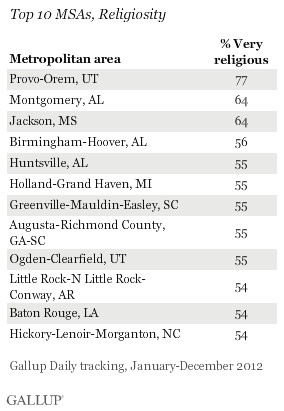 In the poll, 31 percent of Americans said they were nonreligious. The remaining 29 percent said they are moderately religious, meaning religion is important in their lives but that they do not attend services regularly, or that religion is not important but that they still attend services.
Gallup also calculated the most religious states in the country. Mississippi topped that list with 58 percent. Utah tied with Alabama for second place.
Implications
Gallup said the implications are clear.
"America is a remarkably religiously diverse nation, and much of this diversity is geographically based," the study said.
"Residents in some areas and cities — namely, those in the South and in Utah — are two or three times as likely to be very religious as those living in cities in the Northeast, the Northwest and other Western locations," it continued.
×
Photos
Related Links
Related Stories