PLEASANT GROVE — At least two homes were affected by flooding Thursday when water escaped from a recently completed portion of the Murdock Canal.
The flooding, near 2800 North, was caused by a hatch that was not fully secured, according to Steve Cain, facilities manager for the Provo River Water Users Association. They had been filling the aqueduct for service through the irrigation season.
"We go through and inspect all the hatches and things associated with it, but for some reason this one was not fully secured, and the inspectors missed seeing that," Cain said. "The water was able to come out of that hatch and run across from the east side to the west side of the road."
---
We go through and inspect all the hatches and things associated with it, but for some reason this one was not fully secured, and the inspectors missed seeing that.
–Steve Cain, Provo River Water Users Association
---
Cain said he knew of two homes that had been flooded, with two more possible. The house belonging to Stephanie Vincent had several inches of water in the basement.
"It came down my backyard and into the window well in the kitchen downstairs, busted out the window and it raised about a foot-and-a-half," Stephanie Vincent said. Her home sits directly across the street from the canal.
Her son, Steve Vincent, and his wife are living in the basement. Steve's wife is pregnant, due any day, and all of their belongings were downstairs while their home is being built.
"It looks like a lot of the stuff can be salvaged, but a lot of stuff is also wet. So we'll just kind of see and play it by ear," Steve Vincent said.
Meanwhile, Stephanie Vincent remained calm and optimistic.
"It is what it is," she said. "If you get mad, it's not going to help."
No one was injured and anything that was damaged can fortunately be replaced, she said.
The Pleasant Grove fire and police departments and Utah Disaster Cleanup responded to the scene. Water coming into the pipeline was turned off, and the flooding had stopped by Thursday afternoon.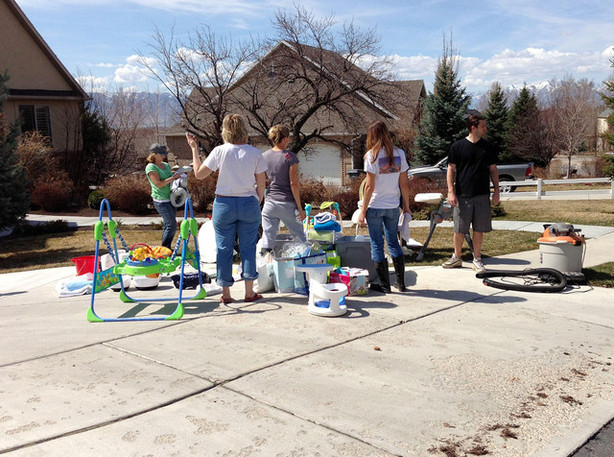 "We think people expect us to manage this thing properly, and we will do that," Cain said. "We don't know how this happened, but we will make sure it never happens again."
The flooding was not significant enough to cause displacement, Cain said. He said the water is untreated, and bacteria could be a concern if it was allowed to stand for some time.
"It is raw water, and it's kind of dirty water as you look at it, so there is that concern, but disaster cleanup folks will help us manage that," Cain said
Emergency mitigation has already begun and would likely preclude any temporary or long-term displacement of families that experienced flooding.
Formerly known as the Provo Reservoir Canal — and the Murdock Canal by locals — the 21-mile pipeline is now called the Provo River Aqueduct and has the capacity to carry more than 400 million gallons of water daily. It starts at the mouth of Provo Canyon in Orem and runs to the Point of the Mountain in Salt Lake County, running through Orem, Lindon, Pleasant Grove, Cedar Hills, American Fork, Highland, Lehi and Bluffdale.
In 2010, a project began to completely enclose the canal for safety reasons and to allow a rake system to remove debris from the line, providing better quality water and a savings of more than 8,000 acre-feet per year to evaporation and seepage. The water source is fueled primarily by water leaving the Provo River and is distributed to shareholders along the line.
Contributing: Alex Cabrero
---
×
Photos
Related Stories